Tottenham Hotspur is a club going in one direction in the past few seasons, and that direction is not down the hill.
They were the major title contenders in the last two seasons, narrowly mission out on both occasions — once to Leicester City and then to Antonio Conte's Chelsea.
Not only in terms of result on the pitch, the club is generating results off the field as well as the financial position is as good as it ever was and that's why the club have invested heavily on rebuilding their home venue — White Hart Lane.
Spurs home 'fortress' is missing
Due to that reason, the North London giants are forced to play on a makeshift home – Wembley for this season, and keeping their record in mind, it is evident that the place does not have a positive outlook for Mauricio Pochettino's men.
Going into Wednesday's Champions League clash against German giants Borussia Dortmund, there was more talk about the 'Wembley Curse', primarily because till then Spurs only won two out of twelve matches played there.
But after 3-1 win, the mood changed for good and the club supporters finally had a sense of relief, which was evident in the manager's talk as well, when he said after the match: "I hope, I hope (it shuts people up to talk about Wembley Curse). It can help us to stop the talk about hoodoo and everything that we hear in the last year I think."
Few days on, the talk is back and that's because Spurs failed to beat one of the relegation candidate Swansea City on Saturday.
The discussion which is no matter what Pauchettino says make sense as well, as Spurs title challenge last season was dominated by their brilliant home record, where they dropped only four points all season.
This season after just game week five, the North London outfit have already dropped seven in three matches.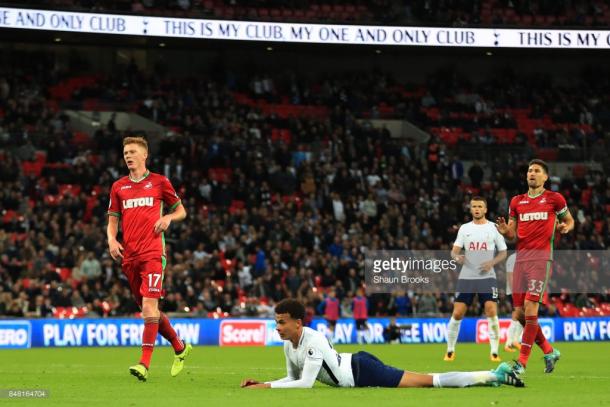 The missing killer insitnct
In all of those matches, Spurs losing points had one thing in common, their killing insitinct, which was missing.
Last season, it was there in every game they played, which is why they thrashed the same opposition which they faced on Saturday 5-0 at White Hart Lane on December 3, 2016.
In Chelsea's game, Spurs equalised and then relaxed, which cost them the game, courtesy strike of left-back Marcos Alonso.
The same thing happened in the game against Burnley, where after taking the lead, the team could not manage to secure the advantage by scoring another one, hence giving visitors a ray of hope to comeback – which they happily did courtesy Chris Wood late equaliser.
In Swansea's game, Spurs had 23 shots on goal, nine on target, but to no effect.
After all those matches, Pochettino repeatedly said that his team was unlucky, but going into the crucial stage of the season, his talk won't matter much.
Recent string of poor results have already all but over Spurs hope of their first league title in 50 year is gone, and if Pochettino could not turn it around soon, it can prove too late to keep their top four hopes alive as well.