To nobody's real surprise, there seems to be a relaxed, confident air surrounding Vicarage Road these days. Watford are in a position they could never have imagined: flying high in the Premier League and into the quarter-final of the FA Cup.
It's no small wonder, then, that manager Quique Sanchez Flores has suggested - ahead of the Hornets' game against Bournemouth this weekend - that his side couldn't be in better spirits.
An air of confidence
Watford have won four of their last six games and have bounced back from a difficult December and January that for a minute threatened to ruin a lot of the good work they have done in the league this season.
The manager, in his comments to the Watford Weekend Preview Show, suggested that his side have now "recuperated a good run", pointing to the game against Newcastle in January as a turning point in the Hornets' fortunes. Now, he insists, they have changed "step by step the dynamic".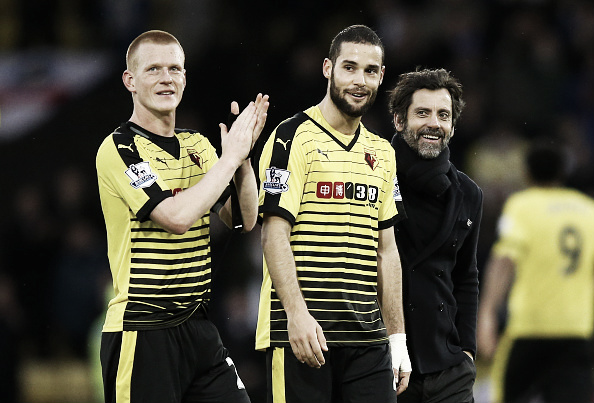 A 1-0 victory over Leeds United saw the Hornets into the last eight of the FA Cup for the first time in nine years, and Watford are also sitting pretty in the league: ninth despite all the projections at the beginning of the season suggesting that the Golden Boys would be taking part in a relegation struggle. Instead, the manager now believes his side have "good feelings" in both competitions, "feel strong", and are ultimately "happy".
Bournemouth no easy task
The Spaniard was quick to praise Saturday's opponents Bournemouth, suggesting they "play like a team", "fight a lot during 90 minutes" and have a very clear idea of how they want to play. Flores is not ignorant of the Cherries' ability and has suggested his team would have to "prepare well" and "read the situation". He does, however, believe it will be a "very good match".
Despite the Hornets edging ever closer to that 40-point safety mark - with 36 points already gained from 26 games - the Watford boss refuses to pay too much attention, suggesting that he doesn't "like too much to play with maths in football", but also saying that he knows his side are "close", and ultimately in a "good posiiton" to "enjoy the Premier League experience".
Flores was quick to suggest that the team are not in a "hurry" to reach their target, and they will not "relax" even if they do get there. Instead, the Spaniard wants his players to "enjoy themselves" and be able to go on the pitch showing "ambition and passion".
There is no doubt that Watford are "happy and free" at the moment, but there is no rest for a team with the Hornets' ambitions. Up next, a tough, competitive fixture against a Bournemouth side that will refuse to lie down. Should Flores' side manage to overcome the Cherries, however, that fabled 40-point target will be in touching distance at last - with much of the season still very much left to play.