For a side that look like staying up comfortably, Watford are often awfully indebted to their goalkeeper Heurelho Gomes, who keeps providing them with a string of important points-saving saves. On Saturday, against Bournemouth at Vicarage Road, he put in another superb display.
The 35-year-old made three vital second-half stops, including a world class save from Harry Arter. His heroics made sure Watford secured a 0-0 draw - ultimately edging closer to that all-important 40-point target - and gave Gomes his 11th Premier League clean sheet this season, and his 13th in all competitions.
Like a fine wine
Manager Quique Sanchez Flores was quick to offer his congratulations on another superb display from the Hornets' goalkeeper, describing him as looking "really well, always", and suggesting that this is the standard he now expects from him after performing at the top level for most of the campaign.
"He's been quality for the last two years"

- Troy Deeney
Watford captain Deeney also offered his praise to Gomes, suggesting that he has been "quality" not just this season, but during "the last two years". His consistently good performances, Deeney says, shows the "high level of application" Gomes puts in "week-in, week-out", before the Watford forward went on to describe the Brazilian as a "fine wine, getting better with age".
No doubt about it, come post-season Flores and his Watford players will be raising a glass to Gomes' heroics this season, as they look on course to finish the campaign in a position much stronger than anyone could have expected.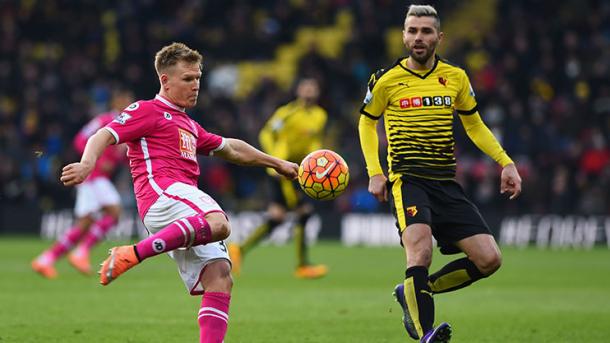 Deeney was quick to offer the suggestion that of course it's a "team game" and everyone has to do their part, but suggested it is hard to ignore Gomes' "excellent" performances. Speaking on the result, Deeney suggested that it was "another good point", leaving the Hornets just "one win from that magical 40".
Moving forward
Describing the game as one of those where "both teams could have stayed out all day and not scored" Deeney was quick to accept a draw before the side move on to playing Manchester United on Wednesday. Brutal in his honesty, the captain described the game as "niggly" and suggested it "became a bit boring" after a while.
Ultimately, Deeney and the rest of the players will "take the positives on a day that the Watford captain made his 250th appearance for the Hornets. "Obviously it's a big milestone to hit", Deeney remarked, before suggesting he is "proud of himself" every day, but as has been the case all season, the focus is on the next game, with "no time to be reflecting on things".
Should Watford cause an upset against Louis van Gaal's men on Wednesday, that all-important target will have been reached, in what has already been an incredible season for the Hornets. If not, as one would expect, Flores' side will re-focus and go again.