It's high stakes as Arsenal and Watford prepare to go toe-to-toe at the Emirates Stadium on Sunday afternoon. Quique Sanchez Flores' side are looking to reach their first FA Cup semi-final since 2007, and the Gunners are aiming to continue in their quest to win the competition for the third time in a row.
Last time the two sides met - back at Vicarage Road in October - Arsenal eventually ran out 3-0 winners, but it's a score that doesn't tell the whole story. For the most part, the Hornets were in the game, before a 12-minute blitx from Arsene Wenger's side put the contest beyond their reach.
Now, with Wembley Stadium the prize for whoever can see this quarter-final tie through, revenge will be on Watford minds. We sat down with VAVEL UK's Arsenal editor Mosope Ominiyi to hear his thoughts on whether the Gunners can progress.
It's been a strange season for Arsenal, with there once again being so much promise but with the big possibility that it could go unfulfilled. Why do you feel that the Gunners often come so close but can't go that extra mile?
A good question, that. I think it's got something to do with mental strength - and confidence from the supporters is also important too. Some are too skeptical, criticise very easily and it has a negative effect on the players, who'd feel the pressure even more than they normally would.
Then, results might not go their way, and the morale within the side goes down.
Who has impressed for you this season at the Emirates? And who needs to buck up their ideas fast?
"Petr Cech has been a world-class asset"
For me, there have been a few players that have continuously impressed in the Arsenal team this season. Petr Cech has been a valuable asset in goal - adding some much-needed confidence within the backline, and proving his world-class quality on a number of occasions too. Laurent Koscielny has been reliable when called upon, Joel Campbell has taken his chance well to emerge as more than just a squad player, whilst Francis Coquelin - apart from that forgettable moment again Tottenham Hotspur - has proven he's more than a one-season wonder.
But especially, Hector Bellerín. At such a young age, to come into the side and not only establish his first-team credentials, but also make the right-back spot his own, is highly commendable. One of my favourite players.
As for players who need to buck their ideas up fast, you'd have to include the likes of Theo Walcott and Per Mertesacker, even if it may seem harsh. Walcott is too inconsistent and hasn't proven his importance in many big games, whilst Mertesacker struggles without the presence of Koscielny alongside him.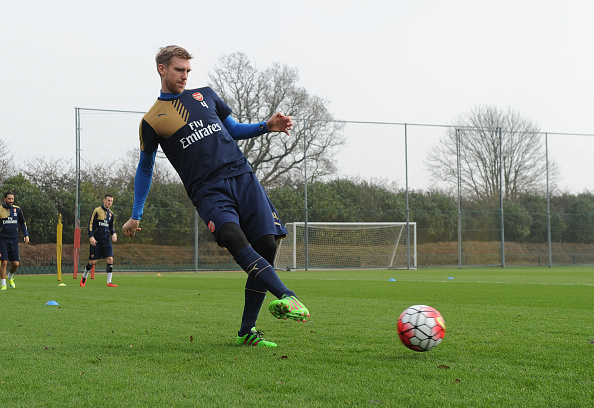 It's frustrating to see because both are quality players, but patience wears thin and their places in the side have been questioned on a number of occasions.
What are your thoughts on Arsene Wenger? He's done so much for the club and taken them so far, but is it a case of needing new blood if Arsenal are to take that step up?
It's hard to say whether we need new blood at the helm, but because he's been at the club so long, I feel as though people take his presence and importance for granted sometimes.
With all of our rivals strengthening their managerial staff, people will always talk about whether Wenger deserves to stay or not - considering we've missed the opportunity to get the likes of Pep Guardiola and Carlo Ancelotti in the past.
In this case, I don't see Wenger leaving unless he feels the need to. But there's no reason why in his presence, we cannot make that step up.
Arsenal have won the FA Cup two years in a row and are into the last eight once again. What do you think it is about English football's biggest cup competition that the Gunners love so much?
"It's a welcome distraction"
I think it's partly due to the fact that it's a welcome distraction from league and European competition, especially if you're on a poor run of form or have a tough set of fixtures coming up. There's also a chance to give fringe or youngsters a chance to prove their worth, which has helped develop many Arsenal players in recent years, so there's definitely a love affair between the club and competition there.
What have you made of Watford this season and where do you think they can finish in the Premier League table?
Watford have been excellent this season, and exceeded all expectations, not least for a newly-promoted side. They've been unlucky not to grind out results against some of the bigger sides such as Manchester United, Manchester City and Spurs especially, suffered a dip in form - which all do, eventually - but they could definitely finish in the top-half come May. Anywhere around 8-10th place would be a great achievement for the Hornets.
Who do you consider as the biggest Watford threat to Arsenal progressing to the semi-finals on Sunday?
For me, it revolves around the forward duo of Troy Deeney and Odion Ighalo. The latter has been out-of-form recently, but looking at the team news ahead of kick-off, the Nigerian will be quietly confident that he can prove his mettle against one of the biggest and best sides in the division, which he'll hope can reignite his goalscoring form in the final few fixtures of the campaign.
Both are physical, agile players and a nuisance to defend against. It'll be interesting to see how we cope with them at the back, especially because they love the 'underdog' tag and will be hoping to knock the holders out, with a trip to Wembley on the horizon.