With the first team succesfully negotiating their return to the Premier League - and performing better than all expectations - while also battling for a place in the FA Cup semi-finals against Arsenal on Sunday afternoon - there's more good news coming from the club, this time from Westfield Academy.
On Thursday afternoon, former Watford striker Gifton Noel-Williams was on hand to help officially open the school's new £373,088 third generation (3G) artificial grass pitch (AGP), which was made possible by a grant given by the FA Facilities Fund and the Premier League.
The money has given the school an opportunity to replace the old sand-dressed pitch in order to create a new AGP, while the funds have also enabled new perimeter fencing and additional floodlights.
Increased involvement
Noel-Williams, who is Head Coach of the Watford Football Academy at Westfield, believes that the new pitch will help encourage participation in the local community, and described the new project as a "fantastic facility" which he hopes will be used by "pupils, partner clubs and Watford FC's Trust to increase particpation levels". Ultimately, Noel-Williams hopes, the pitch will help "get the local community active".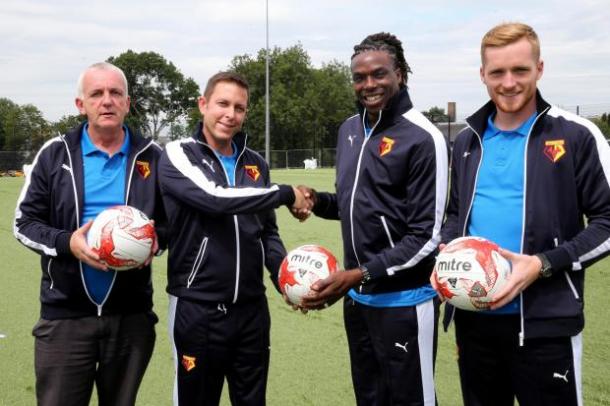 The 36-year-old, who made 169 first-team appearances for the club, described the opportunity to attend the opening ceremony as a "pleasure", and expressed his delight at seeing "so many young people" enjoying the new "impressive" facilities, at which Watford FC's Community Sports and Education Trust - who have worked with the school for a number of years - will continue to deliver education and community-based football.
Rob Smith, Community Director at Watford Football Club was also full of praise for the new facilities, describing the event as "fantastic" and suggesting that the investment will "strengthen the connection between the club and the local community".
Looking to the future
In conjuction with the Hertfordshire FA and Westfield Academy, the Football Foundation worked to produce a five-year development plan - including the growth of partner clubs such as youth and female only sides - with the emphasis being on participation increase. Further to that, the site will hopefully see the addition of a provision for disability football.
The facility is good news for a club that are working hard at all levels to focus on expanding and moving forward. Make no mistake about it: the future looks bright at Watford Football Club.