All of a sudden, Arsenal's season has come to a familiar, stuttering end. Losing over two legs to Barcelona in the Champions League was probably to be expected, but defeats in recent weeks to Manchester United and Swansea City have left the Gunners 11 points adrift of Premier League leaders Leicester City.
Perhaps even more disappointingly, Arsenal crashed out of the FA Cup - a competition they have dominated of late, winning it twice in a row - to none other than Saturday's opponents Watford. Quique Sanchez Flores' side dispatched the North London club 2-1 to book their place in the semi-finals at Wembley, and crush the hopes of the Arsenal fans.
Now, as Wenger's side look for their revenge at the Emirates on Saturdaty afternoon, we sit down with VAVEL UK writer Rob Tonkinson to get his thoughts on the approaching fixture.
It's been a strange season for Arsenal, with there once again being so much promise but with the increasing possibility that it could go unfulfilled. Why do you feel that the Gunners often come so close but can't go that extra mile?
"It was painfully obvious Arsenal needed a centre forward"
Strange is one word for it. I think this season, like most seasons in the last dozen years can be traced back to the business or lack thereof in the summer and again Arsenal did the bare minimum. Petr Cech was a terrific signing but it was painfully obvious that Arsenal needed a central midfielder and a centre forward to challenge or compliment Francis Coquelin and Olivier Giroud. Especially considering Danny Welbeck and Jack Wilshere's long-term injuries over the season.
I think Mohamed Elneny has perhaps answered the issue in central midfield for the time being but Arsenal still need a striker who's competing with Harry Kane, Sergio Aguero and others for the Golden Boot.
Who has impressed for you this season at the Emirates? And who needs to buck up their ideas fast?
Cech has impressed me throughout if you disregard his home debut against West Ham United and since the turn of the year Danny Welbeck. Elneny and young Alex Iwobi have impressed me the most and if the performance at Everton is anything to go by they will be the trio that reinvigorates the team in the future.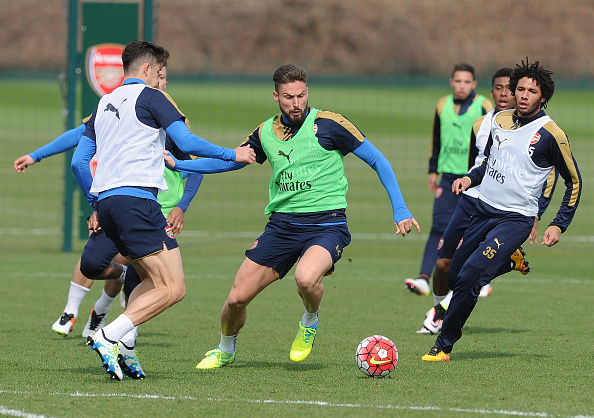 Mesut Özil has been tremendous all year and alongside Cech I'd argue is the only player I could see playing in the Arsene Wenger title winning teams of old and wouldn't be out of place.
As for who needs to buck up their ideas, Aaron Ramsey has flittered in and out of form all season and doesn't seem to have a set position anymore in this team, although he does seem to play quite well out wide. Theo Walcott and Alex Oxlade-Chamberlain have been woefully poor most of this season and I was just about ready to disown Walcott after the defeat at Old Trafford.
What are your thoughts on Arsene Wenger? He's done so much for the club and taken them so far, but is it a case of needing new blood if Arsenal are to take that step up?
"Most fans could write a dissertation on Arsene Wenger"
I'll try and keep it short because I presume like most Gooners I could write a dissertation on Arsene Wenger. I've always been very resistant to change, especially changing the manager, just due to the fear of the unknown - as I'm sure most people are - but this season has been a massive watershed moment for Wenger.
I know most fans of other clubs think we're spoilt and we are but I'm now very much with the growing majority that are frustrated with the team under-achieving in the league and feel a change is necessary. Admittedly, my anger has waned a little bit in the last few weeks but I wouldn't be devastated if Wenger's contract wasn't renewed past next season and that's a new feeling for me. I personally would like to get someone new in at the end of his contract in 2017.
Arsenal have won the FA Cup two years in a row but exited this year at the hands of Watford. Will they be out for revenge in a competition they had began to make their own?
I hope so, the Watford defeat was a bad one, that was our last chance at silverware and to be three wins from being the first team to three-peat the FA Cup since 1886 and blow it in the style we did to Watford was inexcusable. My hope is that the win at Everton has renewed everyone's confidence and we can have a strong end to the season but I'm also a bit nervy that the international break has come and squandered any momentum.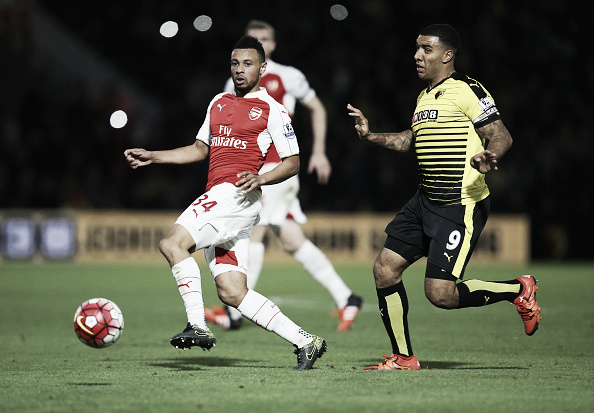 What have you made of Watford this season and where do you think they can finish in the Premier League table?
I'd like to take some credit for Watford's season in that I said I wasn't all that impressed with them when I wrote the preview for the game at Vicarage Road in October and since they've played really well to spite me.
The 3-0 in October really flattered us because I thought Watford really matched us for most of that game and if it wasn't for Cech, it could have been an entirely different story. I've been really impressed by Odion Ighalo, I'm sure the Hornets will have to refute a few offers for him in the summer.
"Flores has had no difficulties transitioning to football in England"
Also impressed at how well Quique Sanchez Flores has taken to the job, I thought changing managers pre-season would be a death knell for Watford but he seems to have had no trouble transitioning to England. He's made Watford very stable at the back; I don't think anyone's completely hammered them this season, which usually happens to the promoted clubs.
They're not going down this season; I could see a very stable mid-table finish and something for the Flores and the Pozzos to build on in the summer.
Who do you consider as the biggest Watford threat to Arsenal taking all three points?
The front two on the counter worries me a lot, they're both physical and Ighalo has quite a bit of pace too, they were definitely the most threatening thing about the FA Cup tie a few weeks ago.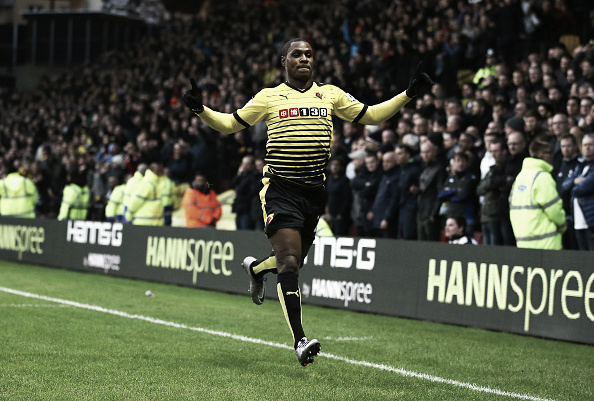 If the two could get the final ball right on the counter-attacks, which they couldn't seem to quite do in the cup tie, then they're going to create a fair few chances on Saturday. I'm also hoping Adlene Guedioura doesn't smash one in from long range too.
Finally, what is your score prediction for the game?
I'm going to be brave and go for an Arsenal win, reckon it'll be a tight game but we'll just nick it 2-1.