Jose Manuel Jurado has told Watford fans to keep growing after his departure from the club was confirmed last week.
The former Real Madrid midfielder tweeted a message of thanks and goodbye to the Vicarage Road faithful on Tuesday afternoon after his £2 million move to Espanyol, in his homeland, was completed.
After joining the La Liga side, Jurado took to social media to say: "Watford fans, thank you very much for all the last year," before adding that the London outfit "are a great club."
"I won't forget you," Jurado insisted, wishing the Hornets "good luck" and to "keep growing" after a successful campaign last term.
Sanchez Flores and Jurado reunite
Jurado has reunited with ex-Hornets boss Quique Sanchez Flores at the Barcelona outfit where the two men will hope to have as successful a campaign as they enjoyed at Watford last season.
Jurado was a key member of Flores' team last term, making 30 appearances in the Premier League and becoming a prominent figure in the run to Wembley in the FA cup semi-final as they finished 13th in their first top-flight campaign in eight years.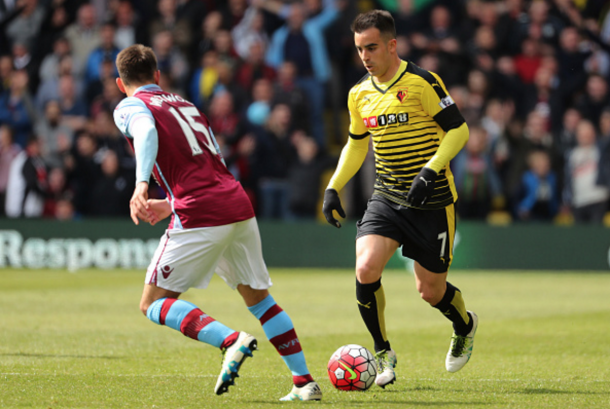 The 30-year-old Spaniard was brought in from Spartak Moscow last summer as part of a major squad overhaul orchestrated by Flores, who left the club after just 12 months in May.
The fact that he has now been made one of the first arrivals for Flores in his new role indicates a strong level of trust and respect between manager and player, who clearly seem to enjoy a good working relationship.
The next steps
It is as yet unclear how new Watford head coach Walter Mazzarri will react in the market to the sale of Jurado.
It remains to be seen whether he thinks there are enough midfield options within the squad or if he elects to go into the transfer market to fill the hole left by Jurado's departure.
With clubs such as Sampdoria, Napoli and Inter Milan on the Italians' CV, he is sure to have a wealth of good contacts that he can use in order to recruit the type of player that will fit perfectly into his new Watford set up.
At the forefront of this process will almost certain to be the new scouting team of Filippo Giraldi and Roberto Miggiano, who Mazzarri will likely confer with to draw up a list of potential new signings.