Last month, Watford revealed their first summer signing, coming in the form of Jerome Sinclair. The 19-year-old striker was purchased from Liverpool for a deal predicted to be worth around the £4 million mark - for competnsation - as a five-year contract was completed.
A new move essential
Sinclair struggled for game time at Liverpool, falling behind the likes of Christian Benteke, Daniel Sturridge and the emerging talent of Divock Origi in the pecking order, after making just five appearances for the Reds in all competitions.
The England youth international revealed his excitement, following his move to Watford, claiming that he is 'massively excited' to get going in the yellow and black of the Hornets.
Sinclair's main motive of his move was of course over game time, as the youngster later confirmed: "I was offered the opportunity to come in here and play games."
The young Birmingham-born striker was rewarded with just that in midweek, as Watford faced their first pre-season friendly in a match against Woking.
Sinclair was introduced as a half-time substitute, and his debut appearance for the club was lively and extremely encouraging.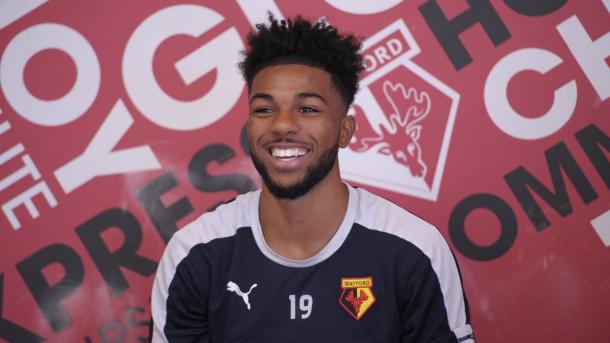 First impressions of Mazzarri
Speaking after the game, Sinclair revealed his first impressions of new head coach Walter Mazzarri.
"We've done a lot of tactical work in training and he wants to get all the lads organised and playing in his style," said the 19-year-old.
Sinclair continued to say: "It's a new ideology and so he has to enforce that on the lads but it's going well so far." Encouraging times for the club, as they begin to creep up on the new Premier League season, starting in just over 30 days' time.
The forward concluded talks about his new manager, capping off his interview with: "When a new manager comes in he has to impose his style and the lads have been really good." When you look at the impact of new managers from abroad coming into the Premier League, particularly last season, Watford have all the reason to get excited about life under the guidance of Mazzarri.
Finally, Sinclair explained the difficult demands of England's top tier, saying that the league is 'always going to be tough'. The young forward would not be wrong in saying so, as even the biggest fall sometimes.
Sinclair will be hoping – like his manager – to make a positive impact at Watford, their first Premier League game of the season comes against Southampton in August.