Watford secured their first win under the guidance of Walter Mazzarri yesterday, in a 2-0 victory over League 2 side, Stevenage.
Goals from Etienne Capoue and Jerome Sinclair settled the game as a 2-0 victory for the Hornets.
A rare moment of magic from Capoue
Capoue's goal was most talked about, despite young Jerome Sinclair netting his first Watford goal in his second appearance for the golden boys, his goal came as a complementary finish as supporters were still stunned by Capoue's first ever goal in a Watford shirt.
Capoue's goal came five minutes after the restart following half time, the midfielder cut inside from the right side, hitting an unstoppable venomous shot into the top corner, way out for reach for the Stevenage keeper to deal with. After the game, Capoue spoke about his goal, and life under new head coach, Walter Mazzarri.
He started with his goal, saying; "I was happy." He continued to refer to some inside jokes that his fellow teammates have with him: "All the players shout on at me because I've never scored since I've been here, but today I scored so now they can't talk anymore!"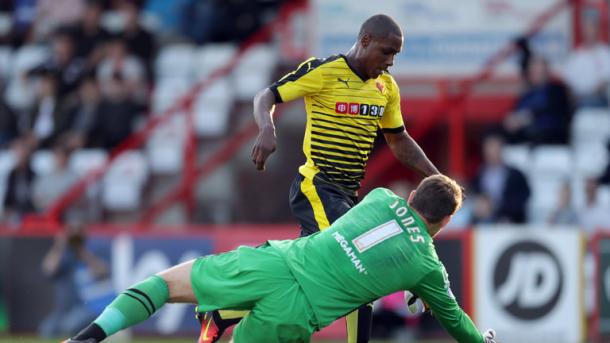 The only way is up
The former Tottenham Hotspur player advanced to touch upon Watford's preparation for the upcoming season, "It's important because we need to win and to score goals to be confident and to be ready for the 13th of August." He wouldn't be wrong, as Watford's first five fixtures come against opponents regarded as 'tough to beat' by any team they face.
Following the appointment of Mazzarri, it was uncertain just how the Italian manager was going to fully test his new team, broadening their horizon to many other approaches and attitudes to play.
The Italian tested his new style yesterday, as the hornets played in a 3-5-2 formation. Capoue seemed happy with the new system when he spoke after the game. "We touch the ball, we always play forward and we have a lot of opportunities to score" He continued his positivity and praise for his manager's fresh approach, claiming: "It's good for the future. I like the shape and how we play, and everyone else likes it as well so we are going in the right way."
Watford will be looking to improve on last season's 13th place finish, with a daunting run of fixtures to open their 2016/17 campaign, the hornets must maintain their unbeaten form in pre-season for starters.