Walter Mazzarri has settled into life at Watford quickly it would seem, as the Italian manager has already completed the signings of four players.
Watford's first signing of the season came in the form of Nigerian striker Isaac Success.
Adapting to life at Watford
The 20-year-old featured in Watford under-21s' game against Chivas earlier this week and has admitted that he is enjoying his time with the Hornets so far.
Speaking to the club's official website yesterday, Success revealed his satisfaction with his new club: "I've been here for a couple of weeks now and I have to say, it's been very easy to settle in, which is important for me in a new country." Success moved from Granada to Watford this summer for a club record fee of £12m, and is looking to break into the first team with huge competition in the striker role.
Success admitted that knowing some of his teammates from past experiences has boosted his confidence and happiness towards his new home: "It helps that I already knew a few of my teammates – I played with Abdoulaye Doucoure last season and Odion Ighalo is a fellow Nigerian."
In truth, the whole club are experiencing a transition as they adapt to the new and intriguing style of play that Walter Mazzarri brings to the squad. "I've worked with him [Mazzarri] a lot already during my first two weeks and he's very good, both as a coach and a person." Success looks in line to be a part of Mazzarri's plans in the near future at Watford, as he has so far featured in two of Watford's three pre-season games.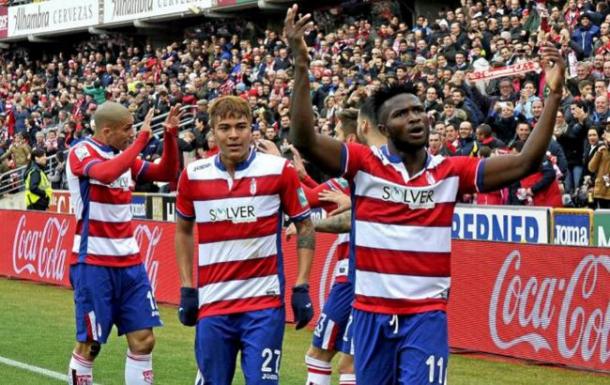 Excited to get going
"Watford seems like a great club and I'm excited to be a part of it," declared Success, who will be hoping to make a breakthrough into the Premier League next season, like many other young strikers have in the past. "I've been working really hard at the training ground but it's been very enjoyable, and I know the work I'm doing now will pay off when the season starts."
Watford will be looking forward to the Southampton opener with tunnel vision, as they hope to start off life in the Premier League with Mazzarri in a positive way.
For now, the Hornets travel to Austria as part of a pre-season camp. However, Success will not travel with the squad following an issue regarding the UK work permit that he is waiting to receive.