Like many other Premier League teams, Watford have opted to accept the opportunity to train and play abroad ahead of the upcoming season. The Hornets are currently training in Austria, and have already taken on 2. Bundesliga side, 1. FC Union Berlin, resulting in a 3-1 Watford win.
Pre-season preparations
It's always a positive experience to spend pre-season as a team, especially in a new environment against unknown opposition, one man in particular is enjoying Watford's time in Austria, that man being Sebastian Prödl.
The Watford defender has recently returned to his club duties following his time at the European Championships in France. Prödl played in two of Austria's three games at the competition, and has admitted that he is happy that Watford are working in his home country.
Speaking to the club's official website, the 29-year-old defender joked; "Of course it's great to be in Austria, maybe that's why it was no problem for me to play 70 minutes on Tuesday!" Prödl attended just three training sessions before playing 70 minutes in the match, and admitted that it was 'hard to play' for that amount of time.
Prödl briefly touched upon his teams' preparation for the new season, in which their opening fixtures have turned against them. "Hopefully I can stay this way and continue to have a good pre-season and prepare for the new campaign, because it's going to be a tough one." With Southampton, Arsenal, Chelsea, West Ham United and Manchester United as their first five opponents, it certainly will be a tough start to life in the Premier League for newly appointed Walter Mazzarri.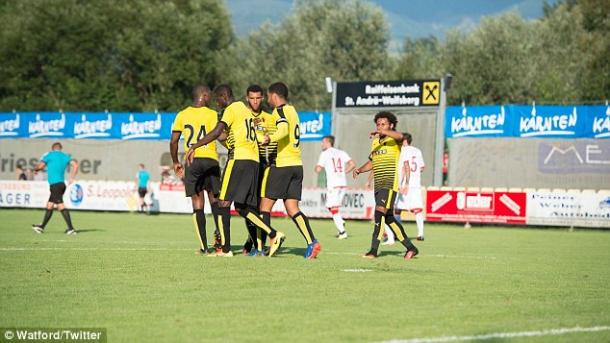 New expectations
The Austrian defender also gave his verdict on his new manager, claiming that "it's interesting to get a new point of view to football".
Mazzarri has been playing Watford in a 3-5-2 formation so far this preseason, as the Italian manager gets to grips with his new team, and his new surroundings in England. Prödl admitted that he was impressed with Mazzarri's approach: "He is an Italian coach, the first Italian coach of my career. He is very focused on tactics of course and he is teaching us some great stuff."
Watford's towering number five concluded his interview with his hopes for the new season, saying; "Hopefully we can follow his way and have a great season." If this season goes anything like last season, it will have been a successful campaign for the Hornets.