Watford broke their transfer record fee this transfer window, signing Nigerian international Isaac Success from Granada. The £12.5m rated 20-year-old striker recently opened up about his move to Watford, admitting that he is very happy to be playing at the club under the guidance of Walter Mazzarri.
Exciting times ahead for young Success
Following Watford's pre-season programme, some of Success' new teammates took the time to speak about their new teammate. English midfielder Ben Watson spoke to club representatives after their pre-season tour on the prospect that is Success.
Watford fans are still yet to see the best of the striker, as he has only featured minimally so far in Watford colours, as he didn't travel to Austria with the team due to a missing travelling document.
Watson compared the young striker to Watford's current marksman, Odion Ighalo. Like young Success, Ighalo made the move to the Premier League via Granada, and is thriving in England so far. "He's [Success] still got a lot to learn" said the former Crystal Palace and Wigan Athletic mifielder, "but he's only got to look at Ighalo who was in a similar situation, coming from Granada."
27-year-old Ighalo made his move to Watford permanent, following a brief loan spell at the club the season before. Watson continued to compare Success to Ighalo, saying; "He [Ighalo] hit the ground running and scored tonnes of goals."
Watson went on to add that "If he [Success] can repeat that and be as good as Ighalo" then "we've got another fantastic player on our hands."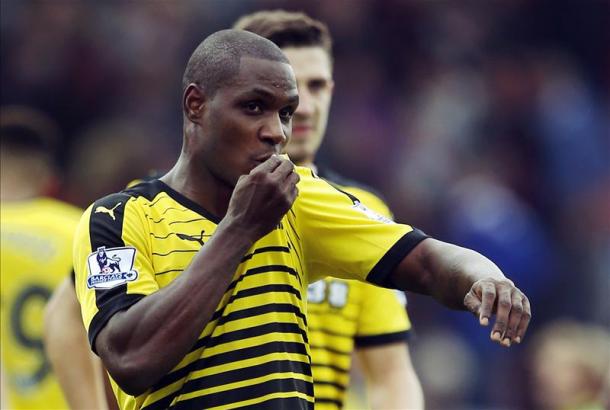 Can Success follow in Ighalo's footsteps?
Ighalo scored 15 Premier League goals last season, making his mark in the league and attracting lots of interest from many other clubs over a potential transfer. Earlier this window, Watford rejected a £30m+ bid for the striker from China, as Watford deemed their man irreplaceable. The club will be hoping that Success can follow in his footsteps, as at the age of just 20-years-old, it would be certain that his best years are yet to come.
Watford defender, Craig Cathcart spoke about Watford's upcoming season, and also commented on his first impressions of Isaac Success, after the club returned to their training programme in London Colney. Cathcart revealed that he played on the same team as Success in training, giving Watford fans a tease of what to expect from the young forward. "He's quick, strong and very direct. He's something a bit different to what we have got."
Watford will be enlightened by some variation in attack, as they look to bring a whole new dimension of style to their game under their new manager. They kick off their Premier League season with a trip to St Mary's as they take on Southampton in just over a week's time.