Salomon Rondon's winning goal versus Manchester United on Sunday was his seventh of the season, and helped West Bromwich Albion to their first Premier League win over The Red Devils at The Hawthorns.
Having now scored four in six games for The Baggies, Rondon's confidence has begun to grow. The forward's all round performance on Sunday typified his rise to prominence over the last few weeks.
The Venezuelan's work-rate against United was almost second-to-none; chasing down the ball, holding up the play and on more than one occasion, thumping a headed clearance from the boughs of the West Brom goal.
Rondon confidence has taken time to grow
Since moving to the English top flight from Zenit St. Petersburg in the summer, for a fee of £12m, Rondon has only exhibited fleeting glimpses for his new side mainly due to West Brom's previously cautious attacking stance.
A string of strong centre-forward performances, however, has shown his value for West Brom. Even when Rondon hasn't found the net, his contribution at both end of the pitch has been felt. Yesterday alone, only Jonas Olsson in the West Brom defence made more clearances.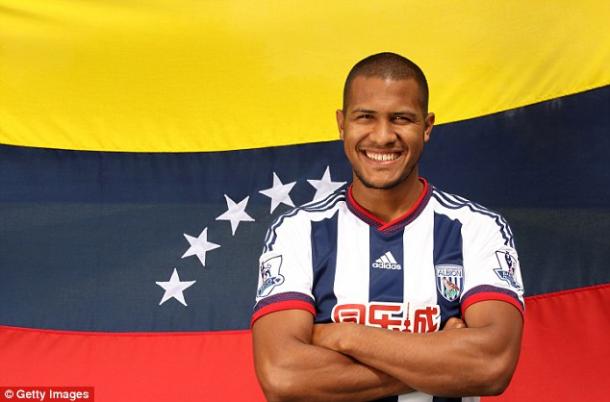 Rondon grateful to West Brom fans
It has taken slightly longer to adapt to the English game for Rondon than had been expected, but now Saido Berahino has been fielded back in the side as his playing partner, the burden on the forward has been lifted somewhat.
The Caracas-born forward acknowledges this, as well as the continued support of the fans.
The 26-year-old is quoted from the Birmingham Mail, stating: "I think it's important for me to have Saido behind me. I control the ball, he plays it and I run behind the defenders."
He added, "This is very important for me."
On the subject of the Albion faithful, he said: "I'm happy and thank you for supporting me. The team needs the support of the stadium which is more important."
For one of such relatively steep price tag, Salomon Rondon seems to be entirely humble from an ostensibly poor background. The West Brom fans have taken the hitman firmly to their hearts, despite recent goalscoring issues.
As Rondon finally finds the golden touch, if the Venezuelan continues his effortless tirade and the hunger remains, Rondon could yet be a Premier League hit.