West Ham United youngster Declan Rice has signed his first professional contract with the Hammers.
What a feeling
The 17-year-old has been excellent addition to the Hammers academy, with the 17-year-old producing some excellent performances for Terry Westley's under-21 side, on their way to U21 Premier League Cup victory last season.
The defender was rewarded for his performances, winning the prestigious Dylan Tombides award, and shared his delight of signing a three-year deal with the Hammers, and his ambitions to follow in the footsteps of the likes of Reece Oxford.
Rice told whufc.com that it is an "amazing feeling" and is excited to be "part of the club" as they move into the "new stadium" and that he was amazed to have gone from a "scholarship" to a "professional contract" in the space of six months as he was "playing so well."
He continued saying that it is "amazing" to train with the first-team and is hopeful to be "part of it" next season and follow in the "footsteps" of "Reece [Oxford]" and "Josh Cullen" and "impress Slaven Bilic" during the "pre-season."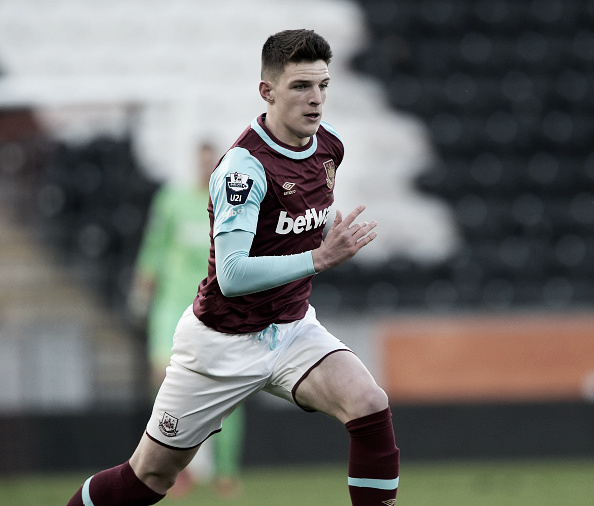 What a week
Rice arguably had one of the best days in very short career back in May, having picked up the Tombides award before traveling to Hull to seal the U21 Premier League Cup, defeating Hull City on penalties.
He said that it was "one of the best weeks" of his life and that he was "proud" of what he had "achieved."
Rice continued saying that he had "no idea" that he was "going to win anything" and that it was "fantastic" to "pick up the award."
On the final, Rice said that he "loved every minute" of it and that it was "great" to win as they "stuck together" and showed "amazing team spirit."
West Ham United will take on Seattle Sounders at the CenturyLink Field on Wednesday, July 6 with kick-off at 3:30am BST.