West Ham United's Dimitri Payet, has been named the player of the Euro 2016 tournament by UEFA's player barometer. Unfortunately, this wasn't enough to clinch the official Player of the Tournament award, which went to Antoine Griezmann.
Return to form
Payet returned to international football after some scintillating form for the Hammers with nine goals and 12 assists.
He brought that to the tournament, scoring three goals on the way to the final, which they eventually lost with a extra-time goal from Eder giving Portugal the 1-0 victory.
A Uefa statement read:"Dimitri Payet ended Uefa Euro 2016 where he started it" as "top of the Player Barometer ahead of Antoine Griezmann and Gareth Bale."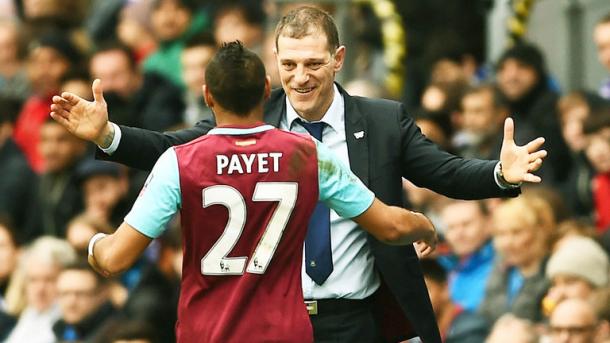 Staying at the Hammers
​Payet's goals against Romania, Albania and Iceland-along with his overall performances have attracted the attention of a number of top-end clubs.
The likes of Chelsea, Manchester City, Real Madrid and Paris Saint-Germain have all been linked, but manager Slaven Bilic hopes that he will stay at the Hammers.
He told the Daily Mail "as a club manager, when you have a player involved there is added interest" and believes "there is no doubt Dimitri Payet has been one of the stars of the tournament."
Bilic continued "I understand that with his success, all the speculation about his future will follow" and has seen "one report suggesting I don't want him to do well in case it leads to him leaving West Ham."
He concluded "That is not right. I want him to play great" and knows "that is not right. I want him to play great" and revealed they have "texted each other over the last three weeks and he is happy at the club" as "he is our player."
West Ham United will take on the Carolina RailHawks at the WakeMed Soccer Park on Wednesday, July 13 with kick-off at 1am BST.