Cameroonian international Gaëlle Enganamouit was forced off just 15 minutes after coming on for FC Rosengård in their opening game of the Damallsvenskan season yesterday.
Rosengård got their title-defence off to a dream start against Kristianstads. Brazilian star, Marta, gave the hosts the lead just two minutes into the game and Lieke Martens restored the lead after Johanna Rasmussen had equalised. With Rosengård looking comfortable in the second half at 2-1, head coach Jack Majgaard Jensen brought Enganamouit on for Lina Nilsson. However, the striker went down injured just fifteen minutes later.
Following an MRI, Rosengård have confirmed that Enganamouit has damaged her ACL, and she's due for a laparoscopy later this week to assess the extent of the damage. Rosengård manager, Klas Tjebbes has stated that even at this early stage the injury is a serious one and looks to have put the end to Enganamouit's season. He went on to say, "Above all, I feel very sorry for Gaëlle." Tjebbes went to say that she was looking hungry in front of goal and could have been a huge factor as the season went on.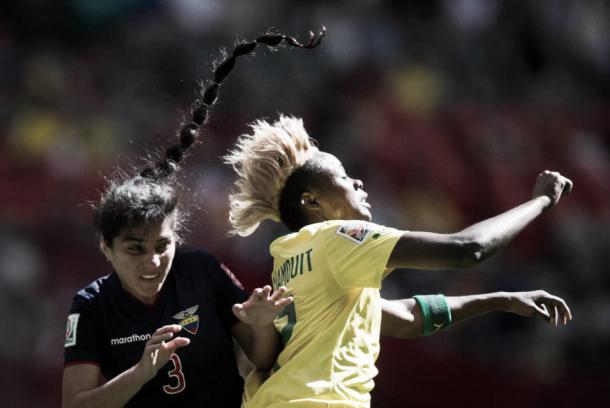 Enganamouit lit up people's screens during the 2015 FIFA Women's World Cup, playing a starring role for an unfavourited Cameroon making their first appearance in the competition, the Indomitable Lionesses falling to a narrow defeat to China in the round of 16. Dubbed the "Cameroonian Messi" Enganamouit was one of the many in Canada who shone a light on the quality of football and footballers coming out of Africa.
Although still struggling through lack of funding, Enganamouit's successes for both club and country will resonate with young girls growing up in Cameroon, the distinctive striker a benchmark for what can be achieved.
Enganamouit is no stranger to Sweden or the Damallsvenskan having spent the 2014-2015 season with Eskilstuna United where she was the top goalscorer in the league netting a total of 18 goals. Her goals almost catapulted Eskilstuna to the top spot, but Rosengård clinched their tenth title by a single point over their northern rivals.
Enganamouit made the switch over the winter and had already featured for Rosengård in their UWCL games notably allegedly on the receiving end of racist chants from FFC Frankfurt fans in the second leg of their quarter-final match.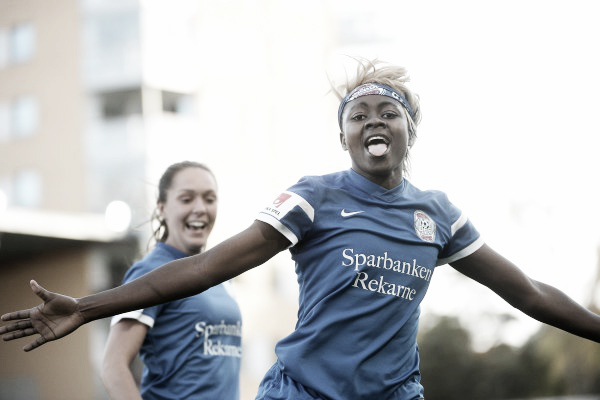 Natasa Andonova also left the field injured yesterday however Tjebbes, is much more optimistic, confirming the injury is a muscular problem in her neck and she should be back fairly soon.
Enganamouit joins Erin McLeod and Zecira Musovic on Rosengård's growing list of casualties.
20/4/6 Update: Good News
Following the laparoscopy, Therese Sjögran has stated that the initial diagnosis was incorrect and Enganamouit hasn't suffered any ligament damage (ACL or otherwise) and the young striker has severely damaged the cartilage in her knee. However, the recovery time is estimated at 8-12 weeks, so she's due to be back in contention for the second half of the Damallsvenskan season.