With Olympique Lyonnais and Paris Saint-Germain to do battle in the first leg of their UEFA Women's Champions League semi-final on Sunday, there are only four Division 1 Féminine fixtures this weekend, with the focus taken away from the top two.
With La Roche-sur-Yon, sat in the final relegation spot, not in action until they visit PSG on Wednesday either, the attention will be on those just above the drop zone as they look to pull away from the last remaining place in next season's second division.
Guingamp and Albi battle it out for safety
Recent back-to-back wins for La Roche have blown the relegation race wide open, with them expected to follow Nîmes Metropole Gard and VGA Saint-Maur down the ladder prior to the two results; both teams relegated at the end of week 18. Now, they are just three points from safety with three games to go.
However, this weekend is a chance for Guingamp, who recently lost 1-0 to La Roche, to pull away from the threat of relegation, with them sat just one place above the drop.
With La Roche expect to lose to PSG in midweek, a win for Guingamp on Saturday could see them six points above the bottom three with two games left - pretty much guaranteeing safety.
Nonetheless, their opponents this weekend, ASPTT Albi, are still looking to ensure their own place in the top flight for next season, sat seven points above the drop.
With six goals in her last six games, Guingamp certainly have a match-winner in their ranks, Desire Oparanozie looking for that one goal needed to hit double figures for the season. The Nigeria international's side will look to her to help them to only their second win in five, but surely a place in next season's top flight season.
Kimberley Cazeau, on the other hand, is after her seventh of the season and a third goal in four games. She was Albi's match-winner in the reverse of this fixture, as they beat Guingamp 1-0 on their own patch in November.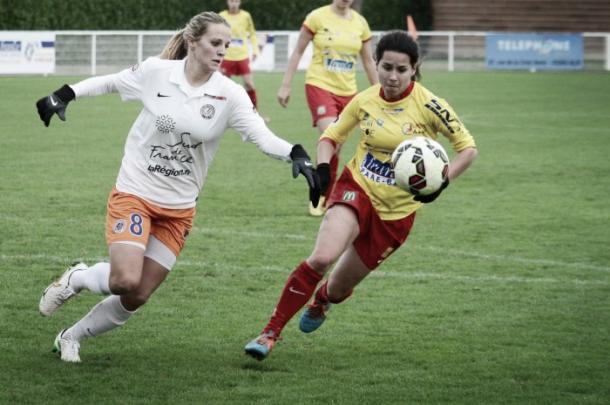 End of season feel
On Sunday, meanwhile, the focus is on the top half of the table. Montpellier and Soyaux provide us with a clash between two of the top six as the former look to keep their slender hopes of a Champions League place alive.
The visitors know that they are mathematically safe now, so they can head to the home of the league's third-placed side aiming to put on an eye-catching performance that exhibits this lack of pressure.
The season may be seemingly over for both, but they will want to continue to push for as best a finish as possible and by playing the same attractive football as they have all campaign.
Juvisy's visit of Nîmes later that day will also have an 'end of season' feel to it. The former need PSG and Montpellier to lose all of their remaining three games to stand any chance of a top two finish, plus the matter of goal difference. Nîmes, meanwhile, were relegated last month.
ASSÉ looking to make sure
Saint-Maur's welcoming of AS Saint-Étienne is the only game on Sunday with any relative significance then - even with the hosts already down.
The visitors are four points above the drop, knowing that a win this weekend would mathematically ensure safety unless La Roche avoid defeat to PSG in midweek. It's a big game for Saint-Étienne then, who will hope their fate for the season is sealed before Wednesday's match even takes place.
Saint-Maur won't roll over despite already being relegated, but their opponents will be expected to emerge victorious, with Julie Peruzzetto looking to make a mark in the game that will take her from nine goals for the season, to double figures.