Bayern Munich need just four points from their remaining four games to clinch the Frauen-Bundesliga title, and a win this weekend would thus be a huge step towards the achievement of back-to-back championships.
Meanwhile, at the other end of the standings, anything but a win will see 1. FC Köln relegated, and even that might not be enough depending on how Bayer Leverkusen in their own fixture.
All in all, Sunday is a huge day at both ends of the standings, with plenty to fight and scrap for.
Nearly time for the champions-to-be
Any destination other than Bayern's trophy cabinet for this season's league title would be one of the biggest shocks football has ever seen, and a win for the leaders this weekend will take them within just one point of glory. That is even despite their two closest pursuers, VfL Wolfsburg and 1. FFC Frankfurt, playing in midweek, and the former winning to continue to apply the pressure.
Bayern's obstacle this Sunday is SC Sand, who will prove to be a tough task. The side currently sat fourth in the standings, this season's 'best of the rest', are having a splendid campaign and upset Bayern in the DFB Pokal earlier this month to pip them to a place in next month's final.
After suffering defeat to Frankfurt last time out, it's a game in which Bayern can answer questions being raised though, and they will be expected to do exactly that.
Battle at the bottom takes centre stage
However, this weekend's focus is the bottom; on the scrappy, desperate football, not the pretty, trophy-winning stuff.
It's do or die for Köln, who need to win to have any hope of staying up - or, to simply prolong the inevitable. Their opponents are TSG 1899 Hoffenheim, who aren't yet safe themselves.
The latter are eight points above the drop with 12 left to play for, so, with plenty still to play for themselves, they won't be an easy task for the side sat bottom of the standings.
A win for Die Kraichgauer would be a huge step towards safety, and would even mathemtically ensure it if Werder Bremen lose at the same time. If Werder are defeated by Leverkusen, then that result will render a Köln win meaningless too.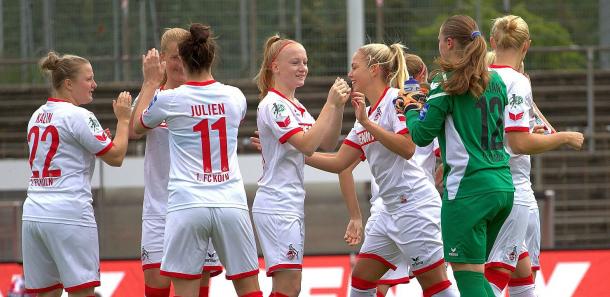 Leverkusen's hosting of their rivals at the bottom has plenty riding on it for more than just the two involved then, and it will be a particularly enticing affair with the home side sat the right side of the relegation line and the visitors just the wrong side.
Five points separates them, and so three for Leverkusen would move them within two of certain safety on Sunday.
Finally, USV Jena and 1. FFC Turbine Potsdam are both yet to secure their places in the top flight for 2016-17 as well. Potsdam are 11 points above the drop with 12 to play for, and Jena have a nine point cushion and a further 15 to play for.
Neither look to be in any severe danger of going down, with the likes of Werder, Leverkusen and Hoffenheim far more threatened, but they won't want to run that risk - especially when everyone is desperately scrapping for results.