VfL Wolfsburg look set to return to the Champions League final after a year absence, after beating 1. FFC Frankfurt 4-0.
Goals from Isabel Kerschowski, Alexandra Popp, Babett Peter and Ramona Bachmann have left the Wolves in a comfortable position ahead of the second leg.
Wolves run riot
Wolfsburg started superbly and were in control early on. The wings were causing plenty of trouble for Frankfurt, but their own defence didn't help matters. A mix-up between Saskia Bartusiak and Peggy Kuznik allowed Alexandra Popp through on goal, but she blazed over as Anne-Kathrine Kremer came charging out.
That press would eventually tell on an overwhelmed visiting defence, and the Wolves went ahead. It was the in-form Ramona Bachmann who carved out the chance, darting down the right before she whipped a wonderful ball across goal. Her cross was missed by everyone in the area, but Isabel Kerschowski was on hand to thunder home.
After the dust settled from the hosts' lightning-quick start, Frankfurt finally began to get boots on the ball and bring the game back to a lesser tempo. That being said, Wolfsburg still looked dangerous and a volleyed effort from Bachmann was another warning to their opponents.
The respite proved momentary, and it was soon 2-0 before the half hour. A scrappy move had seemingly broken down when Bachmann was battling for the ball on the floor, though she still managed to lay off for Popp. The striker then sent a stunning shot blistering past Kremer, who remained rooted to the spot as it rippled the net.
It would get even better in the run-up to half-time with Babett Peter getting on the scoresheet. Another cross proved to be Frankfurt's undoing, as Elise Bussaglia picked out her team-mate in the area. Peter's flicked header caught the post and dribbled over the line, with Wolfsburg going into half-time with a three-nil advantage.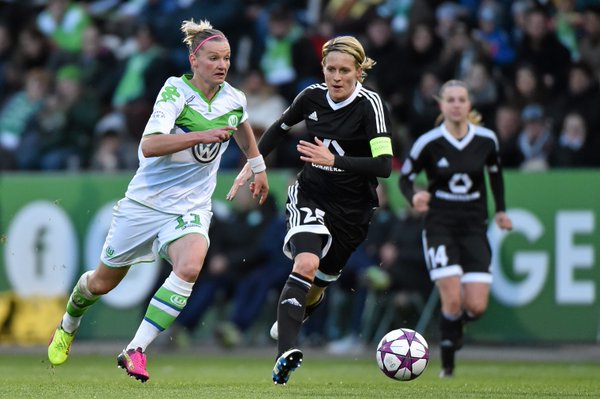 Simple second half
It was a much slower start ot the second half, although one which Frankfurt were enjoying the better of the play in. Mandy Islacker was first to test the Wolves' resolve, bringing a fine save from Almuth Schult. Ana-Maria Crnogorčević was denied by a brave block from Schult's defence, as they began to look like getting a goal back.
However, Bachmann had other ideas. The Swiss star picked the ball up outside the Frankfurt area and ran forward before curling an effort goalwards. It looked like a relatively simple save though Kremer misjudged the flight of the shot and could only get fingertips on the shot, unable to prevent it from going in.
Any momentum Frankfurt had was gone with that goal, and Wolfsburg were not prepared to let up. Bachmann missed a great chance to add a fifth after she chipped over the bar, while Popp was apologising to Lena Goessling for accidentally deflecting her goal-bound effort over the bar.
The remainder of the game slipped by without any major incident, with Teodora Albon's whistle bringing welcome relief to Frankfurt. The return leg takes place a week later and - even with plenty of preparation - Matt Ross' side will need an historic Champions League turnaround to get into a second final in as many years.