While Olympique Lyonnais and Paris Saint-Germain sat out Division 1 Féminine action this weekend, eight other teams continued their push for final league positions.
Along with the top two, La Roche-sur-Yon and Rodez were both out of action in the latest matchday as their matches with Lyon and PSG were re-scheduled due to the latter's European commitments.
The push for safety continued
EA Guingamp and ASPTT Albi battled each other on April 23rd as both teams sought to further separate themselves from the final relegation spot in the table. Guingamp started the game quickly when Marion Boishardy and Salma Amani gave them a two-nil lead within the first five minutes of the match.
Laurianne Cervera answered back for Albi before Désiré Oparanozie gave Guingamp some breathing room again with Guingamp's third goal. Albi continued to push for goals and Patricia Martinez Augusto managed to get Albi's second goal of the match a minute before the end of regular time.
Albi did not fade away but there was not enough time left for them to tie the game and walk away with a point.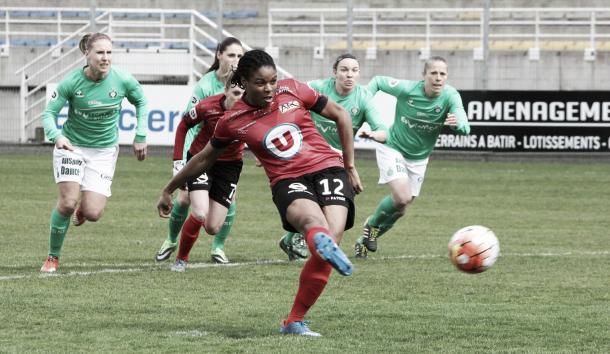 Montpellier recover, Juvisy remain in the hunt
Montpellier H.S.C held onto third spot and found some form again this weekend as they romped to a seven-nil win over Soyaux.
Soyaux have managed to have a steady campaign so far, but they had no answer for Montpellier's offense power and could only watch as their opponents managed to find their way through time and time again. Laëtitia Tonazzi was the player of the match as she grabbed a hat-trick while the rest of the goals were scored by Andressa Alves, Sofia Jakobsson, Viviane Asseyi and Valérie Gauvin.
Trailing one point behind Montpellier is Juvisy who brushed aside Nîmes Métropole Gard with a three-nil win. Juvisy had lost to Lyon in the previous round and were looking to bounce back and keep chasing down Montpellier for the third spot in the league. Goals from Tatiana Coleman, Gaëtane Thiney and Kadidiatou Diani secured the three points for Juvisy.
The last match of the round saw Saint-Étienne overcome VGA Saint Maur with a two-nil win. Saint-Étienne came into this game with a run of no wins in four matches but considering that VGA is currently languishing at the bottom of the table, and relegated from Division 1 Féminine, most expected their loss of form to stop here.
Sarah Palacin opened the scoring for Saint-Étienne early on in the match before Karen Montgenie leveled things up for VGA. Julie Peruzzetto regained the lead for Saint-Étienne one minute later with a converted penalty kick and the score remained that way until the final whistle.