Linköpings FC notched their up third straight win in a row, while Eskilstuna United continue to struggle. There was also the first set of points for both Mallbackens IF and Djurgårdens IF, in what was another busy weekend of Damallsvenskan action.
Eskilstuna United DFF – Linköpings FC 1-3 (0-1)
Goals: Harder 26' 51', Blackstenius 64' - Banusic 90+2'.
A game between two of the best teams in the league was mouth-watering Thursday evening entertainment. Eskilstuna went into the game with a narrow win over Djurgården and a loss to Vittsjö, and needed a win to keep up with Linköping, who had won their previous two games convincingly. Linköping were on top for most of the match, and their attacking prowess was on display.
Young Swedish forward Stina Blackstenius has been in incredible form in the first two games, notching up four goals in two games. She continued to add to this today, with a goal and an assist. However, it was last year's league MVP, Pernille Harder, who ran away with the headlines; with two goals she took her overall goal tally to three. Linköping fully lived up to the hype that surround the title challengers, and despite their defence looking shaky at times, they seem to be able to outscore any opponent.
Eskilstuna came up short in the game, and the only real highlights for them was Marija Banusic's injury-time goal and the performance from Nathalie Björn. The talented defender did well in hard circumstances.
Kvarnsvedens IK – Kopparsberg/Göteborg FC 0-2 (0-1)
Goals: Blomqvist 9', Hammarlund 90+7'.
Goals by Pauline Hammarlund and Rebecka Blomqvist meant that KGFC took their first three points of the season. The game started off with KGFC in control, and after 19 minutes it resulted in a goal. Sara Lindén's pass was met by Blomqvist, who slotted it into the net with a cool finish.
As the game progressed Kvarnsveden got closer and closer to a goal and had several good chances, but a returning Loes Geurts looked calm and collected in Göteborg's goal. However it was Göteborg's new starlet Pauline Hammarlund, who, with a great solo run and finish, settled it in favour of Göteborg.
Right back Maja Göthberg suffered an injury in the second half, and had to be stretchered off. It is a shame for the young player, who had been enjoying a good game. The early signs suggest that she will miss one to two months of action.
Umeå IK FF – Mallbacken IF Sunne 1-1 (1-1)
Goals: Chikwelu 1' - Butt 36'.
Umeå and Mallbacken were two of the teams predicted to be contenders in the relegation battle this season, and any game between such contenders could have a massive influence in the standings at the conclusion of the league. It was evident from the start that this game was important. Umeå got it off to a flyer, when Rita Chikwelu scored within a minute.
Afterwards followed a string of Umeå shots on goal, but in 3th minute Mallbacken were awarded a penalty and Tameka Butt slotted past Tove Enblom. Four minutes into the second half, another penalty was awarded. This time for Umeå. However, Jenny Hjohlman couldn't convert it and the score remained 1-1 - the final result. This is the third 1-1 result in a row for Umeå, while it is the first point Mallbacken has earned so far in the league.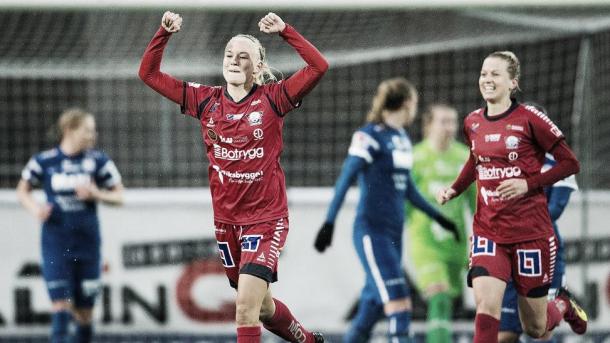 Djurgårdens IF FF – Vittsjö GIK 3-1 (1-1)
Goals: Jalkerud 6', Mendes 56', Lundqvist 73' - Sallström 16'.
The first half started off with a quick goal to Djurgårdens after Mia Jalkerud put them ahead after just six minutes. However it would only take Vittsjö 10 minutes before Linda Sällström evened the score out. After a very level first half, Djurgården upped the tempo in the second and with goals Carolina Mendes in the 56th minute and Hanna Lundqvist in the 73rd, the game was won in their favour. This is Djurgården's first win of the season, while it was the first loss for Vittsjö.
KIF Örebro DFF - Kristianstads DFF 3-1 (2-0)
Goals: Gråhns 7', Spetsmark 28', Tancredi 51' - Nilsson 67'.
KIF Örebro got their first victory of the season after beating Kristianstads DFF. The game was very one sided and after just 28 minutes they were already leading 2-0. Goals came courtesy of Hanne Gråhns, who was also the best player on the field, and Julia Spetsmark.
Around the 50th minute mark, Melissa Tancredi scored her first goal of the season to make it 3-0, before KDFF got a consolation goal in the 67th minute when their captain Alice Nilsson found the net. With this victory, KIF Örebro are still undefeated and sit third, while KDFF have lost all of their games are in last place.
FC Rosengård – Piteå IF will be played on May 4.