Though qualification is already compromised for them, Paris Saint-Germain will be striving to respect this fixture and avoid being humiliated on home soil, particularly when they will be hosting rivals Olympique Lyonnais at the fascinating Parc Des Princes.
The 7-0 first leg result stressed the discrepancy between both clubs, as although they are only separated by three points in their domestic league, courtesy of Lyon's 5-1 victory in the first round, PSG still lack team chemistry despite possessing lots of talent who are also stars with their respective national teams.
On the other side, Lyon have warned fellow finalists VfL Wolfsburg with their stunning 7-0 win in the first leg. Les Gones will aim to qualify for the big UEFA Women's Champions League showpiece through another win, as this match goes beyond a simple qualification to the next round.
All about pride for the Parisians
Speaking after PSG's first leg demolition, Sabrina Delannoy rubbished talk about the team feeling under pressure on the occasion, instead looking at other factors that influenced the result.
''This result has nothing to do with the pressure of being in a semi-final or playing in a big venue with a record attendance," she told the media post-match. "It was one of those days when nothing went right. I don't think it could have been any worse in terms of the result, our performance or the injuries.
The result had huge implications on PSG's status though. They managed to narrowly scrap past Lyon in the competition last year too, before finishing runners-up to 1. FFC Frankfurt, making the first leg scoreline even more surprising.
"It's up to each and every one of us to look ourselves in the mirror and evaluate this big disappointment," Delannoy added. "There are lessons to be learned, but we'll also have to question ourselves and understand what separates us from the very top European teams.
"Preparing for the second leg won't be easy at all. In my career, I've rarely experienced that – luckily. We'll need a bit of time to process all this, because it's difficult. I simply hope we'll bounce back and show another side to ourselves.''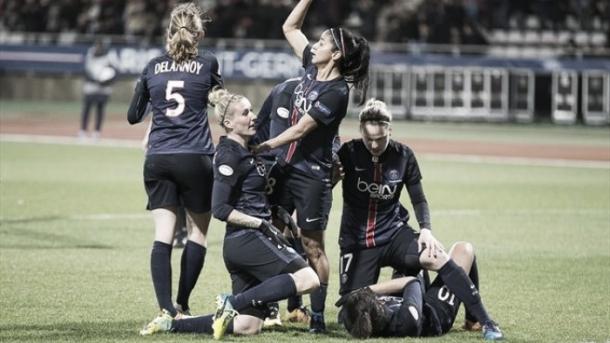 Free-scoring Lyon looking for another stylish win
For Lyon tomorrow, there is no pressure and bound to be no nerves, the latter of which was absent in the first leg without a doubt.
Ada Hegerberg added another two goals in that game, and is now just two away from the record of 14 scored in the competition in one season. Speaking after the incredible performance, she said: "'You're quite focused on the game and trying to do your best, but I had goose-bumps from the first minute, to be honest – the crowd was amazing. When you have 22,000 people supporting you, it gives you a boost. And I think the team did incredibly today. I have a lot of faith in our team."
While PSG show a lack of chemistry, Lyon show an abundance of it, and Hegerberg hinted at that in her post-match interview too: "One of the strengths of our team is we always try to play for each other. It has to be like that. I'm really proud of the girls, because we put a lot of hard work into building this success.
"When you play for a great club like Lyon, you always have the biggest challenges. This year, it was to go all the way in the three competitions and we're on a good run. There are only big games left, but a great game like today's gives you a boost.''