Going into this weekend's round of matches without their nearest rivals playing due to European commitments, Bayern Munich knew that a win would guarantee them the title of Frauen-Bundesliga champions once again and the league leaders did not disappoint.
At the other end of the table Werder Bremen saw their Bundesliga dreams dashed, as they tumbled into the second division alongside 1. FC Köln.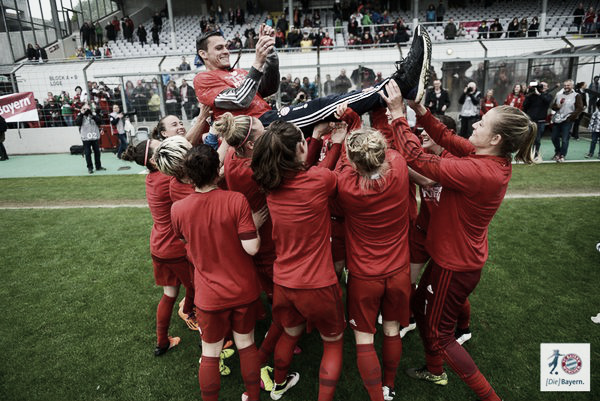 Bayern remain at the top of Germany
The title was a forgone conclusion for most coming into this weekend as Bayern were ahead of their nearest rivals, VfL Wolfsburg, by nine points and knew that a draw would crown them champions on that day. They did so in some style, beating a struggling Bayer 04 Leverkusen by five goals to nil. Dutch international, Vivianne Miedema, was the star of the show with her superb hat-trick which also took her to joint top of the goalscoring charts in the league.
Alongside Miedema, Japanese international Mana Iwabuchi and German international Sara Däbritz grabbed a goal a piece, allowing the Bavarians to celebrate yet another dominant performance in a match and in the league overall.
Although their UEFA Women's Champions League campaign did not go as many had expected, Bayern's league credentials were there for all to see as they romped their way to a second title in as many years with great performances coming from Melanie Behringer in midfield and Miedema upfront.
Leverkusen on the other hand, were guaranteed safety and another season in the top division as even though they lost to the champions, they are still eight points free of the last relegation spot and mathematically safe now.
Bremen collapse and become the second relegated team
At the other end of the table, Werder Bremen were powerless against an imperious SGS Essen as they romped to a six-nil win over Bremen. They had struggled all season to find any consistent form and it ended up costing them their place in the German first division as goals by Charline Hartmann, Ina Lehmann and both Kozue Andō and Lea Schüller who grabbed two goals each for Essen left Bremen eight points adrift from safety and relegated.
Bremen will now join 1. FC Köln in Germany's second division while Duisburg and Borussia Mönchengladbach will join the Frauen-Bundesliga in their place.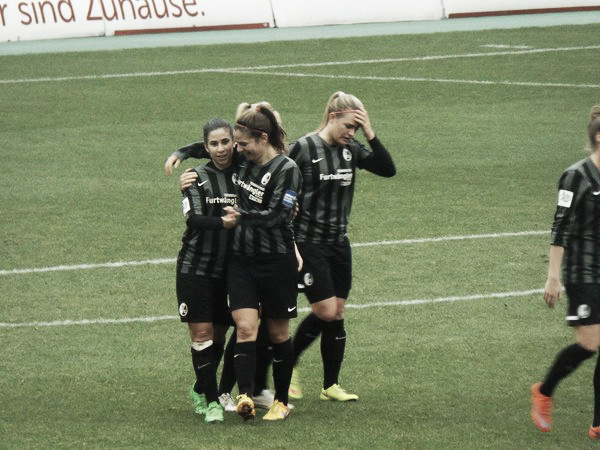 Postdam continue to freefall, Freiburg bounce back
Once one of the main contenders for the title in years past, but Turbine Potsdam's turbulent season continued this weekend with a three-two loss to relegated 1. FC Köln. Lidija Kuliš and Felicitas Rauch picked up the goals for Potsdam while Anna Gerhardt, Mandana Knopf and Virginia Kirchberger got the goals for Köln.
With murmurs of discontent behind the scenes and players seemingly leaving every transfer window, one must wonder what the future holds for Postdam and if they can once again return to their former glory.
SC Freiburg bounced back from their loss to FF USV Jena earlier this week by defeating SC Sand by four goals to one. Jovana Damnjanović got the solitary goal for Jena while Lena Petermann with a brace, Carolin Schiewe and Jenista Clark all registered on the scoresheet for Freiburg. This win leaves them in fourth, level on points with SGS Essen but ahead on goal difference.