While the club copes with the bad news of Dzsenifer Marozsan preparing to leave for Olympique Lyonnais, goalkeeper Desirée Schumann has renewed her contract with 1. FFC Frankfurt.
The German club may be losing their star player this summer, but their reliable shot-stopper will be sticking around for another two years after putting pen to paper on a contract that will expire on June 30, 2018.
The 26-year-old follows in the footsteps of Kathrin Hendrich, Mandy Islacker, Marith Prießen and Laura Störzel, who have all been handed new deals at the club during the current season.
They may not be on track for a top two finish, while rumours of other departures also circulate, but Frankfurt are at least doing some damage limitation and steadying the ship ahead of a crucial summer transfer window.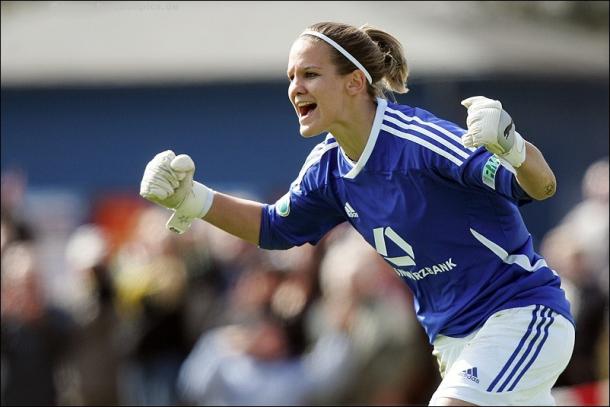 Well needed good news
Schumann's renewal can certainly help cushion the Marozsan blow, with the 'keeper having risen to prominence in recent seasons after initially having to scrap for the number one shirt.
Speaking about her decision to renew, Schumann told the club's official website that she is "look[ing] forward to two more seasons with 1. FFC Frankfurt," having already spent "five eventful years with many ups, but also downs," with them.
"I feel very good in the team, the club and the city and have built up here a great environment and a second home," she continued. "I hope that I can get involved positively in the future, both on and off the pitch, with the team and help to ensure that we achieve the objectives set."
The goalkeeper continued by thanking "all those responsible for the trust placed in [her]" during her stay so far.
The club's general manager, Siegfried Dietrich, also gave his view on the deal, calling Schumann a "reliable" player who has "fully identified" with the club and "embodies those virtues" they look for.
"Therefore," he added, "we are very happy to continue to have Desi in our team."
Head coach Matt Ross also spoke about his number one, calling her "an experienced top goalkeeper" who he is delighted to have around for longer.
He believes it's "great" that she is going to continue at the club, citing her "ambition to continuously improve," "professional attitude" and "positive character" as factors in making her "a very important part of [the] team."