As places at the top and at the bottom of the Frauen-Bundesliga have all but been determined, this weekend's action still offers up plenty to look forward to as the season begins to wind down.
SC Freiburg and SGS Essen are tied on points but Freiburg are currently in fourth due to their goal difference. A win by either side coupled with a loss by the other would present some breathing room in that race. SC Sand and FF USV Jena will be chasing the afore mentioned two as they are currently one point away from both SC Freiburg and SGS Essen.
At the other end of the table, Bayer 04 Leverkusen and 1899 Hoffenhiem will continue to maintain their status within the Frauen-Bundesliga while Turbine Potsdam will try to appease their fans after a dreadful season.
1.FC Köln - FF USV Jena
1. FC Köln were relegated from the Frauen-Bundesliga quiet some time ago but that has not stopped them from grabbing some surprising wins, including one over Turbine Potsdam in the previous matchday weekend. They will be looking to continue their recent form with a win at home against FF USV Jena.
FF USV Jena will be looking to bounce back after their defeat to Frankfurt in the previous round. Jena are currently chasing down SC Freiburg in their bid to finish fourth in table and could gain the advantage if they win at Köln and those above them fail to gain any points.
SC Sand - 1. FFC Frankfurt
1. FFC Frankfurt's season has taken a negative turn over the last two weeks. Not only did they lose insipidly to VfL Wolfsburg in the UEFA Women's Champions League semi-final first leg, and eventually go out on away goals; they also now face an uncertain future with star players Dzsenifer Marozsán and Simone Laudehr both leaving the club at the end of the season for Olympique Lyonnais and league rivals Bayern Munich respectively. This weekend will be a chance for the club to show that there will be some hope for next season if they manage a good win over SC Sand.
SC Sand, on the other hand, have had a surprisingly strong season so far and are looking to push the teams above them all the way for a chance to finish fourth in the league. Their form has recently gone down and a match up against Frankfurt may be a tough ask for the season's surprise package. The outfit do have a DFB Pokal final to look forward to and they will try to find some winning form in the league before that tie.
Bayer 04 Leverkusen - SC Freiburg
Bayer 04 Leverkusen come into this match after being trounced by league champions Bayern Munich in the previous matchday. Leverkusen have had a mixed season but have managed to stay afloat and gather enough points to remain in the Frauen-Bundesliga next season.
SC Freiburg continued their fantastic season int he last round by beating SC Sand and will look to consolidate their position in the table by what should be a straight-forward victory over Leverkusen. Lina Magull's performances for Freiburg have been extremely pleasing and the team will hope to send her off back to Wolfsburg with a couple more wins to end the season.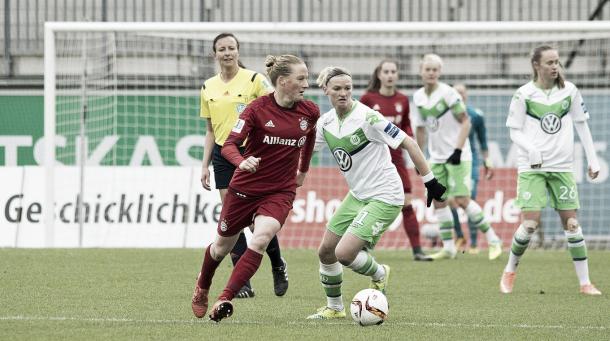 SGS Essen - Bayern Munich
SGS Essen will look to leap over SC Freiburg this weekend if the latter loses and Essen manage at least a point at home against newly crowned league champions, Bayern Munich. Had Bayern not won the title in the previous matchday, this would have been billed as the match of the round as both teams have had great seasons but with Bayern's league title wrapped up, Essen could capitalise on any complacency by the Bayern players.
Bayern themselves will look to finish the season strongly in preparation for their DFB Pokal final against SC Sand. The news that Laudehr will be joining the ranks next season may push other players to perform at a higher standard to keep their place in the first team. Laudehr's signing and the announcement that Eunice Beckmann will be heading to the USA once the season ends, does indicate that Thoman Wörle has already began his preparations for next season.
1899 Hoffenheim - Werder Bremen
1899 Hoffenheim have the chance to push into the mid-table positions if they overcome a flailing and already relegated Werder Bremen. Hoffenheim have had an indifferent season so far and find themselves near the bottom of the table after finishing sixth in the previous season. They will be looking to bounce back from their defeat to Wolfburg during the week.
Werder Bremen have already been relegated after one season in the first division. They essentially have nothing to play for except pride and could spring a slight upset if they go to Hoffenheim and come away with three points. Bremen do have enough quality to bounce back into the first division in the near future so Steffen Rau may use these last few matches as an opportunity to evaluate his squad.
Turbine Potsdam - VfL Wolfsburg
One of the stories of the season has been Turbine Potsdam's decline over the course of the season. They currently are eighth in the table, ahead of Hoffenheim on goal difference and three points away from Leverkusen. They will be welcoming a bouyant and resurgent VfL Wolfsburg who will certainly make this a very tough outing for Potsdam.
Wolfburg are in fine form at the moment and will want to finish the season strongly as they prepare for a titanic clash in the Champions League against Olympique Lyonnais. Alexandra Popp and Zsanett Jakabfi will hope to continue their recent goal-scoring form against Potsdam.