The 2015-16 Division 1 Féminine season has just two games remaining with the title and final relegation place yet to be decided.
Impossible dream
There are many cliches regarding something not being over until it is, and La Roche-sur-Yon will be hoping one of them will apply. Two games, eight points left and the gap between them and the nearest team Guingamp is six points. Last Sunday, the gap had been just three points – but La Roche-sur-Yon's defeat to PSG, coupled with Guingamp's 3-2 win over Albi led to the deficit being increased.
This means La Roche-sur-Yon must win their last two games whilst Guingamp lose both of theirs. Guingamp plays Juvisy who, apart from a defeat to Lyon, are in good form, winning three out of their past five matches. Whilst they can no longer catch the top two, they will be looking to finish in third spot ahead of Montpellier.
La Roche-sur-Yon, who has the same goal difference as their relegation rivals, play Saint Etienne who are languishing in seventh place, and just seven points ahead of them. However, they've lost their last three matches against St Etienne, including the 3-0 reversal earlier this season.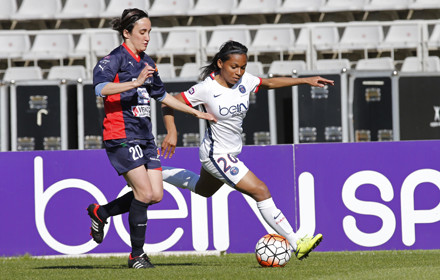 Title race still on
Whilst the gap between Lyon and PSG is still closeable, there is still that feeling of when and not if regarding when Lyon are crowned champions. The Champions League Finalists have been in dominant form this season, scoring 109 goals, conceding just two as they remain unbeaten. And in the UEFA Women's Champions League Semi-Finals, Lyon thrashed their league rivals PSG 8-0 on aggregate.
Both the top two played midweek matches and picked up dominant wins which mean the gap still stands at three points.
The leaders Lyon travel to sixth place Soyaux who they beat 7-1 earlier on in the season.
PSG are away to Albi, a team who they will be expected to beat to keep up the pressure on their rivals. Albi has struggled this season, and find themselves only just safe from relegation.
But, the reality of the situation is that if PSG has any chance of winning the title, Lyon must drop points in both of their final two games.
Battle for third
Whilst neither Montpellier and Juvisy can catch second place, both sides will be looking to finish the season in third spot.
As mentioned above, Juvisy play relegation candidates Guingamp, whilst Montpellier host bottom-placed side Saint-Maur who have won just one game this season. Earlier in the season, Montpellier beat their opponents 5-0. They lead Juvisy by one point and have a good chance of securing third place.
But, in terms of the battle for third spot, it is possible that it is this Sunday when it is decided. Both Montpellier and Juvisy play the top two sides on the final day, games both of them are likely to lose.
Elsewhere, Rodez host already relegated Nimes. In the match earlier on in the season, Rodez won that 4-2.