In surely the most surprising result of the penultimate Frauen-Bundesliga weekend, Turbine Potsdam shocked VfL Wolfsburg at home while SC Freiburg continued their fine season with another good win against Bayer 04 Leverkusen.
Other results saw Bayern Munich back up their title with a professional performance against SGS Essen and 1. FFC Frankfurt got closer to Wolfsburg in the table after securing a win over SC Sand.
Potsdam upset visiting Wolfsburg and Frankfurt capitalise
Turbine Potsdam have been very disappointing this season and found themselves going into their last home match of the season in eighth place. With this being long-time manager Bernd Schröder's last home game, his team provided him with a satisfying ending against a bouyant VfL Wolfsburg.
A mistake by Wolfsburg's goalkeeper Almuth Schult, gave Svenja Huth the opportunity to score Potsdam's first goal. Goals then came on the counter from Felicitas Rauch and Laura Lindner, who came away from the match with a brace.
Another intriguing match saw 1. FFC Frankfurt draw one point closer to Wolfsburg in the table as the team managed a three-nil win away at a very good SC Sand side. Mandy Islacker, Yuki Ogimi and the departing Dzsenifer Marozsán all grabbed the goals for Frankfurt. This result means that the fight for second will go right down to the wire and Frankfurt will have to win out while hoping that Wolfsburg stumble again if they want to finish second.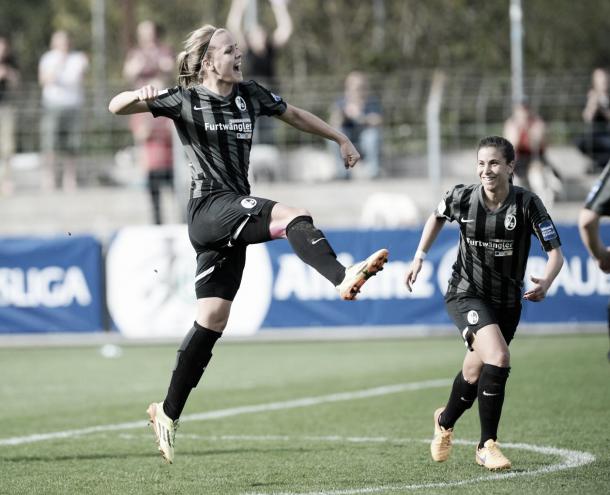 The race for fourth starts to take shape
SC Freiburg continued to push for that fourth position in the Frauen-Bundesliga table and a three-one win over a struggling Bayer 04 Leverkusen gave them the opportunity to do just that. Lena Petermann, who is having a standout season, opened the scoring for Freiburg before Jobina Lahr scored an own goal which levelled the game up.
Freiburg pushed forward more but were held back by a resistant Leverkusen team which stood strong until late in the second half where Clara Schöne and Sandra Starke scored the goals to wrap up the win for Freiburg.
SGS Essen failed to keep up with Freiburg in the battle for fourth as they went down at home to newly crowned champions Bayern Munich by one goal. Dutch international Vivianne Miedema scored the only goal of the game and Essen could not find a way through the Bayern defence to level the game.
At the other end of the table, already relegated 1. FC Köln continued their surprising turn of form by overcoming a good FF USV Jena side with a two-one win at home. Lise Munk got both goals for the home side while Amber Hearn gained the only goal for Jena on the day.
1899 Hoffenheim also gained a deserved two-nil win over the other relegated side, Werder Bremen. Goals from Kristin Demann and Dóra Zeller leave Hoffenheim right in the thick of the teams fighting for a mid-table finish. They are now level on points with Potsdam, one away from Jena and Sand and two off from Essen. With only one match to go to finish off the season, the final positioning for the afore mentioned teams will be interesting to watch.