After their narrow 1-0 defeat to Birmingham City, Notts County's goalkeeper Carly Telford and centre-back Sophie Bradley-Auckland spoke to VAVEL at the game, and both were already eyeing the three points available in their next match, the reverse fixture against the Blues at Solihull Moors.
Disappointing performance; disappointing result
Notts' number one, Telford spoke about what went wrong and, as for where the team go from here, she believes it's about heading "back to basics."
"Our performance this week wasn't anywhere near where it was last week and we need to raise our standards back to that," the goalkeeper added, talking about Notts' 3-2 victory over Liverpool.
"I don't feel like I had to make too many saves today, which is always a positive," she continued, "but we conceded a cheap goal and didn't take our chances at the other end, especially in the first half.
"Sophie Baggaley [Birmingham's goalkeeper] made some great saves – I've worked with her before and she's a great goalkeeper who will go far – and she was fantastic today. But it was a game of chances; they took theirs and we didn't take ours."
Telford was more than disappointed with the result, speaking again about the momentum that Notts carried into the match but failed to show on the pitch.
"Coming into this game we all felt great, buzzing after last week's win. It's been a great week of training but we turned up today and put in half the performance we did against Liverpool. We have to go back and ask ourselves what was different, why it was such a different performance (other than the weather)."
Small lapses in concentration causing problems
They have a good goalkeeper and good defenders, but as a team County have a habit of conceding. They're not outscoring what they concede either, and Telford shared her thoughts on where she thinks things are going wrong.
"We need to assess why we're conceding. Theoretically with a bit of consistency, having the same back-line as last week, we should cope quite well, which we did aside from the two corners Jo Potter has whipped in and caused some problems with. Overall I think we were quite comfortable and organised at the back. A lapse of concentration, a couple of changes and [Emily] Westwood has ended up free in the box with a free header and that's been enough."
This is what Telford puts the problems down to; "little lapses in concentration" that the team are being "punished for."
"We switch off and no one really grabs us by the scruff at the back to keep everything organised, that's where we're falling down at the moment and we'll obviously need to work on that. It was just one of those games, very back and forth, lots of possession in the middle, free kicks going both ways and on a hot day like today it's easy to switch off just for a second and that's all it takes."
Revenge in the rematch?
Notts have a two week break before their next game, when they travel to Solihull Moors for the reverse fixture. This game was therefore a chance for Notts to assess how Birmingham are playing this season, allowing themselves to know a bit more about them for their rematch later this month.
Speaking about the differences between the two in the game, Telford talked about the "decision making" and about Birmingham making better ones than Notts.
"In the first half we allowed them to play it, to switch it out and we weren't really high enough to stop that, to stop that ball going out to Kerys [Harrop] and we're having to put it out in dangerous areas. That throw-in is a set piece for them, and we kept giving away cheap set-pieces, every time. That's what we need to be working on," the goalkeeper said.
"I think they'll be a few people who'll be will be unhappy with their performances today, some who for one reason or another were at a 5 or 6, and at this level to take all three points you need to be at least at 7 or 8," Telford added.
"But we've got two weeks to get sharpened up, look at how we can improve and then go to their place and hopefully bring the points back with us."
Bradley-Auckland picks out the positives
England international Sophie Bradley-Auckland, who missed all of last year through injury, has started every game this season, which has been a huge boost for her team, and the rock-solid defender gave her thoughts on the defeat.
"I think we need to watch it back and see where things were going wrong," she said. Speaking about the goal, she believes it was "a sloppy goal to concede. We defended really well throughout the game in the conditions today. It was really hot out there but it's a really poor one for us to concede.
"It was just one of those things, just a moment, one of our girls shouted for it, we all thought she'd won it but it bounced and unfortunately Westwood was on the end of it. Mistakes happen in a game, yes. They scored from it but it's nothing more serious or anything to worry about, just a moment. Otherwise I think we defended fantastically throughout the game, other than that one moment.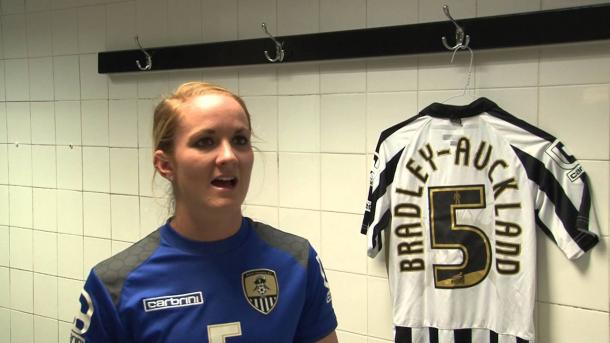 Bradley-Auckland continued to pick out the positives from the game for her side, particularly in terms of the way they defended.
"If you look at this game and how many chances they actually had, we didn't let them have many," she believes. "Yes they scored but it was off the back of a mistake.
However, the defender believes Notts could have done more at the other end though, saying: "If you look at the first half, we had the better chances. We could have gone in at half time two up, but we didn't take the chances and that was the difference today."
Looking ahead, Bradley-Auckland said that the team's aim for the season is "just to win as many games as [they] can.
"Coming off of the back of this one, we go away to Birmingham and we want to win that and bring all the three points back. Building on last year is about consistency, that's the big thing for us this year. If you look at the games, we play well but it's the little mistakes here and there that hurt us so we need to work on that."