Following their 1-0 win over Notts County, Birmingham City manager David Parker and captain Emily Westwood spoke to VAVEL UK.
Confident Blues rack up another win
David Parker was unsurprisingly the happier of the two managers come the final whistle, full of praise for his team but still wanting more.
"This is always a tough place to come so to leave with three points is massive achievement, full credit to the girls," he said.
"We've been working on our weaknesses, we're performing well but I still want more from this group. People are saying that we're playing well and what an improvement, but I still want more and I know it's there. There's so much potential in this team, especially with the younger players. We keep learning and growing every day, even on the training pitch we're learning and enjoying our football, getting out there day after day. It's great.
"The turning point was the first match of the year, the FA Cup game against Arsenal when we drew 1-1, that gave everyone some belief," Parker continued.
"Just taking Arsenal all the way through to penalties, no one would have expected that and that's really given us a basis to build on. It's just disappointing we dropped three points against Liverpool with two missed penalties. If we'd had that game as we should then we'd be comfortably third, tucked in behind Chelsea today."
Professionalism unlocking the potential
Before the start of the season, heads might have been low after how last year played out, but Parker has always maintained the highest respect for what his side are capable of, even though many were writing the Blues off before a ball had been kicked.
"They're professional footballers now. Last season hurt in many many respects; we should never have been in that position but unfortunately the infrastructure of the club didn't facilitate the performances we needed. We were only training twice a week against teams that were in everyday - of course you're not going to get results.
"But if you look at it, we were never blown out in any game. Except from Chelsea away, we were never torn apart. When we start matching, coming in to train every day, now we can compete again, it's as simple as that, just improve everything day by day by day, we don't rest on our laurels."
"If anyone says we're in trouble and don't have a good team they need to have a serious rethink because we've got one hell of a team and we'll keep growing and improving. Things are looking very bright for us.
Parker continued to show his passion in his speech as he talked about the quality at the club and how proud he is of what they can offer.
"What people don't realise is we invested heavily into the infrastructure and the back-room staff over the winter; went about our business quietly, got criticised in the media for not signing big-name players, but you don't, you look after and improve what you've got and you keep growing," he said.
"We had one bad year out of five, one bad year. We got within twenty minutes of the Champions League final, almost won the league, then one bad year and one bad year doesn't make you a bad football club, it doesn't make you a bad team."
Parker believes that the depth of the squad shows the club's potential too, speaking about the options he has still to come into this team that won at Meadow Lane.
"Today we brought, Jade Moore and under-19 Chloe Peplow – who's been absolutely flying this season – off the bench and we've still got Kirsty Linnett, Alex Windell, Meaghan Sargeant, Coral Haines and Corina Shroeder to get back to full fitness.
"Unfortunately," he admitted, "I don't see any of them being in contention for the next two games, but hopefully when we're back after the break, 29 June against Arsenal, that's when you'll see players returning from injury. We don't want to rush anyone back before they're ready. It's about making sure they're fully fit and right for the future.
The manager also spoke highly of Marisa Ewers, who will be arriving at the club from German side Bayer Leverkusen in the coming weeks to add more options - once the Frauen-Bundesliga has concluded later this month.
"She's going to be absolutely fantastic in this league," he said. "I'm not one to bring in players unless I think they're good enough; it's about bringing in players who will add quality to this group. Ewers will add that quality as well as culture and experience that will help develop some of the younger players. The more experience we can get around the younger players the more they'll grow and you'll see more consistency from them."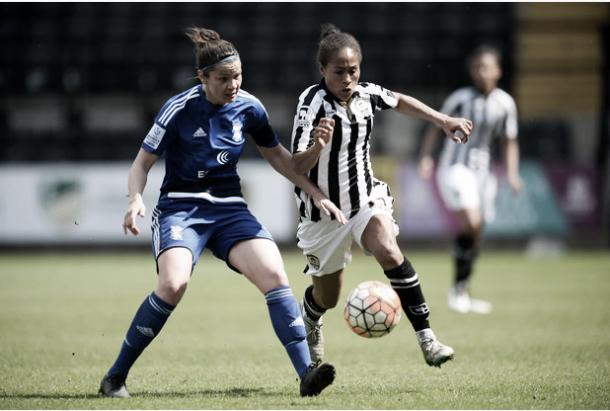 Captain and goal-scorer Emily Westwood also took the time to speak to VAVEL, delighted with her match-winning contribution.
"Second win of the season, I've scored, don't think I've scored for a few years so that was great for me personally," she said.
"We had to weather a bit of a storm at the end but we're all really pleased with the result. If we're going to score, we need to create the chances and I think that's what went wrong last year, we just weren't creating the chances. So coming off of that season we've done a lot of work on forward play and we're creating more.
"So far we're one draw and two wins out of four so we're all really pleased with that," Westwood continued. "Defensively, we've been really strong and that's great but we're also really happy with how we are going forward because we are creating chances this year. Already it a massive improvement on last year."
Belief is the key
Westwood was not just full of praise for her team, but also her manager, saying that he keeps the squad going and ensures they are full of the confidence needed to get the results.
"The manager just keeps telling us to believe in ourselves," she said. "I think as a team that's a problem we have. We don't fully believe in ourselves or believe that we can win, but he's got great faith in us and what we're capable of.
"Over the last three games we've proved that we're capable of competing so we've just got to take confidence from the last three games, push forward and believe in each other.
"In the past people have said that we need to be more clinical, but when we do create the chances we are putting them on target. If we kept missing then I think there's more of an argument for it, but it's all about making those chances. Against Doncaster [Belles] we attacked really well, we kept getting in behind their defence and teams just can't live with us when we do that so we just have to keep creating the chances. Everyone is really happy right now, we want to keep this momentum going.
Still, the team aren't getting ahead of themselves yet, despite recent results and performances. First, it's about building a strong foundation, and building on it, according to Westwood.
"Our first aim for the season is to secure safety," she said. "Obviously last year we ended up in a relegation battle, so first off we want to secure our WSL 1 status for next year. Today we proved we're good at getting the results in tight games, so we just want to finish as high up the table and as strongly as we can."