Saturday 14th May. Arsenal - Chelsea; an all-London final. But who will come out on top and win the 2016 FA Women's Cup?
Psychological edge
Chelsea will be favourites going into this match as they won the trophy last year, as well as the league. It was an historic occasion as it was their first piece of silverware and also the first time the final was played at Wembley.
They edged the fixture with a 1-0 win against Notts County in front of a 30,000 plus crowd, and this year the crowd will be even bigger and set another record, with 33,000 tickets sold so far.
These two teams have recently met though. Chelsea won 2-0 in last month's clash thanks to a match-winning brace by Fran Kirby; a loss that dented Arsenal's title hopes with Manchester City and Chelsea still unbeaten.
Former ties
There are a lot of players that have played for both teams. Chelsea have the most with nine players in the whole squad that have played for Arsenal previously.
Laura Coombs, who is currently on loan at Liverpool, played for Arsenal as youth and senior. Niamh Fahey spent six years in North London and Rebecca Spencer, Jade Bailey and Drew Spence have all played for the Gunners.
The big names that have played at Arsenal are Gilly Flaherty, Gemma Davison, Karen Carney and captain Katie Chapman. Flaherty spent seven years of her senior career there and scored the first ever FAWSL goal against Chelsea. Davison played for the Gunners for six years in total and Chapman seven. Carney's spell lasted for three years, between 2006 and 2009, before she moved stateside to join the Chicago Red Stars.
Chelsea manager Emma Hayes has connections to Arsenal too. She was their assistant manager from 2006 to 2008 before she went onto manage Chicago.
Arsenal, meanwhile, only have two former Chelsea players on their books. Fara Williams started her youth and senior career with the Blues before leaving in 2001, while Casey Stoney also started her youth career at the club and spent four years of her senior career there.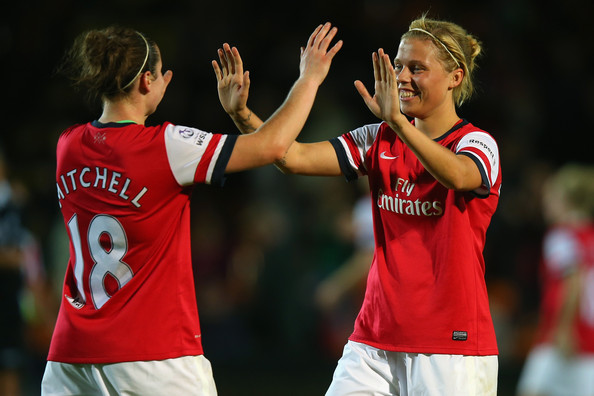 Arsenal's competition?
In terms of cup wins, Arsenal are the most successful team. They have been in 14 cup finals and won the FA Cup 13 times, practically owning the competition since the turn of the century.
Chelsea are the current holders though and will look to win it again. They did the double last year and would put themselves well on track to at least match that with a victory on Saturday.
One to watch
The player to watch out for will be Fran Kirby. She is in fine form with six goals in six games, including the last minute goal she scored against Manchester City to take Chelsea to Wembley. With her technical skill, ability to dribble and keep hold of the ball well, she will be a nightmare for the Arsenal defence.
This final will also be significant for her as she was cup tied last year and could only watch from the stands. For a player who has been through a lot, both on and off the pitch, playing on the big stage on Saturday will mean a lot.
From quitting football to then coming back and making it to where she is right now is phenomenal, and a goal and a win at Wembley will top it all off as she continues her meteoric rise.