It's been a busy week for Doncaster native, Jess Sigsworth. Just a few days ago she was named in Mo Marley's 20-strong squad for the upcoming U23 Nordic Tournament and today the Doncaster Belles have confirmed that she's signed a professional contract.
Although Doncaster conducted most of their business over the Winter, handing full-time deals to the likes of Nicola Hobbs and Courtney Sweetman-Kirk (to name but two), as well as adding several players to their ranks, including three former Liverpool stars. Sigsworth was one of the players that returned to the Keepmoat, having spent a frustrating 2015 failing to make the Notts County bench after a move to Rick Passmoor's side.
Tough start to the season
Since returning home to the Belles, Sigsworth has juggled part-time football with a full-time university degree but has never failed to give it everything on the pitch for her home-town team. The Belles are still hunting their first points since returning to WSL 1, they have laboured against all three teams they've faced so far this term.
After having faced Chelsea twice in four days, once in the league and once in the cup the result was the same; 4-1 to the Blues. For one reason or another the Belles weren't back in action until over a month later – after having lost Sweetman-Kirk to a broken leg sustained in a closed-doors friendly against Durham – and once more didn't look up to task as they fell to a 2-1 defeat at Birmingham's Solihull home. Their most recent game hasn't brought much happiness either, losing 6-0 to Manchester City.
Although the Belles are yet to have a success this year and clearly have a number of problems across the pitch, Sigsworth has been the bright spark in the side and when the Belles can get her on the ball she always looks like creating an opening. With prolific striker, Sweetman-Kirk out for such a long period on time, it would make sense for Glen Harris to build his side around the pacey attacker.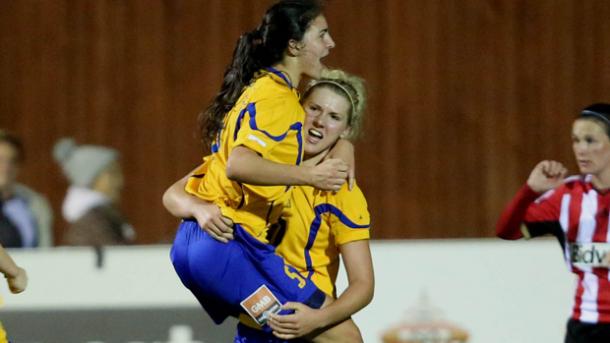 Harris and Sigsworth both excited for the future
Whether the Belles boss decides to make Sigsworth the focal point of his side or not, he's delighted at the deal, speaking about being "desperate" to get Sigsworth on a full-time contract and how he's looking forward to seeing her "raw talent" be "refined on a daily basis". The attacker herself spoke about the excitement of signing professionally, and how she's looking forward to enhancing her technical and tactical game as well as improving her fitness levels.
Harris has rued lack of investment at the club, suggesting that more needs to be spent over the Summer window to help build a squad that can compete at the top level. Whether the Belles can entice players to move or not, signing Sigsworth on a professional contract is a step in the right direction and possibly the best news Belles fans have had all year.