Pedro Martinez Losa praised his Arsenal side following their 1-0 victory over Chelsea in the Women's FA Cup Final to clinch their 14th title.
The Arsenal manager told reporters in his press conference that winning his first FA Cup as an Arsenal manager was a "dream come true."
Danielle Carter scored the only goal of the game after 17 minutes with a delightful chip from just inside the area which left Hedvig Lindahl rooted to the spot.
The 22-year-old striker has "shown loyalty to the club," said Losa. "She's working hard in training. She can play on the left, on the right, and always has an impact on the games.
"In training she's working hard to improve her finishing," which had shown with her finish to clinch Arsenal a record FA Cup trophy.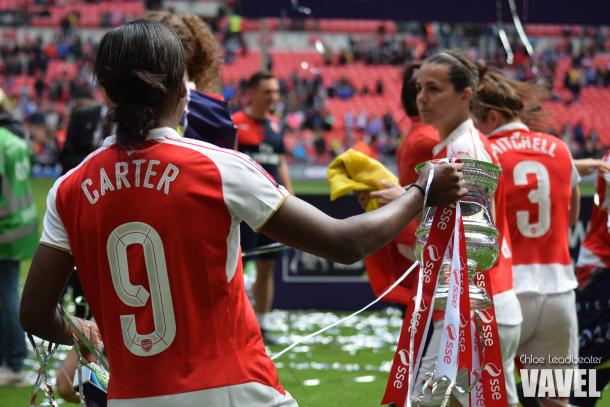 Chelsea came into the FA Cup Final as favourites, but don't take anything away from the Arsenal side who dominated possession from start to finish.
"The girls were fantastic," said Losa. "They played with their heart and played for the Arsenal jersey, which is important.
"We are a winning team. Fara [Williams] and Casey [Stoney], they know how to taste victory. It's tradition in Arsenal and it's something we wanted so bad."
The Arsenal boss told reporters their plan was to "impact Chelsea from the beginning," and to "push them back in their own half," with a high defensive line.
"Arsenal had to use their strengths to break them down," Losa added. "We knew it was going to be difficult."
Losa praised Kelly Smith's performance, telling reporters "she brings character and personality to the game," with her "vast experience." The Arsenal manager told reporters she can still "make a difference in any team."
The attendance of 32,912 for the Women's FA Cup Final is also a new record, beating last season's attendance of 30,710, who witnessed Chelsea beating Notts County 1-0 with a goal from Ji So-yun.
"The past is the past," says Losa. "We are proud of the past as a club, but now we have to look to the future. Football is always evolving and we have to evolve with it.
"The opponents [in the WSL] are good players and professionals. Football in England can become really competitive."
Women's football can grow
Losa finished by telling reporters that he expects the women's game in England to grow, and that it has "already surpassed that of the United States.
"We had the obligation to make them (fans) enjoy the game," added Losa. "When you enjoy something, you come back again. We have the culture of football here.
"Everyone understands the game. It's an incredible position to be in. It's an unbelievable experience."