Jordan Nobbs played an inspirational role to clinch Arsenal Ladies' 14th FA Cup trophy following a 1-0 victory over holders Chelsea Ladies.
"We have to stamp our mark and show that Arsenal want to win trophies every single year," the midfielder told VAVEL. "Yet again we've carried on Arsenal's history in getting another trophy this year and what better place to do it than Wembley."
The England international won the 2014 FA Cup with the Gunners, but told VAVEL that "winning at Wembley is still another stepping stone and another extra achievement.
"I think it's the one everyone wants to win. The FA Cup is one of the biggest ones that everyone wants to be a part of and wants to win," added the 23-year-old. "I think that shows by the way we celebrated at the end and what it means to us as a team."
Arsenal have only suffered two defeats in 2016, one being against Chelsea in the Women's Super League. Nobbs praised the performance of her side, saying "it's the best we've played in a long time.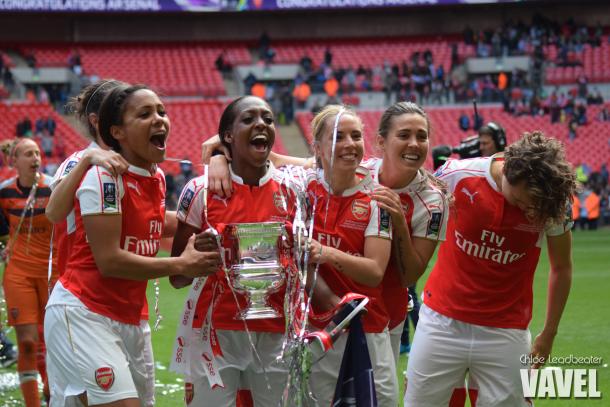 "We pressed as a team, we worked hard as a team and won first and second balls. I think as soon as we got into that, our football just progressed from there."
Women's football just keeps growing
Wembley Stadium saw a record attendance for a women's FA Cup Final, in what is only its second year the home of football as hosted the women's final.
"It's massive," added Nobbs. "We need these occasions and we need the media and support we've got today. An occasion like this will only encourage people to watch our football more and the better we play in these occasions the more they're likely to come back as well."
Arsenal's victory over Chelsea was the first time Nobbs had played on the famous Wembley turf. She told VAVEL: "It's an unbelievable experience. It's an unbelievable experience. Even walking out [of the tunnel].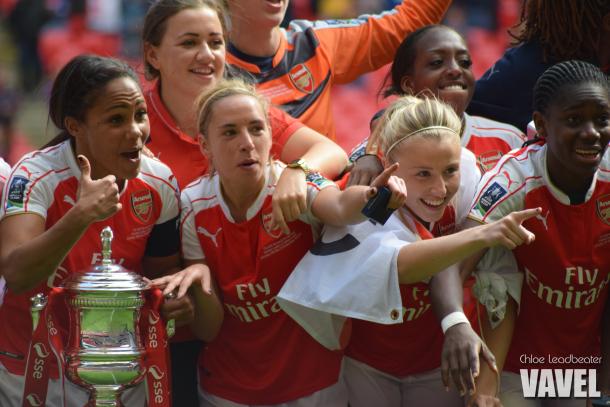 "It's what football is for and it's what you have worked so hard for in your teen years to be part of this, to be part of an FA Cup Final and being at Wembley makes it that extra special to be a part of and it will go down in a big memory of mine."
Nobbs finished by saying how "proud" she was of "what the girls did today," and that they "deserved to win" after dominating possession and creating the better chances.