Another round of dominating displays and surprises in Sweden's top tier.
Kvarnsvedens IK 1-2 Linköpings FC
Goals: 59' Chawinga – 53' Harder, 89' Blackstenius
As a newly promoted team Kvarnsvedens IK weren't expected to give much opposition to Linköping today, especially given Linköping's strong form. However, until the 89th minute, Kvarnsvedens were headed towards a point. But a goal by Stina Blackstenius, her sixth in five games -same as teammate Pernille Harder - ensured their fifth victory in as many games.
In a match dominated by Kvarnsveden's Tabitha Chawinga, who had nine shots on goal, Harder scored from a penalty in the 53rd minute after a foul on Blackstenius. Unsurprisingly, Kvarnsvendens equalizer came courtesy of Chawinga in the 59th minute. Chawinga could have had a hat-trick if it wasn't for the post and a goal-line save. In the end, it was Backstenius who finished if off, when she met a Jonna Andersson cross and headed the ball in.
FC Rosengård 4-1 Vittsjö GIK
Goals: 22' 71' Marta, 27' 30' Andonova – 75' Adolfsson
With two goals each, Marta and Natasha Andonova helped Rosengård to their fifth victory. Three goals in eight minutes in the first half helped Rosengård to remain at the top of league. Marta started the golden minute by scoring in the 22th minute before Andonova added to the scoreline in the 27th and 30th minute. Marta added to her goal tally in the 71st minute. Marta now has five goals in five games. Vittsjö got a consolation goal when Sandra Adolfsson headed a goal in behind Sofia Lundgren in Rosengård's goal.
Rosengård are now top of the table with the same amount of points as Linköpings FC, but with a better goal difference. Vittsjö are struggling a little, and only have five points, and are 8th in the standings.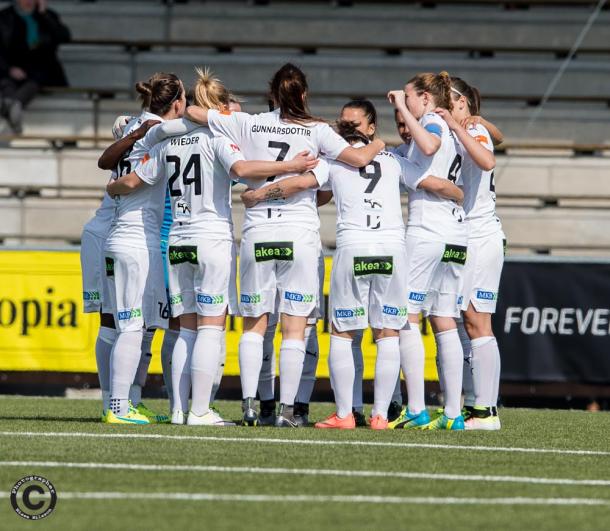 Kristianstads DFF 1-1 Kopparbergs/Göteborg FC
Goals: 26' Danielsson – 5' Engman
Göteborg came into the game with two victories in a row, and would be hoping to take three more against a Kristianstad side who has been anything but impressive so far this season. However, after the match it would be Kristianstad that would be disappointed not to come away with a victory. Göteborg started the game as expected, and got on the scoresheet in the fifth minute when Adelina Engman put them ahead.
This was Engman's third goal against Kristanstad in two games. KDFF equalised in the 26th minute through Jenny Danielsson. There would be no more goals in the match, but both sides had good chances. The draw means that Göteborg are in fourth place with eight points, while Kristianstad remain at the bottom of the table with two points.
KIF Örebro 0-3 Djurgårdens IF
Goals: 23' Jalkerud, 42' Rytting Kaneryd, 90' Stegius.
The game started out very evenly with chances for both teams, the biggest falling to KIF but after 22 minutes the deadlock was broken when Mia Jalkerud scored for newcomers Djurgården. Right before halftime, Johanna Rytting Kanerud took advantage of some questionable defence, and made it 2-0.
KIF gave it a go in the second half and had plenty of the possession but no goals came out of it. With Djurgården sitting back, and Örebro on the ball, there was room for counter-attacks from Djurgråden, and it was on one of these that Madeleine Stegius made it 0-3 to Djurgården in the 90th minute. With the three points, Djurgården overtook their opponents in the standings.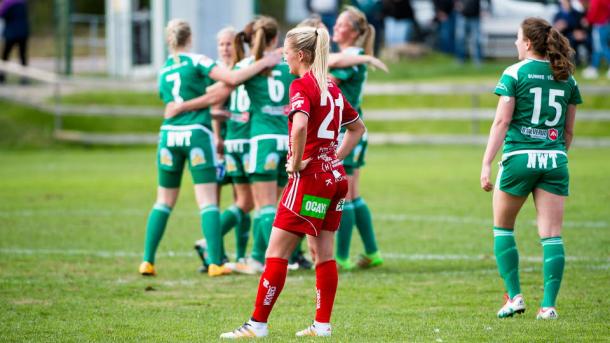 Mallbackens IF 4-0 Piteå IF
Goals: 3' Janogy, 5' Green, 24' Janogy, 85' Göransson
Before this game, Mallbacken had yet to win a game in this campaign, but with two goals in the first five minutes, they were off to a flyer. In the 3rd minute Madelen Janogy, who was one of the positives of the game, scored her first of two goals after a pass from Zoe Ness. Just two minutes later Anna Green extended the lead. 24 minutes in Janogy added her second, and Mallbacken's first win was as good as secured.
One of the big talking points from the game, was the substitution of Antonia Göransson. Göransson moved to NWSL outfit Seattle Reign prior to the season, but was released due to medical reasons (later revealed as diabetes) and was just recently signed by Mallbacken. It only took the former Sweden international 10 minutes to score for her new club. With today's win Mallbacken moves above the relegation line, while Piteå were overtaken by Eskilstuna and dropped to fifth in the standings.
Umeå IK 1-3 Eskilstuna United
Goals: 74' Sandström – 29' Larsson, 54' Quinn, 62' Svensson
Eskilstuna were in control for most of the match, and deservedly won 1-3. After a little under half an hour the ball fell to Mimmi Larsson who calmly slotted the ball home. We would have to wait until the second half for the next goal, as Irish international Louise Quinn scored on a header after a corner.
It would, however, be the third goal that people will remember. Frida Svensson, who just recently came back after a long spell on the side-line due to an injury, scored a cracker from distance, and Umeå's goalkeeper Tove Enblom had no chance of saving it. Umeå also got on the scoresheet, when Hanna Sandström scored in the 74th minute.
The three points means Eskilstuna move to third place, but they are still six points behind Rosengård and Linköping in the standings. But after a tough start to the season, it looks like Eskilstuna are back on track. Umeå find themselves below the relegation line, but it is still early in the season and the teams above them are only a few points ahead.