In the final weekend of the 2015-16 Frauen-Bundesliga, there was the matter of the final 2016-17 UEFA Women's Champions League spot, as VfL Wolfsburg and 1. FFC Frankfurt battled it out.
Champions League battle
Frankfurt went into Sunday, one point behind Wolfsburg and knowing that they had to win to have any chance of snatching second. They hosted Bayer Leverkusen who only just survived from relegation, and goals from Yūki Ōgimi and Jackie Groenen gave them a 2-0 lead at half-time. Two goals from Mandy Islacker secured a 4-0 win for Frankfurt. But they required Wolfsburg to lose.
Wolfsburg took on relegated 1. FC Köln at home and raced to a 2-0 lead through Vanessa Bernauer's brace. Köln pulled a goal back through Virginia Kirchberger but the home side restored their two-goal lead through Alexandra Popp just before half-time. Late on in the second half, Köln once again pulled a goal back through Lise Mink, but two goals in two minutes from Nilla Fischer and Ewa Pajor secured a 5-2 win for Wolfsburg – and that all-important second Champions League spot.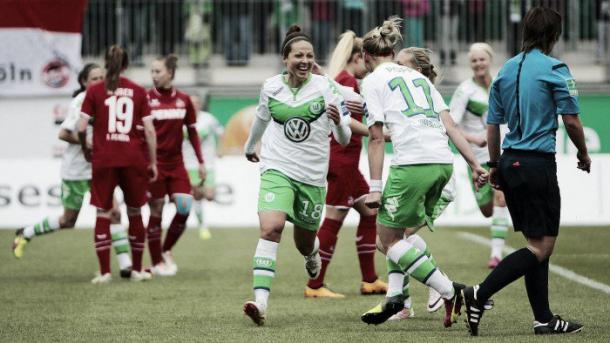 Champion's party
Bayern München had already won the Frauen-Bundesliga, but they would have wanted to end the season with a victory over ninth-placed 1899 Hoffenheim. But Hoffenheim took a surprise lead through Isabella Hartig's 55th-minute goal. However, Bayern equalised five minutes late through Mana Iwabuchi. The draw saw Hoffenheim finish in eighth place
Other clashes
Turbine Potsdam travelled to the relegated SV Werder Bremen, and they sealed their win in the first half as two goals from Tabea Kemme and one each from Laura Linder and Lia Wälti saw them secure a 4-0 victory. Potsdam finished in seventh, whilst Bremen remained in eleventh.
SGS Essen fought back to secure a win against SC Freiburg. Freiburg took the lead through Anja Hegenauer, but in the second half Essen equalised through Charline Hartmann. Hartman scored her second in the 72nd minute to secure a 2-1 win. The win sees Essen secure fifth place, whilst Freiburg remained in fourth.
FF USV Jena ended the season with a 1-0 win over SC Sand, thanks to a penalty, securing sixth place. Sand ended the season in ninth.