Olympique Lyonnais were only able to finish their title-winning Division 1 Feminine season with a draw on Sunday - one of three in a surprisingly exciting last week of the season.
Coming into the weekend, there was nothing to play for. With the two UEFA Women's Champions League spots secured and those to be relegated already decided too, it was expected to be an underwhelming finale.
However, the fixture list certainly pulled one out of the top drawer, giving us a final round of fixtures that promised to entertain regardless of the games' importance.
Top four all clash, but stay the same
The headline matches this weekend saw Lyon host third-placed Montpellier, while Paris-Saint Germain welcomed fourth-placed Juvisy, with the places below the top two still undecided.
Montpellier might have been expected to roll over as they visited the champions, but they put up a fight to give all fans something good to watch, even if it wasn't victory for them to cheer about.
Sofia Jakobsson actually put the away side one-up after 37 minutes; a lead they maintained into half time and beyond it. However, Lyon did as Lyon do and, though Montpellier actually kept a rare clean sheet against them in the reverse, they couldn't this time.
Many expected Ada Hegerberg to pop up with the equaliser and her 34th league goal of the season, but she finished the campaign on 33 as Delphine Cascarino levelled things up before the hour.
The game would end 1-1, meaning Juvisy needed to beat PSG if they wanted to leapfrog Montpellier into third.
Another draw, this one finished 2-2 in a thrilling affair. After a seemingly goalless first half, we were all of a sudden heading in at the break with the scores at 1-1 after an exciting end to the first 45 minutes. Camille Catala thought she'd given Juvisy a lead to take into the interval when she broke the deadlock on the stroke of half time, but Erika replied with a goal for the hosts four minutes into stoppage time.
The visitors could have had the wind taken out of their sails, but instead they came out for the second period hungry to restore their advantage - with Kadidiatou Diani helping them do so seven minutes into the half.
For a long time, it looked like third place would be theirs, but it wasn't to be. Anja Mittag popped up with her ninth of the season with seven to play, ensuring that the top four didn't move on the final day.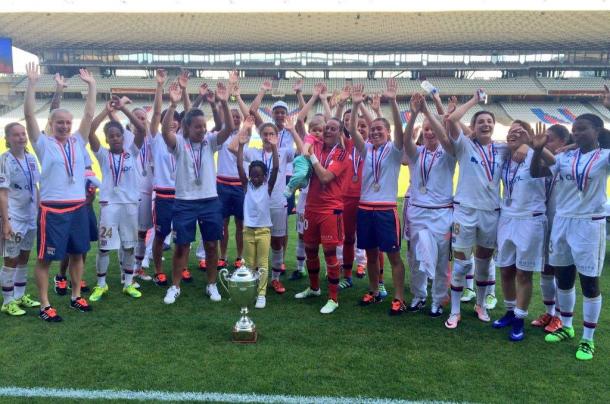 Nîmes prop up the standings, with movement at the bottom
The top four might not have moved, but there was significant movement towards the bottom of the table in the bottom four or five places.
Most importantly, VGA Saint-Maur lifted themselves off of the foot of the standings, meaning Nîmes Metropole Gard finish the season in dead last.
This came after the latter were only able to draw on the final day against mid-table Soyaux, despite leading 2-1 with 15 minutes to play.
Nîmes got off to a terrible start when Julie Thibaud put the visitors ahead after three minutes, but they turned it around in front of their home fans in their final game in the top flight.
Sabrina Oumeur equalised just before the hour and then Laurie Saulnier turned the game on its head, putting her side ahead on 75 minutes.
Soyaux have had a mixed campaign, but generally speaking they have performed well against teams below them and they ensured they didn't end the year with defeat. Laura Boutgouin got the equaliser they were after late on, putting Nîmes in danger of being leapfrogged by Saint-Maur.
And that they were, with the then bottom side beating fellow relegated outfit La Roche-sur-Yon 2-1.
Kani Konte and Celine Chatelain scored either side of the break to ensure the win, despite their side trailing after only 14 minutes thanks to Lisa Fragoli's opener, meaning Saint-Maur at least go down on a high.
The table's other movement came just above the drop zone, with ASPTT Albi and Guingamp swapping places in otherwise meaningless games.
The latter were those who moved in the right direction and they did so in style, hammering Rodez 4-1 to end the season emphatically.
Suzy Morin had them in the lead after just eight minutes, but it was early in the second half when they turned on the style. Three goals in 15 minutes put the result beyond doubt, with Desire Oparanozie, Salma Amani and Faustine Robert taking the scoreline to 4-0 with just over 20 to play. Audrey Cucat gave Rodez a late consolation, but it wasn't anything more as the home crowd were given plenty to cheer about.
AS Saint-Étienne's win over Albi helped Guingamp move up then, with Namnata Traore and Audrey Chaumette helping them to a 2-1 win as they confirmed a comfortable finish of their own of fifth.