The excitement is already kicking in as we are less than 24 hours away from the ultimate prize in women's biggest club competition. Olympique Lyonnais and VfL Wolfsburg will contesting the UEFA Women's Champions League Final, with both eyeing European silverware which would be the cherry on the cake for the excellent domestic campaign they have pursued.
Both teams landed in Italy earlier today and they headed straight to Reggio Emilia, where they held the traditional pre-match press conferences and training sessions.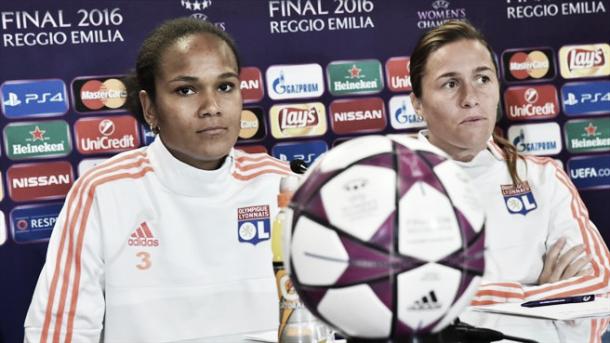 Olympique Lyonnais' Gerard Precheur
Asked about whether the French league is weaker than the Bundesliga, Lyon's coach Gerard Prechuer said this, ''It is true that the French league may be weaker than the Bundesliga in terms of quality, as Paris Saint-Germain and Montpellier are the only teams which give us a hard time and probably that will be an advantage for Wolfsburg, as they face tougher teams week in week out.''
He also highlighted two key elements ahead of tomorrow's final, such as serenity and the optimism which reigns among the players. He pointed out that these two elements are key factors in a team and that is what has driven them towards tomorrow's final throughout the European campaign.
Naturally, the attention also shifted on Lotta Schelin as tomorrow she will be featuring for the very last time for the French club. Precheur said that he is more focused on the match rather than on this event, however he still had words of praise towards the Swedish international: ''One word to describe Lotta Schelin? Class''.
Finally, he concluded by saying that having already reached the two targets, which were the domestic league and the domestic cup, European glory is all what remains to make this season a memorable one.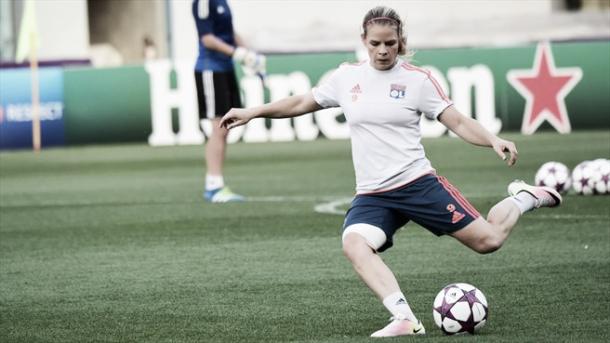 Wendy Renard and Camille Abily
''I slept well last night." hat's how Camille Abily started her press conference ahead of tomorrow's clash. Both Wendy Renard and Abily looked serene, without any sign of pressure as they discussed the team's harmony and also how they've been preparing for this final.
Both players also chatted about their recent European disappointment in this way: "Two eliminations? It's a bitter taste for us but playing in this competition it still a huge experience for us." Asked about if they are worried about the Germans' stereotype never-die attitude, the player replied in this way, "We know what is the German mentality and we know they are tough, but we are tough as well and we can challenge them eye to eye."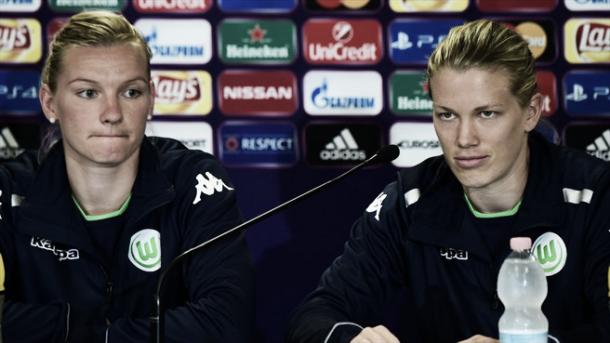 VfL Wolfsburg's Ralf Kellermann
Meanwhile, before Lyon's press conference, it was Wolfsburg who talked to the media first with Ralf Kellermann, Alexandra Popp and Lara Dickenmann.
Coach Kellermann immediately pointed out the fact that back in 2013, Lyon had underestimated the German side, with the latter ending up victorious at Stamford Bridge. 'He added that nowadays, Wolfsburg have earned the status of a top European club, hence tomorrow both teams will be respecting each other on the field.
He also added that his team is full of confidence and that is ready to relish this challenge tomorrow evening, "We can go into it with confidence after 2013 even though things have changed but it helps us to have won it before."
Alexandra Popp and Laura Dickenmann
Obviously, Lara Dickenmann has expressed her nostalgia of facing her former team mates, having played for Lyon already: "Of course it is a special game for me as I know all the Lyon's players well and had a great time at Lyon." Meanwhile, Alexandra Popp discussed their attacking force but also praised Lyon's attacking partnership, which this year has been flourishing goals all around: "Olympique Lyonnais are strong in attack, from any direction or down the middle. They are fully equipped."