And we leave you with a photo of Lyon lifting their third Champions League title! I've been Ameé Ruszkai and thank you for joining me for an incredible 120+ minutes. Also, thanks to Jonny Walsh for delivering the build-up to today's game. We'll have plenty of post-match reaction on the way from Gianluca Lia, who will be in the mixed zone and at this evening's press conferences. For now, thank you and see you soon!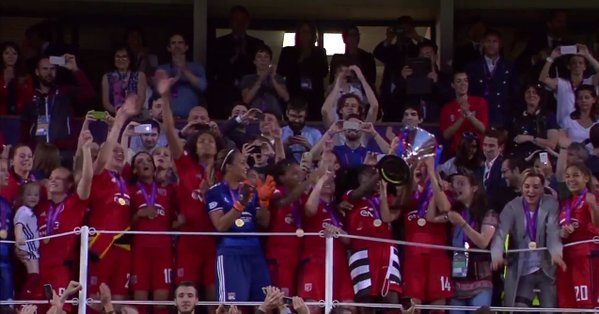 And Wendie Renard lifts the trophy for her team!
The champions are coming up to get their medals now. Trophy presentation moments away...
What a thrilling final. Wolfsburg must have thought they'd done something remarkable there - an 88th minute equaliser, taking it to extra time before leading on penalties, but it wasn't to be! Lyon clinch their third Champions League title and do the treble!
KUMAGAI SCORES AND LYON WIN THE CHAMPIONS LEAGUE!
Bussaglia has her penalty saved! Great save Bouhaddi! Lyon can win it now...
M'Bock Bathy scores and levels it up! 3-3.
Horrible penalty from Fischer and she has her spot-kick saved! It's 3-2, and Lyon can now level.
3-2. Renard leads the way for Lyon and coolly scores. Wolfsburg still lead though, they need a Bouhaddi save.
3-1! Peter, after a few words with Bouhaddi, sends the 'keeper the wrong way.
Schelin scores and makes it's 2-1. Good penalty.
Kerschowski scores! Wolfsburg are 2-0 up. Great penalty. Great power to beat Bouhaddi, who goes the right way but is never saving it.
SAVE! Schult denies Hegerberg! Wolfsburg 1-0.
GOAL! Wolfsburg are 1-0, Popp sends Bouhaddi the wrong way.
Here. We. Go. Wolfsburg up first to take - Popp to take it.
And we're off to penalties!
120 - There will be two added minutes.
119 - Players cramping up now as we enter the dying moments. Could be a big factor heading into penalties.
117 - We're slowly trickling to penalties... Or are we? Three minutes left for a winner.
113 - Blässe struggling after an incredibly hard working performance. She's going to come off for Bunte now.
112 - Things have quietened down now as Necib tries her luck from the edge of the box, but sees her shot run wide.
107 - More terrific defending by Fischer as Schelin lifts the ball into the box - the Swede hooking it clear and away from Hegerberg.
Half time. We'll have a few moments for this interval then be right back underway.
105 - We will have one added minute at the end of the first period of extra time.
103 - Huge chance! A Lyon corner is taken quickly and Abily heads it goalwards - Schelin is on the line looking to prod it beyond Schult but she can't connect as the Wolfsburg 'keeper makes a marvellous save!
101 - Yellow card for Abily after a tactical foul on Bachmann as she looks to break.
100 - Blässe has no options and ends up having to strike goalwards from the edge of the box, but it's a weak effort that Bouhaddi holds.
98 - Wolfsburg started well but Lyon are getting back into it now and dominating the ball again. Kumagai and Henry have been exceptional.
93 - Even closer! Popp misses! How has she missed?! An incredible ball in is met on the volely but she sidefoots wide from extremely close range. And then Lyon go down the other end and Majri's shot is dragged wide - Hegerberg unable to direct it goalwards as she slides in. We have a game on our hands, ladies and gentleman.
92 - So close! Blässe almost pokes home straight away but can't get enough on her effort as she comes darting in!
And we're underway for the first half of extra time.
There's the whistle to bring us to the end of the first 90 minutes. We are off to extra time.
90 - There will be three minutes of added time.
Incredible. Wolfsburg have done nothing all game and Popp comes up with a massive goal. Bouhaddi comes out to collect it and misses it completely - but Popp doesn't, heading home.
THE CURSE OF THE COMMENTATOR! POPP EQUALISES!
88 - Lyon seem to be confortably seeing this out now. Would take something incredible for Wolfsburg to take it to extra time.
86 - On comes Thomis for Lyon, replacing Bremer, who has been absolutely outstanding I might add.
83 - Close! Wullaert drills the ball across the face of goal for Popp, but the German just can't make contact as she comes sliding in looking to convert!
80 - Chance! Wolfsburg with a decent chance as Wullaert tees up Bussaglia, but she blasts it over. Should have hit the target.
79 - Le Sommer is replaced by Schelin.
73 - Another change for Wolfsburg as they introduce Belgian international Wullaert. Bernauer off.
72 - Wolfsburg drive forward on the counter - Goeßling's diagonal ball to Bachmann is dummied by the Swiss for Kerschowski, but the latter's effort is tame and right at Bouhaddi from range.
69 - Necib tries her luck from distance again but it's over. Le Sommer getting frustrating with all these attempts as she's not getting any service.
67 - Bouhaddi almost with one of her far-too-common costly errors under pressure on the ball, but she just about gets it clear. Lyon go down the other end and should make it two - Bremer with some terrific skill before picking out Abily - but her effort is weak and right at Schult, who collects with ease.
66 - Popp tries her luck but it's wide of the mark. Wolfsburg still yet to hit the target.
64 - Spectacular effort! Necib tries her luck from all of 40 yards after spotting Schult off her line but it's just wide!
60 - And Abily tries again from a little closer after turning away from Bussaglia, but this one is still high and wide.
59 - Abily strikes goalwards from range but it's well over.
58 - On comes Bachmann for Jakabfi. Will we see a change in tactics as well?
57 - No change on the pitch for Wolfsburg so it seems we're getting a change in personnel. Bachmann getting ready.
52 - Fischer again thwarts Le Sommer and Wolfsburg go down the other end on a promising counter - which suddenly slows down and becomes harmless.
48 - Great defending by Fischer to thwart Le Sommer and the resulting corner is flicked goalwards by Renard, but blocked on the line by Bussaglia!
47 - It seems Wolfsburg's best bet is to attack Lyon down the wings and exploit that 3-5-2 set-up, but the wing-backs are doing a very good job for the French side; Bremer on the right and Majri on the left.
Second half underway! No changes at the break.
18:00. The teams are back out and just getting ready to kick back off. A huge 45 minutes ahead!
17:57. Plenty of options for both teams off the bench. Wolfsburg need to do something most - could they introduce Bachmann or Wullaert before the second half kicks off?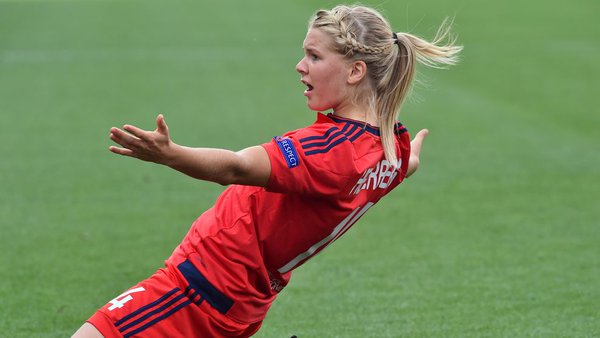 17:55. However, the only stat that matters is the scoreline and that reads in Lyon's favour - can Hegerberg add a record-equaling 14th of the competition this term in the second half? A hat-trick would smash that record...
17:53. Wolfsburg have had four corners to Lyon's one, but they've not nothing with them. Somewhat surprisingly too, given the aerial presence of players like Popp and Fischer.
17:51. The stats show Lyon's dominance too. Five attempts for the French side to Wolfsburg's one - that one not on target, three of Lyon's were.
Half time! Lyon lead 1-0 after Hegerberg's 11th minute strike and they've looked comfortable ever since. No chances for Wolfsburg, will Kellermann change it at the break? Let's wait and see...
45 - There will be one added minute at the end of this first half.
44 - Kumagai is booked after catching Popp nastily on the follow through. Studs all the way up the leg for the German international. The Japanese midfielder, however, protests her innonence and vents her frustration after winning the ball first.
42 - Wolfsburg with a couple of chances to get the ball in the box from the right wing, but both of Blässe's crosses were poor. Still, the Germans are heading into half time on top which is a consolation and a positive to take.
36 - Wolfsburg growing into things a little now, but they're still unable to do anything in the final third. The attackers are too far apart and the team as a whole looks disjointed going forward. They're not going to be able to trouble Lyon if this continues.
31 - And another corner. Goeßling delivers and it's deflected behind by Renard. The third and final set piece is finally cleared.
30 - Jakabfi out-muscles Henry to win the ball and drive to the byline, where she wins a corner having had no other options. Goeßling knocks it in and it goes for another corner at the other side.
27 - The resulting corner is headed around the area before Le Sommer losing her footing while shooting and Schult eventually plucks the ball out of the air.
26 - SAVE! Schult with a huge point blank save as Le Sommer flicks on to Hegerberg who tees up her French teammate, but she is denied brilliantly from close range.
22 - Necib receives the first yellow card of the day after a reaction to a little shove off the ball. Wolfsburg send the free-kick into the box, but Bouhaddi collects it with ease.
17 - Lyon comfortable in the lead now, with Wolfsburg doing little to threaten them. Absolutely dominating the possession.
Bremer beats Kerschowski and then Peter and cuts the ball back across the face of goal from the byline, where Hegerberg is waiting - as always - to poke home with ease. Lyon lead!
GOAAAAAAL! Hegerberg breaks the deadlock! It's 13 for the competition! The record is 14...
11 - Necib strikes, but it sails quite a fair bit over the bar.
10 - Free-kick for Lyon in a good position here. Necib and Henry stood over it from 25 yards...
7 - Chance! Abily picks out the run of Le Sommer with a long ball, but the French international slices her shot well off target.
2 - Early save for Schult! She gets down well to hold Hegerberg's drive.
1 - The Wolves start well and the troublesome Jakabfi earns them an early corner!
Kick-off! We're underway in Italy!
16:56. The players are now out on the field, we're just moment away and will rejoin you for kick-off!
16:54. We're currently enjoying some pre-match entertainment, dancing and such as the players prepare to make their way onto the pitch.
16:50. Does Kirby's thoughts tip your feelings towards Wolfsburg, or will Lyon still take the crown? Just 10 minutes to go!
16:45. Fran Kirby has a feeling that it will be the German outfit that will take the crown :"I think Wolfsburg will win it, thinking about how strong they were when we played them, they've just got a way to win – they can strike from outside the box, they've got clever link-up play, a strong back-line." She added, "They've got a bit of everything really. I think it will be a really tight game and a great test for both teams but I think Wolfsburg will have it."
16:40. Speaking of which, here are our quotes from Gemma Davison, and who she thinks will reign supreme this evening :"I don't want to call it, I'm just going to sit and enjoy it because it will be a really good game."
16:35. It's all set to be a cracking encounter here this evening, and we would just like to take a minute to thank you all for your continued support and interaction since we started the WoSo section - it's grown beyond our wildest expectations and you are the reason behind that.
30 minutes to go! Tonight's game, for anyone in the UK, will be live on Eurosport 2 from 16:45 BST. It will not be on the Eurosport player.
16:27. Paul Saffer, speaking to UEFA.com, has some very positive news in regards to the crowd this evening: "[There are] lots of fans already in the stands, with rumours of a sell-out here in northern Italy."
16:24. Lyon are currently your favourites to claim the title this evening, going by our poll. They lead 56-44%, be sure to vote over on the @WOSO_VAVEL twitter!
16:22. We'll also have the thoughts of Chelsea duo, Fran Kirby and Gemma Davison to come later on. Both were speaking to our very own Sophie Lawson at the England media day at Adams Park. Stay tuned!
16:18. If you're looking for some pre-match reading, look no further than our man in Reggio Emilia, Gianluca Lia's preview. He also reviewed the training sessions and sat in with the pre-match pressers.
16:14. It's all set to be a superb final from the get-go, but both sides have immense strength coming off the bench. Lotta Schelin will have to be brought on if she is to feature in her final game at OL, and Elodie Thomis is not a bad replacement either. Wolfsburg can call upon Ramona Bachmann and Tessa Wullaert, amongst othersm if they see fit.
16:12. Lyon stick with their tried and trusted 4-4-2, though they too have a recognised central midfield star at centre-back. Lena Goessling has come in for Joelle Wedemeyer, who has done a superb job in accounting for Wolfsburg's current injury woes.
16:07. So, a very interesting line-up from a Lyon point of view that will see them field a 3-5-2 formation this evening. Amandine Henry has dropped into the heart of defence, with Pauline Bremer and Amel Majri pushed on as wing-backs. Will it work?
Lyon XI (3-5-2): Bouhaddi; M'Bock Bathy, Henry, Renard; Bremer, Kumagai, Abily, Necib, Majri; Le Sommer, Hegerberg.
Wolfsburg XI (4-4-2): Schult; Peter, Fischer, Goeßling, Dickenmann; Blässe, Bernauer, Bussaglia, Kerschowski; Jakabfi, Popp.
Team news is OUT! Here we are...
For Wolfsburg to beat them and deny them the ultimate achievement of a treble would surely be something, but they know all about this competition having won it in 2013 and 2014 and are arguably the only team you'd put your money on snapping Lyon's incredible streak.
Off the pitch, there's a lot of speculation around Lyon, with the likes of Lotta Schelin, Louisa Necib and Amandine Henry all to depart the club this summer. However, it's clear that nothing is affecting them on it, with them unbeaten in 55 games - a run that stretches back to November 2014, with their last defeat coming against PSG in this competition.
The German side boast a creative midfield line too, and their contributions in front of goal also make up for the fact that the team don't have a clinical finisher who will get them 20+ every season. Vanessa Bernauer, Lara Dickenmann, Lena Goeßling, Elise Bussaglia, Ramona Bachmann and Isabel Kerschowski have 26 league goals between them this season and are capable of chipping in when it matters.
Wolfsburg do have a stand-out player, but she will not be taking to the field tonight through injury. That player is Caroline Graham Hansen, who has been sidelined for some time now with a knee problem. However, in Alexandra Popp they have an undoubtedly talented striker who certainly enjoys the big stage. It will be her that the Wolves turn to for goals tonight - though Zsanett Jakabfi comes into the game full of confidence after her cup-winning brace on Saturday.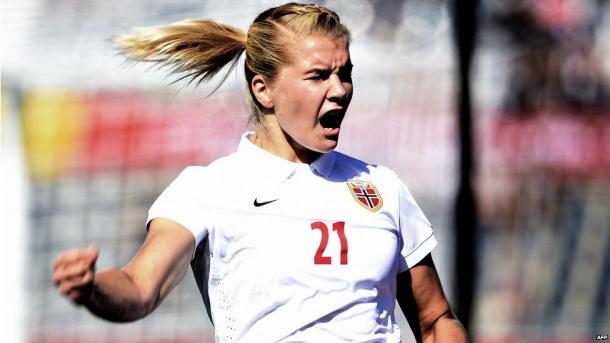 The reason for that is simple; Ada Hegerberg. If Wolfsburg do not pay proper attention to the Norway international, they will be punished and punished properly. The 20-year-old is the competition's leading scorer with 12 goals and she also claimed the league's golden boot after an incredible 33 in only 21 games. Her physique makes her almost impossible to dispossess, with her tall and strong, but she also has the quick feet and skill to be a threat on the ground as well as in the air. A star in the making, this has certainly been a huge season for her, seeing her make a real mark on the game.
If they are to overcome Lyon tonight though, they're going to need to be switched on. The Wolves are prone to blips in concentration in games, and this cost them a real shot at the league title this year, with them surrendering too many points in fixtures they should have won comfortably. Towards the end of the season, they learned to respond to these better, such as in the final when they recovered from the setback of Sand's equaliser, but they cannot bank on being let off by their opposition tonight.
For Wolfsburg, they may have finished some way behind German champions Bayern Munich, but they salvaged a second place finish and with it a Champions League spot for next season - and they can still clinch a double tonight. The Wolves edged out SC Sand in a surprisingly tight DFB Pokal final only five days ago, and a win tonight would go some way in cushioning the blow of only finishing runners-up in the Frauen-Bundesliga.
Dominance has been the name of the game for Lyon this year, and today they are looking to complete an outstanding treble for just the second time in their history. They officially claimed the Division 1 Feminine title with a game to spare - though the league was pretty much theirs long before, just not mathematically - and they followed that up with victory in the Coupe de France Feminine, beating Montpellier 2-1 in the final less than two weeks ago. Victory tonight would see them clinch all three trophies on offer once more, with them having done so in 2012 too.
On the other hand, you could say that both teams have been tested and that they have simply passed the tests with flying colours. Lyon absolutely dominated a talented PSG side, while Wolfsburg were able to tame a promising Chelsea and comfortably see off holders Frankfurt. They've not faced weak sides; they've made them look weak.
You could argue that neither has been properly tested yet. Lyon brushed aside Medyk Konin, Atletico Madrid and Slavia Prague on their way to the last four, with aggregate scorelines of 9-0, 9-1 and 9-1 respectively. Meanwhile, the Wolves overcame Spartak Subotica - who held them to a surprise goalless draw in the first leg - Chelsea and Brescia on their way to the final hurdle, with the scores reading 4-0, 4-1 and 6-0.
Both teams have stormed to this stage with relative ease, despite particularly tough semi-final ties. Wolfsburg defeated fellow German side 1. FFC Frankfurt 4-1 in the latter round, while Lyon hammered French rivals Paris Saint-Germain 8-0 on aggregate, each showcasing their class to book their place in the final.
Hello and welcome to VAVEL UK's live coverage of tonight's UEFA Women's Champions League Final; a battle between VfL Wolfsburg and Olympique Lyonnais. My name is Ameé Ruszkai and I'll be taking you through events as they unfold, with kick-off scheduled for 17:00BST at the Stadio Città del Tricolore.