Following their recent call-ups to the England squad for the upcoming Euro 2017 qualifiers, we caught up with Fran Kirby and Gemma Davison to talk about Chelsea, England and, well, superheroes.
Three Lions and Two Lionesses
As we were at Adams Park, to be the venue of England's Euro qualifier against Serbia on June 4, it made sense to start off with England.
Davison and Kirby are both familiar with the set-up, but the Chelsea duo haven't always been getting the time on the pitch and with more and more competition for spots, the question of whether the pair feel the competition snapping at their heels arose.
As well as conversations they've had with England boss, Mark Sampson, about ways they can fit into his mould, they spoke about what it's like to sit on the bench and why the scorelines aren't as padded out as they could be.
Kirby started, saying: "It's always disappointing when you're not involved in the team but you've got to stay professional.
"Last time out it was pre-season so I worked extremely hard with the last camp, getting my fitness up, doing everything I could to be part of the team and trying to focus on things we'd spoken about.
"You've got faith in the people that are on the pitch. We've got some great players, you've got to trust the team that's out there and know that they're going to do the job for you and for England. That's the most important thing; winning for England. Whether you're in the team, not in the team, in the stands, you've got to stay professional. If you're on the bench, you've got to encourage the team as much as you can from the sidelines."
The former-Reading player continued: "You can only control what you can control. If you're putting in the performances then you're giving yourself the best chance to make the squad. That's why you've got the likes of [Nikita] Parris and [Rachel] Daly coming in because they've performed well for their respective teams.
"You're in complete control of your own performance and your own future – that's how I see it. If you're performing well that's a start but you have to be consistent with it too. But it's always a difficult position, being a manager, when you've got such great players around you and you can only pick 11. Hopefully I'll get a chance because [I feel] when I've played for England, I've played well."
Davison meanwhile, who's been lighting up domestic pitches for a decade, has only recently been breaking into the squad and takes a boost from the inclusion.
"It feels amazing to be called up," she said. "It's the most competitive it's ever been. If you look at the quality in the country, there's a lot of great players playing in the league right now; you've got to take confidence from being called up. Just to be picked to play for your county is incredible, if you look at the World Cup last year and how the numbers are growing and who wants to support you, to put on an England shirt it's probably one of the best things you can do.
"Yes there's more competition, but it's amazing for England to have so many talented players available. Nikita Parris has been on fire this year. I really rate her and she's still young. To me, she's really exciting. I like to think we play the same so it would be brilliant to play alongside her as well."
The former-Gunner has taken the positives from the performances of the country too and can see a bright future for a complete team.
"We're playing games and we're dominating but we're not getting an early goal and if we were to then the game would be completely different," Davison said.
"But when you go to countries like Bosnia [and Herzegovina]," she continued, "they put up a fight."
"At the end of the day you've got a group to win, so you play a game, take three points and you go again. If you look at our performances at the SheBelieves Cup, we definitely mixed it with some of the biggest countries in the world. It's a work in progress, there's some great football being played, we just have to build on it and build on it. Going against Serbia in front of the home crowd, we'll give them a show."
This type of confidence could be the key too, believes Kirby: "I don't think there's anything 'going wrong' I just think we need a little confidence and now we're in the season things will be different. When we've played previous games it's been during the off-season and when people were coming back from injuries and other things.
"Everyone's confident going into this [Serbia] game. We're looking forward to it and to getting back onto the pitch with England. We've been focusing on different ways to play to be prepared for the Euros – we want to win the Euros next year so we're working on all parts of our game so we'll be ready for everyone we could face, so we can go all the way."
For some, the best part of pulling on an England shirt might be putting the ball in the back of the net, but not for Kirby.
"When you walk out for the national anthem, when you walk out on the pitch, you're lining up and you've got all the fans there and you're completely focused on the game – for me, that's the best moment right there." she said.
"Scoring goals is always nice but that moment right there, that's when you realise 'I'm playing for England. I'm playing in front of all these people.'
"I used to be more nervous when I was new to the England set-up, but you're always going to be nervous because you always want to win and it means so much. But you've got to be able to channel those nerves and use them on the pitch."
Blue is the colour
After falling to back-to-back defeats - first against Arsenal in the FA Cup final then against Manchester City in the league at Wheatsheaf Park- things were looking a little rocky for Chelsea. However, Kirby and Davison were happy to be involved in a commanding 2-1 win over Sunderland yesterday that turned things back around.
In a match that easily could have been much more than just 2-1 had it not been for the goalkeeping heroics of Rachael Laws, Davison was glad to be back to winning ways, saying: "It's been a tough few weeks but we put in a good performance against Sunderland.
"We could have easily had more but more," she said. "Credit Laws; she had a great game, made some excellent saves. But the game was a step in the right direction. Importantly, we dominated the game, got our shots away and now the flood gates are open.
"We've always had a good morale, we were happy with the way we played against City but playing against a team like that it all comes down to who converts and, on the day, they were the ones to put it into the back of the net. We still took some positives from that game and I think we really put it into practice last night."
Kirby is one of the newer faces at Chelsea having moved from Reading the previous season for an reported transfer record fee, but what was it that made her opt for the Blues?
"It was speaking to Emma Hayes that did it," she revealed.
"After talking to her, it was clear what the club's intentions were going forward - that was the main drive for me. I knew a lot of the girls from time spent with England and I get along really well with them. I'm a local girl too, so being close to my family was a part of it. It all just came together and it was a no-brainer for me."
As Kirby came up to WSL 1, so did her former team at the end of the year, a promotion she was more than happy to help with in the first half of the campaign, before her summer move.
"I was really pleased when Reading came up, just over the moon for the girls," she said.
As for how they've been doing this year, the striker said: "It's a learning curve for them. The first half of the season has been tough, I don't think they expected it to be as hard as it has been, but I think they'll be alright, especially when they're at home. It's going to be a good season for them."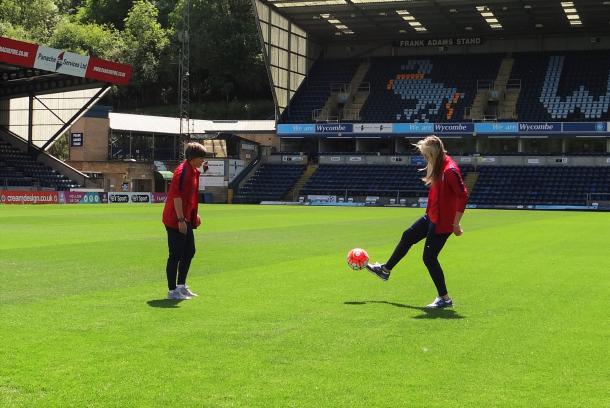 All things Europe
As current WSL champions, Chelsea will enjoy a second spell in the UEFA Women's Champions League later this year and, after getting knocked out by this year's finalists VfL Wolfsburg in the quarter-finals a few months ago, both were optimistic about their next foray into the heralded competition.
At just 22, Kirby was already looking to go further, to establish Chelsea and to keep challenging in Europe, saying: "It helps having the experience of last season. We're seeded too so hopefully it will be an easier ride, but it's the Champions League so no team is easy.
She continued: "I'm looking forward to it. Hopefully we can go one more, if not all the way next season. But we need to make sure we're performing in the league so we're able to play in the Champions League the following season, and the season after."
Not letting the occasion get to them and trusting in their own abilities is what Davison would suggest: "We always take the positives from games we don't dwell, we like to push on. Yes, we could have been more confident and taken the game to them more, but you have to respect a team like Wolfsburg. They're one of the best I've played against.
"But now we've got some experience. Some of the girls hadn't played Champions League before, now they have and we'll definitely go in with more confidence next time. We've got a reputation in Europe for being pretty scary going forward so we've got to put that into play more."
Beam me up, Scotty
But the most pressing question of the day was, if they were superheroes, what would their superpower be?
"Teleportation." Kirby said, "I'm not a good flyer so I'll like to be able to teleport, that would be ideal."
"I'd like to read people's minds, it would be great, a little dangerous but great." Davison continued. "Or to be able to fly and just go wherever I'd like."
Other quick questions included; the best player Fran Kirby has been up against? "Lauren Holiday. When we played the USA in Milton Keynes, I felt like I was chasing her for the whole game. She was technical, strong, quick and she had me running round all night. She was just unbelievable."
As for the best piece of advice Gemma Davison can give to any young footballers? "The most important thing is when you play you have to enjoy it. You've got to love what you do. If you're not playing with a smile on your face…"