Following the UEFA Women's Champions League final, UEFA's techincal observers have named their 18 player roster for the competition's squad of the season.
Winners dominate the selection
As expected, the champions Olympique Lyonnais dominated the list with 10 players altogether, while runners-up VfL Wolfsburg only had two players feature in the final list.
A case could be made for Wolfsburg duo Lara Dickenmann and Zsanett Jakabfi to be included in the list as they had outstanding performances for their club during their run to the final.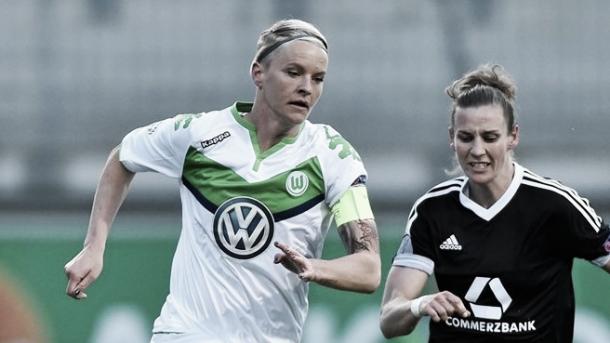 Wolfsburg's Nilla Fischer was one of the Wolfsburg players included - the other being Lena Goeßling. The former put in a captain's performance during the final but could not convert her penalty during the shoot-out to lead her team to victory.
Lyon's Ada Hegerberg continued her meteoric rise in women's football by ending the season as the comptetition's top scorer, as well as scoring in the final and converting her penalty as Lyon became champions of Europe once again. Her inclusion was almost a no-brainer.
Well-deserved recognition
FC Barcelona's Sandra Paños was a surpise inclusion but it was well deserved as the Spaniard was outstanding for the Catalan side. Paños saved her best performances for the quarter-final tie against Paris Saint-Germain, where Barcelona were unfortunate to go out of the competition due to a solitary goal by PSG.
FC Rosengård's Emma Berglund is another great selection to the final list. She has been in fine form for her club and helped them reach the quarter-final stage of the competition, where they were only elimanted on penalties by 1. FFC Frankfurt.
The full list is as follows:
Goalkeepers: Sarah Bouhaddi (Olympique Lyonnais), Sandra Paños (FC Barcelona).
Defenders: Emma Berglund (FC Rosengård), Wendie Renard (Olympique Lyonnais), Amel Majri (Olympique Lyonnais), Griedge M'bock Bathy (Olympique Lyonnais), Nilla Fischer (VfL Wolfsburg), Pauline Bremer (Olympique Lyonnais).
Midfielders: Simone Laudehr (FFC Frankfurt), Saki Kumagai (Olympique Lyonnais), Camille Abily (Olympique Lyonnais), Shirley Cruz Traña (Paris Saint-Germain), Louisa Necib (Olympique Lyonnais), Lena Goessling (VfL Wolfsburg).
Forwards: Dzsenifer Marozsán (FFC Frankfurt), Eugénie Le Sommer (Olympique Lyonnais), Ada Hegerberg (Olympique Lyonnais), Cristiane (Paris Saint-Germain).