Euro 2017 qualifying's Group 3 kicked off with Romania romping to a comfortable 3-0 win over the already eliminated Albania in Elbasan.
Romania dictated play throughout, coach Mirel Albon left to rue his team's lack of clinical finish, converting three of their four shots on target but seeing nine flying wide of the mark. CFF Olimpia Cluj midfielder Ştefania Vătafu took home the match ball after scoring all three goals on the night.
However, the headline result occurred when Greece travelled to Rennes hoping an already qualified France would go easy on them. Although lagging behind Romania and the Ukraine, the Greeks still had a hope of finishing second in the group.
Although Philippe Bergeroo had given chances to the young trio of Sakina Karchaoui, Kadidiatou Diani and Kenza Dali (who have less than 20 caps between them), it was business as usual for Les Bleues.
As was to be expected, the home side dominated the game; Greece without a shot throughout the match. France were relaxed, asking questions of veteran 'keeper Eleni Peletidou, but in typical French fashion, actually getting the ball over the line proved to be a hard task; Eugénie Le Sommer with the game's only goal late in the first half.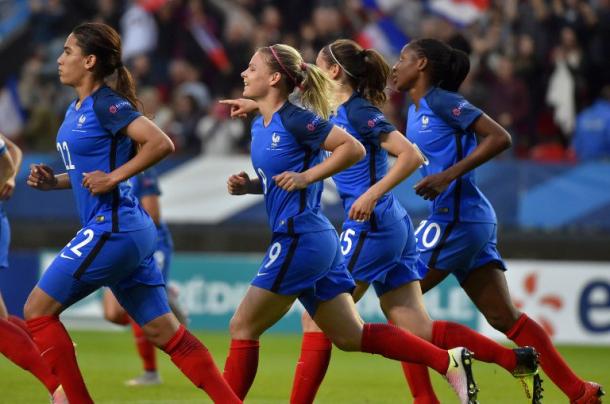 Greek dreams end in L'viv
Greece then travelled to the Ukraine knowing that they still had a chance at qualification, but they would need fixtures to go their way.
Things got off for a terrible start to the Galanolefki when experienced goalkeeper Peletidou conceded a penalty for a foul on Tetyana Kozyrenko, and captain Daryna Apanaschenko converted the spot-kick for the hosts just two minutes into the match.
Behind but not out, Greece saw plenty of the ball and had their fair share of chances but couldn't capitalise on any of them, with more dismay for the visitors when Olha Boychenko added a second for Zhinky in the dying seconds of the first half.
The second half was similar to the first - both sides with chances, Greece shading it but unable to find the back of the net. The final 2-0 result sees Greece already eliminated then, with Romania and Ukraine to do battle for second spot in Group 3.