Whilst the mathematics of what will be enough to finish in the best top-six play-off places in qualifying for Euro 2017 have yet to be decided, and we will only have a clear picture in September, it is clear is this is a game Scotland need to win.
The forensic examination of the Iceland defeat may still be continuing, but Scotland will look to put it behind them. Just a bad day at the office, instead of a performance of a bad team. The Scots still has an issue against the top tier of sides, but they have progressed in solving that.
A mark of it was Scotland were seconds away from beating Spain in a friendly back in March.
Will Anna Signeul Make Changes?
The simple answer is yes, but that's because of the change of opposition and not of the Iceland game. If they were playing Iceland again on Tuesday, one could argue they would keep the same starting lineup.
Against Iceland, they played three defensive minded midfielders in Jo Love (who can play a more attacking role and has four goals in this campaign), Leanne Crichton and Rachel Corsie.
Signeul may bring in Liverpool's Caroline Weir to play just off of striker Jane Ross. She may look for more pace on the right wing as well with Hayley Lauder playing a more attacking role, but that would depend on the fitness of Emma Mitchell, who went off at half-time with a knee injury on Friday. Otherwise, her other options there would be Leanne Ross, Lizzie Arnot – or if she was being adventurous, Glasgow City's Erin Cuthbert.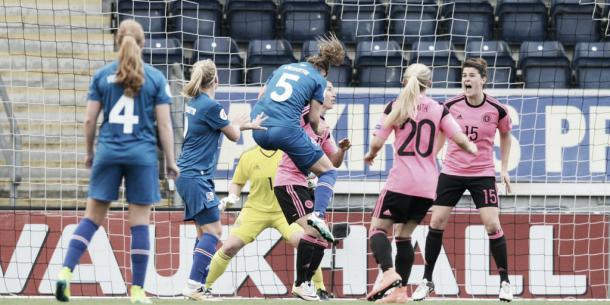 The opposition; Belarus
Scotland's opponents Belarus sit in fourth place in Group 1 with just three points. They come into the game off the back of a 2-0 win over Macedonia, the only goals they have scored in this campaign.
When Scotland played them at home, they romped to a 7-0 win, although they had to wait until the 44th minute to score their first goal.
On that day, they played a similar attacking line-up to the Iceland game, with Caroline Weir replacing Leanne Crichton the only change.
That suggests that Weir might play, and in the Iceland post-match press conference, Signeul praised her improvement since joining Liverpool.
Belarus will be a team Scotland will believe they can beat, but like their previous away trips, they may have to be patient for the opening goal.