Mark Sampson has come under fire with almost every decision he has made since taking charge of England. Starting with the defeat to Japan, I argue that he's far smarter than most give him credit for. His actions are much more about the bigger picture as he strives to create a true pride, following his blue-prints for the perfect Lioness.
A tough moment to Take
One of the most defining moments of women's football in England, one of the most clipped and capped moments, came in the 92nd minute against Japan in the second semi-final match in the 2015 Women's World Cup.
An exhausted England squad battling against the then World Champions, battling to the last, desperate to avoid extra time and snatch a last-gasp winner, having had arguably the better of it in the second half - including a sustained period of pressure that had seen them fire wide a handful of times. Seconds ticked away as Nahomi Kawasumi launched the ball forward into the box, Laura Bassett stretching every sinew and muscle to get back, throwing a foot out, Yūki Ōgimi behind her, Bassett knew she had to get something, anything on the ball to cut the attack out.
A spectacular own-goal, looping up to the top corner, catching the underside of the bar on the way in, Karen Bardsley unable to get across her goal, Steph Houghton sliding in all too late.
The worst possible way to concede at the worst possible time, the clock all but run out, no time for England to respond, no time to throw everyone and everything at the Japanese defence. England were beaten, by themselves, England had lost in the most England way possible. The parallels between Bassett and Paul Gascoigne were drawn immediately, pictures of misery littered newspapers and websites, Gascoigne's tears falling with Bassett's, England "doing an England".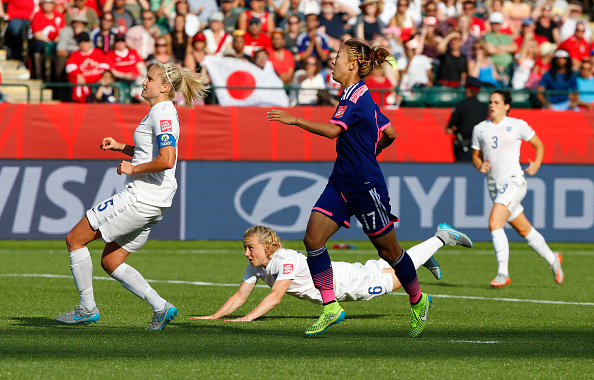 Tears fell in Canada, tears fell in England and Mark Sampson arrived at his post-match press conference red-eyed, sucking on his top lip when questioned about his squad. A pain felt by all in the England camp. His words suggested a culture in his team, a culture of strength, of love and of friendship. He knew that Bassett would be okay again, in time, he knew that she had a brilliant support network around her in that team and that each of his Lionesses were strong. If anyone could overcome the heartbreak of that day, it was those he had picked for Canada.
A far-cry from an England team of just a few years ago, a side that seemed inharmonious and troubled behind the scenes. When Sampson came in he had his job cut out for him, one of the first things he did was to restore harmony, beyond that he began to shape his team, bringing in players, but not just any players, a certain kind of player who fit his mould.
Lionesses
Everyone knows the stories, the individual hardships; Fara Williams, the iconic midfielder who's amassed more caps in an England shirt than any other man or woman in history, six years of which she was technically homeless, an absolutely staggering notion.
Or two of the magicians in the side, Karen Carney and Fran Kirby who've both suffered with bouts of depression and had fallen out of love with the sport - Carney struggling when she came home from America and Kirby ready to hang up her boots after the passing of her mother.
Or the bull in midfield, Jade Moore who was back in training just two weeks after having surgery to fix two holes in her heart. Claire Rafferty overcoming three ACL injuries that could have easily ended her career; the Orpington-born defender making it through the rehab for all three injuries and learnt to juggle her playing with a steady job as a city analyst.
The stories continue, so many women who have and do play football whether full or part-time have come up against bureaucracy and bullies, so many recognisable faces in the game will tell you their stories of being kicked off of boys teams when they got too old or too good. Toni Duggan, kicking a football around a run-down estate on Merseyside dreaming of being the next Steven Gerrard, subject to homophobic slurs just because she wore a tracksuit and wanted to play football instead of playing with dolls in a flowery dress.
So many players will have stories that mirror and overlap, but they all dug in, from a young age. Lucy Bronze; when told she wasn't allowed to play on the boys team anymore stood defiant and found somewhere she could play, her mother championing the cause and ferrying her miles from home to play for Blythe Town.
These are the kinds of players Sampson looks for in his team, those who've displayed feats of strength, and proven their mettle. Players who play for the love of playing, and you can see all those stories lurking just underneath the surface, driving those women on.
That unwillingness to fold, that hunger to strive forward is something Mark Sampson hunts for in players, that strength is key to being a Lioness.
Going back to that evening in at the Commonwealth Stadium in Edmonton; whether England would have been able to overcome Japan in extra time or even on penalties, no one can say for sure. Maybe England were always destined for the Bronze medal match. The own-goal hurt far more than a regular goal ever could.
England had one chance to redeem themselves after that game. They had done so much more than anyone had thought they could, playing when the nation slept, writing and rewriting history every time they took to the 4G pitches. Winning their first ever knock-out game, then their second, getting to the semi-finals for the first time ever. However, the history books would have no chapter on a grand final in Canada, but a new line being written - England versus Germany, once again.
A familiar foe
A bronze medal match, coming back to that same stadium where just three days prior they had seen their hopes of a place in the final dashed, against a side they had never beaten, 20 games and not one clean sheet kept. A tough test for any side, let alone one that had battled long and hard through the tournament, overturning a deficit against Norway in Ottawa before jetting off to do battle against Canada and the 54,000 strong crowd in Vancouver, all before misery in Edmonton. Their seventh match in 25 days. Running repairs on some, others knowing injuries had completely ruled them out of a spot against Germany.
The Germans had had a disappointing World Cup by their standards, peaking in the group stages and looking less and less convincing in each knock-out game; beating a superior France side that still struggled to put the ball in the back of the net before being knocked-out, almost karmically, by the team that would go on to win it. Célia Šašić and Nadine Angerer had already announced their retirements, Silvia Neid would be stepping down from her role after a decade in charge the following year, the stage was set for them to leave with a last hurrah. For a side that journeyed to Canada as favourites to leave with nothing would be unthinkable.
With one day less to prepare – although not having to travel – still bruised, still aching from their last match, they were set to do battle one final time in Canada, the history books beckoned. It was a nervous start for England. Houghton, who'd played every minute of the tournament, band around her arm, leading her team from the back went down. An early omen maybe? A collective breath held for the captain, the spine of the team, as she hopped off to the sidelines for treatment before running back on and clearing the ball off of the line moments later. Danger temporarily averted, England could breathe again.
England steadied, settled and continued on as they had all tournament, growing into the game, two tired teams going at each other. Bardsley called into some smart saves as Germany looked to do what they did best but still the scores remained level, seconds ticked away as players were readied for extra time. Penalties loomed in the distance; penalties against the Germans, a stomach-churning proposition for any English football fan.
Working, working, working, relieving the pressure and trying to create some of their own; industrious and exhausted, the Lionesses didn't stop.
Three minutes into the second half of extra-time, Tabea Kemme got the wrong side of Lianne Sanderson, the 23-year-old defender with an arm around the English striker, pulling her down inside of the box. Ri Hyang Ok had no hesitation in pointing to the spot and Williams, who had taken and converted both of England's previous penalties in the competition, was stood over the dead ball. Although she had found the back of the net twice, neither Sandra Sepúlveda or Ayumi Kaihori had been far from her strikes and now she was stood 12 yards in front of Angerer, ready to take one of the biggest shots in English footballing history. Angerer dived right as Williams delivered the ball into the bottom left corner. As cool and as a calm as any played could have been, Williams later remarked that she felt no nerves.
England with the lead and 12 minutes to hang on, Germany throwing all but the kitchen sink at Bardsley's goal but the Lionesses hung in to claim a huge scalp.
It had taken 21 attempts but Germany had finally been vanquished. England had their highest ever finish in a Women's World Cup, and in any World Cup in 50 years or any World Cup ever on foreign soil. They took home the bronze, but created a legacy.
The 23 players Mark Sampson had taken to Canada were Lionesses through and through; emotionally, mentally and physically strong, working for each other, for the pride.
Raising the bar
Someone who had been watching at home was Isobel Christiansen, a determined midfielder who had never earned a senior cap, Christiansen watched her Manchester City teammates in Canada, watched as a team with three lions on their chests hurdled all that they could and she said, "what do I have to do?". Interest in women's football in England was at an all-time high, 23-year-old Christiansen had already been impressing for a number of years and had featured across the youth levels but had yet to break into the senior team. She was driven on by the performance of her teammates and friends, pushing herself harder to improve her game and earn a call-up.
Her increased effort played off and Christiansen was one of the stand-out performers of the 2015 FAWSL season, her performances earning her a call-up for the first of the Euro 2017 qualifiers. Christiansen travelled with the England squad to Tallinn, earning a start and marking her first cap with a goal.
Another who made a debut in Estonia was Arsenal's Dan Carter. If Christiansen was on cloud nine after her first game, then Carter would have been on cloud 27, having netted a hat trick in her first time out with the Lionesses.
Christiansen would feature in the next England camp when the side journey to China for the friendly Dewellbon Cup, Carter left at home as Arsenal prepared for the Continental Tyres Cup final. Although Carter was available for section for the next two matches at the end of November, Sampson chose not to recall her, although there was once again a spot on the bus for Christiansen who Sampson also took to the SheBelieves Cup, although her time on the pitch was limited to two cameos off of the bench.
Christiansen missed the next Euro qualification double-header in early April through injury, but was brought back in for the next orbit at the start of June after only having made two substitute appearances in the league. If Christiansen was struggling with her recently-healed ankle, she didn't let on as she started for Sampson's Lionesses in the first of the two qualifiers, slotting into a midfield packed with talent and experience. She played as if she hadn't been forced to sit on the sidelines for over two months. Looking sharp and composed, she argued her case for inclusion, adding another goal to her England tally.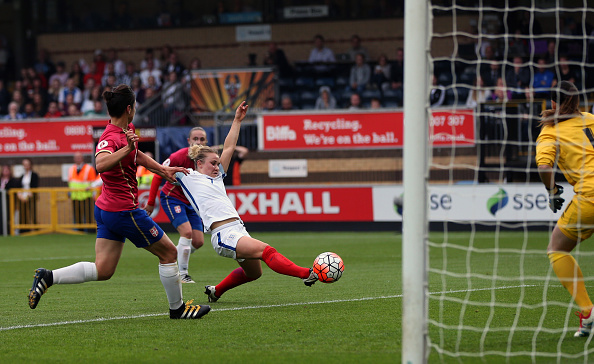 Between the April and June qualifiers, Christiansen had been crowned PFA Player of the Year, her receipt of the award was a no-brainer for most. At the same ceremony, Beth Mead had scooped the Young Player of the Year award, once again, a no-brainer. Mead had been a stand-out performer in WSL 1 during the 2015 season, her goals worth their weight in gold for her newly promoted Sunderland side. Mead had a fantastic maiden season in the top-flight, the stats didn't lie, but her goal scoring exploits didn't come as a surprise, the Lady Black Cat had been prolific at every level she had played at.
Amongst fans and pundits, questions were being asked: When would Mead feature for England? How long could Sampson ignore this gem in the WSL?
In late October, when Arsenal were preparing to face Notts County in the Conti Cup final, Sampson was picking his squad to take to the Dewellbon Cup to face China and Australia. Unable to select some of his regulars, Sampson drafted in a number of uncapped players and Mead was one of them. Despite travelling with the squad, she failed to make it onto the pitch. However, Gilly Flaherty, Drew Spence and Laura Coombs all saw match action, Flaherty impressed and it wouldn't be long until she was awarded another cap.
Mead wasn't the only Lioness 'cub' who travelled but failed to play. She was in good company with goalkeepers Rachael Laws and Mary Earps, as well as Chelsea defender Hannah Blundell.
Sensible for the SheBelieves
England, along with France and Germany, were invited to the inaugural SheBelieves Cup hosted by the USA in March and Sampson announced a straight-forward squad selection, with no surprise inclusions or absentees.
The plan, as to be expected, was defend first, attack later. England were composed across the pitch but fell to defeat in their first game, lax defending from Williams gifting Crystal Dunn far too much room - although the shot was an unsaveable peach it was preventable. But England had played a solid 90 minutes against the World Champions and felt comfortable going into the game against Germany, especially considering their recent record.
Once again, England played well, smart in defence even with players in unfamiliar roles and were happily on top throughout the first half, taking a goal advantage into the half-time break with them through a Duggan header. Silvia Neid, beginning to hate the sight of these young English upstarts, made two half-time substitutions but still England stood firm.
More subs for Die Mannschaft, Mandy Islacker with the ball in the back of the net but instantly ruled out for offside – a warning for the Lionesses, but one not taken – seconds later Bardsley was beaten again, Sara Däbritz's centre cannoning off of Flaherty's toe and creeping inside of the keeper's near post. England-Germany was to be once again settled from the spot as Alexandra Popp went down in the area after an apparent foul from Williams – replays went on to show that there was no foul but it was too late – Babett Peter was cool, calm and collected as she rocketed the ball into the bottom corner. Clinical from the Germans, England a little unlucky, but a positive performance against a much-feared opposition.
The third and final game was against France, a team England haven't beaten since 1974. The French had much the better of it in the first half and, had they been able to put the ball in the back of the net from any of their number of good chances, England would have finished dead last. But, France, for all their skill, build-up and brilliance still struggle to put chances away – although the players are well capable of finishing for their clubs, it's quite a different proposition when they're in dark blue shirts. But England, much like Germany and the USA, grew in the second half, comfortable in the knowledge that even though France could play them off of the pitch, it would be for naught if they couldn't find the net. England even had a handful of good chances in the second half but much like their opposition, couldn't manage to convert.
England left the SheBelieves Cup as third place finishers, having played and gone toe-to-toe with the three best sides in the world, no wins but certainly plenty of victories to celebrate.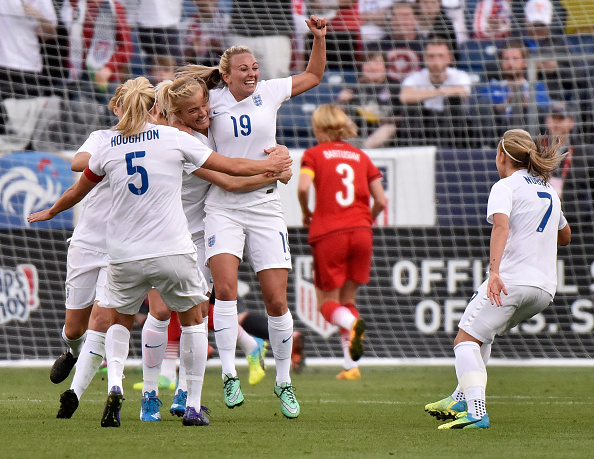 Overly cautious for Belgium
Little more than a month after the SheBelieves Cup had concluded, Sampson was naming a new squad - two Euro qualifiers on the horizon, a chance to cement a spot in Holland. His selection was almost identical to that of the 23 he took to America, the only three changes forced by injury.
Belgium's Red Glames are a team on the up, England's nearest challengers in Group 7, but sat at 28 in the FIFA world rankings, not a side to be feared. Eyebrows raised as the team sheet came in, the Lionesses set up against Belgium as they had against Germany, France and the US. What was Sampson thinking?
On paper, England should have taken far more than a point off of their opposition, especially at home, but the squad didn't look right, players looked lost, uncomfortable and out of sync with each other. Starting positions didn't match natural playing positions and even as the game went on, little changed in the way of formation.
Jordan Nobbs stayed deep and refused to allow herself to get forward as she normally would for Arsenal. Jill Scott seemed to struggle, naturally wanting to chase the ball around the pitch, a pure box-to-box midfielder restrained to play as the #10. The issues were rife across the pitch.
More notable than Scott's last-gasp winner was the Belgian goal, a series of errors flowing into each other than culminated with Bardsley miskicking the ball as Janice Cayman bore down on her. Fans were swift in calling for her head, although Bardsley wasn't the only one to make a mistake in the passage of play she was the one most at fault and Sampson should bench her.
Every player makes mistakes, simple human error, it happens across the pitch but there's no one left to cover a goalkeeper should he or she make a blunder. There was no cover for Bardsley as Cayman poked the ball past her, Houghton sliding into goal to block the shot but all too late, Belgium up, the damage done. Bardsley dusted herself off, and went back to her job, not putting a foot wrong for the rest of the game. Fans outraged when Sampson refused to drop her, "he was an idiot". As expected, four days later Bardsley started the next qualifier, although unemployed for the majority of the match, the message was clear, she was Sampson's number one, he had complete faith in her.
Of course Bardsley wasn't all the fans were unhappy about. The formation, the players out of position, why would you set up to defend against small teams? Once again, Sampson was an idiot.
What Mark Sampson was trying to do against Belgium and Bosnia & Herzegovina was let his players get used to the unfamiliar roles. He wants players who can adapt, who can play anywhere and everywhere across the pitch. There will be big games in big tournaments where attackers will have to get back to defend and midfielders will be pushed forward and then back, people will play out of positon because that is the nature of the game. The aim is to have a squad of complete players.
In major tournaments, injuries occur, teams become stretched and sometimes you'll need attackers where you only have defenders and vice versa. Someone has to fill in for someone else, and Sampson is trying to acquaint his Lionesses with these roles in smaller games so they can get used to them. The perfect Lioness is a complete player with a well-rounded game.
#MeadForEngland
There have been four subsequent England camps since Mead travelled to China with the Lionesses, three for the Euro qualifiers and one for the SheBelieves Cup, but Mead has not been included in any. Her exclusion has prompted more outcry from the fans, especially with the lack of goals in the England side before the Serbia double-header.
But Mark Sampson isn't an idiot, he's not oblivious to her goals and he has called her into camp in China, he has had an eye or an ear on her when she's been called into the recent under-23 camps – whether under Marianne Spacey or Mo Marley – and he has seen her in training with his own eyes. He has not recalled her because he doesn't think she's ready yet, she isn't at the level he would want from a player and he won't call her up just to pander or silence his critics. Sampson was recently pressed about Mead at a Chelsea-Sunderland game, even though he had finally provided a straight-forward answer, there was still dissent amongst the fans.
Sampson had directly criticised her athleticism and work ethic, suggesting that she needed to strengthen her ability to bring players into the game. "She needs to improve her all round game," said the England manager.
"HER GOALS!" cried the fans, just look at the glut she scored last season, in the top flight. Baring their match against Estonia, England had had a measly return in the games since Canada, only managing six goals in nine games. Surely England could use a proven goalscorer like Beth Mead?
The argument has been complicated by Mead's lack of goals this campaign, however. As explosive as she had been in the last season, Sunderland and Mead have been struggling to find the goals, 'Second Season Syndrome' had set in. She was their main out-ball, almost everything flowing through her, and teams had gotten wise to it; smother Mead and Sunderland would flounder. The Lady Black Cats hve only managed ten goals in nine matches across all competitions - Mead only netting three times, once in each of the three matches against newly promoted Reading.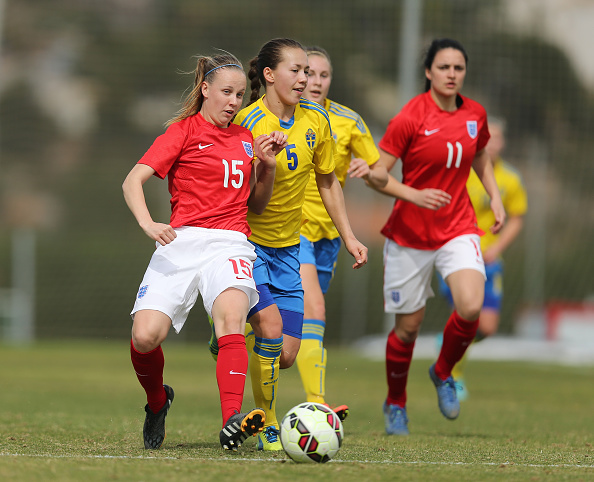 The most recent camp was for the double-header against Serbia, Mead called up for the under-23 squad that would take part in the Nordic Tournament as Nikita Parris and Rachel Daly got second-time call ups to the senior side. At just 22 and 24 years-old respectively, more eyebrows were raised as familiar names were dropped. Katie Chapman and Duggan, two of Sampson's veritable favourites, were the two notable absentees, although Eni Aluko and Rafferty both missed out too. Parris is a divisive figure and Daly has been plying her trade across the pond in the NWSL - there was room for them but not for Mead? The fans refusing to be silenced.
Duggan's exclusion was the biggest talking point, a proven striker who could stun the crowd at any minute but her work-rate was astounding. A player willing to run herself into the ground for club and country, 30 minutes, 90 minutes, 120 minutes, it didn't matter to Duggan, she would give until her tank ran out. More than happy to go again in the next match three days later, Duggan content to run herself into the ground and Sampson more than happy to let her. She epitomised what he was looking for and she was conspicuously absent.
Christiansen had been out for about two months, Jodie Taylor had not started one competitive game since picking up a knock at the SheBelieves Cup and Moore had only managed a full 90 minutes once this season – along with five partial appearances for Birmingham City. And yet Sampson recalled all of them.
The inclusions and exclusions can be explained simply enough. Duggan and Chapman both feature in his plans for the Euros and have featured heavily throughout his teams, they are familiar with his style, they know what is expected of them. However, to bring in new players, to audition them, to ask questions of them, something or someone has to give. If he knows Duggan will go to Holland, then she can be left out as he assesses his other options.
Both Kirby and Ellen White were recalled to the squad. Kirby, although traveling to America with England, only played a bit part in the SheBelieves Cup but had been pushing herself in training to become fitter and stronger, to make a case for herself. On either side of the Atlantic, both Parris and Daly had been impressing this season. Both deserved their call-ups as they have shown versatility and strength and Sampson could see the potential in them, they matched his blue-print, just as Beth Mead didn't.
Should Mead be called into the squad and capped, she would undoubtedly give everything for the shirt, as everyone does, but whether her everything would be enough to Mark Sampson is the question. If you were to go by goals alone, Mead would be far ahead of the likes of White, however the Notts County striker is preferred, like Duggan, for her work-rate. Experienced and astute, White put in a sterling performance at Adams Park as England soundly beat Serbia 7-0, capping a breathless performance with her first goal in an England shirt for nearly three years. Although she may struggle to find the back of the net, White is another who fits the blue-print and is another Sampson will call upon.
Sampson doesn't just look at a game and think it's 90 minutes that need to be won, he will always look at the bigger picture, laying solid foundations to build upon, there can be no weak links in his team. There will always be mumbles and murmurs from the fans when players are omitted, Mead is the example but by no means is she the only player who he doesn't think is ready, doesn't think can fit in his squad and play his way.
There must be harmony in his team, everyone involved must be able to play a certain way, everyone must fit the mould and match the blue-print and not everyone can or does.
Sampson isn't trying to experiment with these qualifiers as many managers would, to bring in fringe players and give them a go, he's looking to Holland, he's strengthening, keeping the core the same and testing out candidates, dropping players he knows fit in. If Nikita Parris or Rachel Daly match his mould, if they have done enough in training and on the pitch, Sampson will take them with him, but they have to be integrated into the squad, have to get used to her team mates and to Sampson himself.
These qualifiers are the chance for Sampson to see who works best together, who his strongest 23 are for Holland. Maybe, although fitting his style, Daly can't give him 90 minutes of running or Parris doesn't gel with her City teammates as Sampson would like. These are just hypotheticals, but Sampson needs to know because the team he takes to the Euros must be harmonious.
Back to Canada
In his post-match press conference after the Japan game, Sampson was asked about how difficult it would be to "put his team back together again" so they'd be ready to face Germany.
Sampson could see no task, he knew the squad would be strong enough to go again: "Whatever they've got left in the tank, this team will give."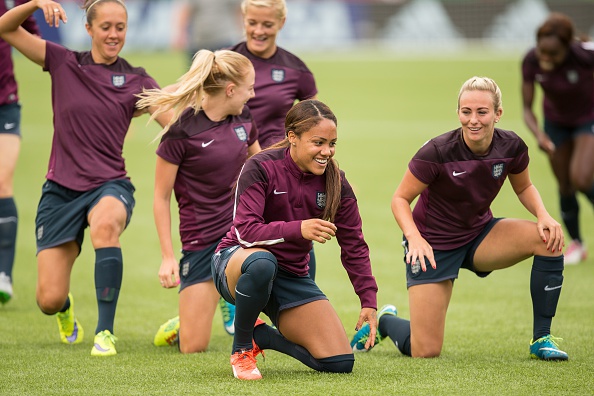 Weaker players might have crumbled, but Sampson took 23 Lionesses with him. If any team could come back from such a heart-breaking set back and go again, and against Germany, it was that team and those players. Sampson knows any players he drafts into his squad have to have that same mental toughness, that emotional strength a key value in his blue-print.
Togetherness, a tight-knit group, it was something so very palpable in Canada, a team that cared about each other; an almost family-like atmosphere. When you watch the videos from that tournament - whether they be behind the scenes days out or post-match, commiserations or celebrations - you can see the friendship that runs deep through the team. That closeness is imperative in the squad, not just for an understanding on the pitch but it binds the team together, it makes them a team, they become a Pride of Lionesses.
No matter what happens, eyebrows will be raised but at no point will Mark Sampson doubt the ability of his squad because he knows they will be the epitome of what he deems to be a Lioness. Mentally, emotionally and physically strong, forged in metal and ready to deal with whatever comes their way, able to overcome the toughest opponents and the most heart-breaking of circumstances.
As England proved in Canada that they weren't to be written-off or taken lightly, the same extends to their manager. The Welsh Tinkerman is far smarter than he is given credit for and he knows exactly what he's doing.