After the latest round of qualifying matches for Euro 2017, Sweden and Denmark have guaranteed a top two for themselves finish in Group 4. The remaining two matchdays for both teams will determine who will will finish in first and second respectively.
On the other end of the table, Moldova will try to finish with some respectability as they have yet to register a point in the qualifying stages, while both Poland and Slovakia have officially failed to qualify for the tournament next summer, despite their best efforts.
Sweden stay top
Sweden began this round of matches with a solid four-nil win away to Poland. Although they had a difficult time initially breaking down a resilient Polish defence, their overall quality showed and they wore down their opposition to gain a vital victory in their bid to consolidate first place in Group 4.
Their second match was a six-nil thumping of bottom-placed Moldova where fans witnessed the fine form of a resurgent Kosovare Asllani. The Manchester City forward, along with former Olympique Lyonnais' Lotta Schelin, will be the players that Sweden will look to for their attacking momentum.
At the other end, VfL Wolfsburg's Nilla Fischer and one of FC Rosengård's star performers this season, Emma Berglund, should provide a solid pairing for the Swedes in defense.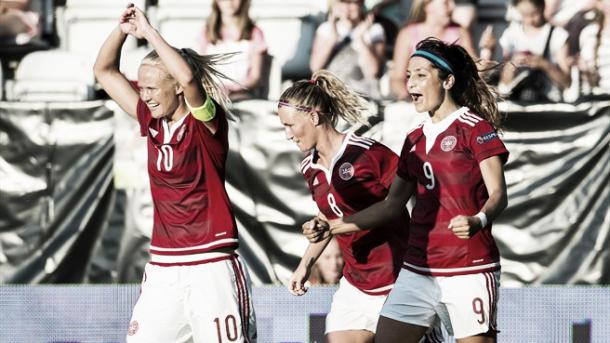 Denmark continue their chase
Right behind Sweden, Denmark continued to try and chase down leaders Sweden, who are five points ahead of them, for a first place finish. They will be looking to capitalise on any slip-ups by Sweden in the remaining two matchdays for both sides.
A four-nil win over Slovakia was followed up by an exciting six-nil win over Poland. The talent on the Danish team make them potential dark horses at Euro 2017 and if Linköpings FC's Pernille Harder continues her rich goal-scoring vein, Denmark will surprise a lot of teams and viewers in the Netherlands next year.
Denmark will also be looking to Portland Thorns striker Nadia Nadim to support Harder and keep her good form going for her country as well.

Slovakia, Poland and Moldova all fail to qualify
With one game left for both Poland and Slovakia, they are now mathematically eliminated from finishing in the top two positions and thus will not be at Euro 2017. After losing heavily to Denmark in their only match of this round, Slovakia are four points away from second-placed Denmark and cannot catch the Danes, who have two more matches to play.
Poland are even further behind, sitting on seven points after heavy defeats to both Sweden and Denmark in this round of matches. Poland could not overcome their issues at the back and have conceded 16 goals over the qualifying process so far. They have also had problems in front of goal and have only registered six goals during their campaign to date.
Moldova currently sit bottom of the group with zero points. Seen as the decided underdogs in the group, Moldova failed to beat that perception and have lost all six of their qualifying matches so far. They can only play for pride now in their last remaining fixtures and one hopes that they can at least pick up a point somewhere to finish their campaign on a positive note.