There has been plenty of action and goals in Group 7. England have now qualified for Euro 2017 and Belgium are close to qualifying too. Here's the lowdown on the recent round of fixtures and a preview to what is left.
Estonia 0-5 Belgium
Last placed Estonia were no match for Belgium as the Red Devils enjoyed a dominant win against them. They had won 6-0 against Estonia a couple of months earlier and almost repeated the same scoreline.
Inna Zlidnis started off the match with an unfortunate own goal in the 10th minute. Aline Zeler, the captain, made it 2-0 before the break. In the second half, Elke Van Gorp scored and then Janice Cayman added a brace to ensure the win for Belgium 20 minutes from time.
England 7-0 Serbia
England were in seventh heaven at Adams Park as they thrashed Serbia. The goals had dried up before but were in a full flow in front of a home crowd.
Ellen White almost started the scoring just eight minutes in but her effort hit the woodwork. Alex Greenwood got the first goal a few minutes later with a neat finish from a tight angle. Karen Carney doubled the lead later on with a delayed penalty and Rachel Daly extended the lead to three with her debut goal. Ellen White finally got her goal in the 2nd half, Isobel Christiansen scored too and Carney finished the match off with her hat trick despite her not knowing much about the final goal.
Estonia 0-1 Bosnia & Herzegovina
Estonia were beaten yet again and are guaranteed to finish last in the group. Both teams were out of contention for the Euros at this point so only pride was left to play for.
Both teams had a fair amount of attempts but Bosnia & Herzegovina put one of their chances away after almost an hour. Milena Nikolić scored the only goal in the game.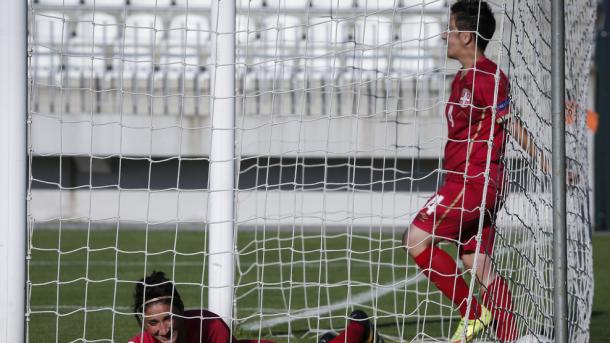 Serbia 0-7 England
The Lionesses repeated the result in the reverse fixture. Mark Sampson had made five changes to the side, with Siobhan Chamberlain starting and Karen Bardsley not even on the bench. Nikita Parris, who had her debut last game, started and Daly was on the bench.
This time around, Jill Scott started the scoring this time around 13 minutes in. Ellen White scored her second goal in two games.
Gemma Davison scored a brace either side of half time and could have almost had a hat trick. These were also her first goals for England. It was judged that Damjanović had the final touch which took it over the line. Parris then scored twice in only her second cap. The final goal was probably the best goal in that match when Parris had a shot from outside the box in the last minute of the game.
Qualification wrapped up
With those wins, England have qualified already for Euro 2017 which leaves room for Mark Sampson to experiment a bit more with the squad and work out who he might be taking to the Netherlands next year. A victory over Estonia at home looks likely then the away match versus Belgium will decide who tops the group.
Belgium face Serbia next who they have drawn against. If that result repeats itself, England will be fairly certain to win the group. Whatever happens, Belgium look set to qualify as well.
Estonia are guaranteed to finish last, Serbia may finish 2nd last and Bosnia & Herzegovina could finish in a respectable 3rd place. Despite not qualifying for the Euros, these teams will go away having learnt some valuable lessons.