1. FFC Frankfurt have announced the signing of German youth international Tanja Pawollek, who puts pen to paper on a three-year deal that will expire on June 30, 2019.
Pawollek, who won the U17 European Championship with her country earlier this year, leaves SG Rosenhöhe Offenbach's under-16s to join the 2014-15 UEFA Women's Champions League winners, who are already looking ahead to next season and snatching a top two spot back in the Frauen-Bundesliga.
A mixed summer so far has seen the likes of Dzsenifer Marozsan and Simone Laudehr depart FFC, while players such as Desirée Schumann and Ana Maria Crnogorčević have extended their contracts.
However, there have certainly been more positives than negatives, with the news of Pawollek's arrival following the signing of Lise Munk earlier this week.
Pawollek excited ahead of new chapter
As she begins to make the transition into senior football, Pawollek has expressed how much she is looking forward to getting started with Frankfurt.
The 17-year-old told the club's official website that she is "very happy" to have made the switch to one of the "top" teams in women's football, and that she is confident the club can help her "learn a lot as a young player."
Pawollek is particularly excited to be alongside "internationally experienced players in training everyday" - a prospect which presents her with "an excellent opportunity to develop."
The midfielder, who can also operate as a centre-back, added that her "aim" is to show just what she is capable of from "the first day" with FFC.
Shortly after the season gets underway, however, Pawollek will leave her new club to join back up with Germany's under-17s for the FIFA Women's under-17 World Cup in Jordan in another opportunity for her to grow as a player.
The youngster played all eight games for her country in Belarus, scoring twice as they lifted the ultimate prize, and wants to play "a good role" for the team once again later this year.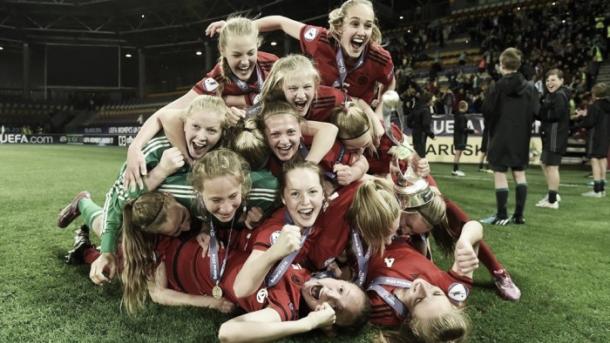 FFC delighted with the deal
Both Siegfried Dietrich, a board member at FFC, and Head Coach Matt Ross also spoke about the arrival of Pawollek - with both singing the player's praises.
The former believes the fact that the 17-year-old played so long with the male youth teams at SG Rosenhöhe is a testament to her "assertiveness" and "qualities" as a footballer as she prepares to take the next step - which is being introduced to "the highest female range."
Dietrich is confident that FFC can offer Pawollek "the best environment" to develop further, especially with a "team of experienced performers" to be around her.
Ross, meanwhile, said that the midfielder "embodies the future of 1. FFC Frankfurt" as she is "young, talented, successful - plus from the region.
"I am very glad that she chose us," he added, before continuing to heap praise on the player.
"Her technical skills, excellent left foot and her personality on and off the field are her greatest strengths," Ross said, hoping that "in the next few years" these attributes will "move forward in their development."