In 2015, Hibernian finished runners-up to Glasgow City in all three domestic competitions, and will look to go one step further tonight.
Glasgow City has won the past four SWPL Cup Finals, and the past two have been against Hibernian. The Edinburgh side, who have recently been announced as one of the 2016-17 UEFA Women's Champions League Round of 32 entrants, pushed City close last season's final.
For a long time, it looked like Heather Richards' wonder-strike from the half-way line would secure the trophy for Hibernian. But City never gave up and equalised in the 77th minute through Kerry Montgomery's header.
Three minutes into extra-time, City's forward Susan Fairlie scored the winner. The Hibs' Head Coach Chris Roberts commented on their team's spirit, saying: "TThe feeling in the camp is one of excitement. The team are on a good run of form and we are ready for the game."
Hibernian has had the harder route to the final, having faced SWPL 1 sides in every single round. Their first round match away to Celtic was one of the hardest draws they could have faced. As Roberts said, "We faced Celtic in the 1st round on the first day of the season. That was a huge game and the team were excellent."
After beating Celtic, Hibs then faced Forfar Farmington in the quarter-finals, beating them 6-0. And then, in the semi-finals, they beat the other Old Firm side Rangers, 4-1.
Hibs hoping to end Glasgow's cup dominance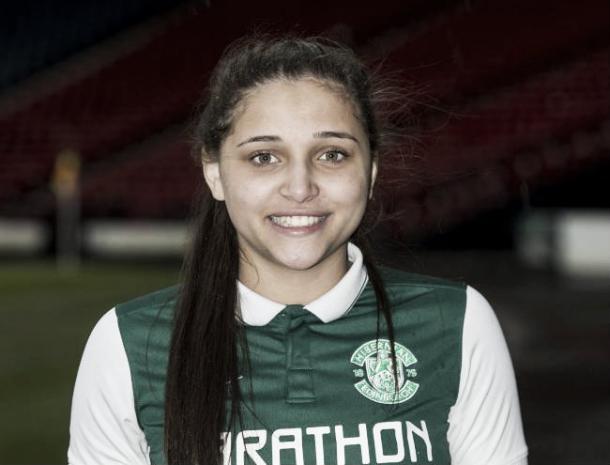 The Player of the Match in their Semi-Final win was forward Abigail Harrison, who scored twice although her second was more of a mis-hit cross – something the forward fully admits.
Harrison believes that the past cup defeats that Hibs have suffered against Glasgow City will "..just make us as a team want it more." And whilst she praises Glasgow City for their dominance, she fully believes that Hibernian can lift the trophy.
Earlier in the season, Hibernian lost 2-0 to Glasgow City in the SWPL 1, in a game where they failed to perform to their best. This was something Roberts agreed with, saying: "We played well below our best when we met earlier in the season. Knowing that we can play much better than that gives confidence going into the game. We learn from every game we play and we will be ready on Wednesday night."