Glasgow City and champions are words that go together seamlessly in Scottish Women's Football. And in their tenth consecutive domestic cup final, they aim to continue that trend going.
Not only are City going for an unprecedented tenth top-tier title this season, something that has never been done in either men's or women's football in Scotland, but they are also looking to win their fifth consecutive domestic treble.
You have to go back to September 2014 for the last time City lost a Scottish game when they were beaten 1-0 by Spartans in the league. And you have to go back to 2011 to find another team winning a top-tier domestic trophy when Hibernian won the SWPL Cup.
To find a time when Glasgow City lost a final, you have to go back to 2007 when Hibernian beat Glasgow City in the Scottish Women's Cup Final – and that was when Kim Little played for Hibs.
This is Glasgow City's Head Coach Scott Booth's first SWPL Cup Final, having joined the club in July 2015. On the final, he said, "Really looking forward to the game. It's always a great moment to see the players competing for silverware."
Booth has been critical of the timing of the final, as has Glasgow City's club manager Laura Montgomery, who has commented that the club's academy players are unable to attend the final. The SWPL has stated that they are looking to change that for next season.
Glasgow City looking to continue cup dominance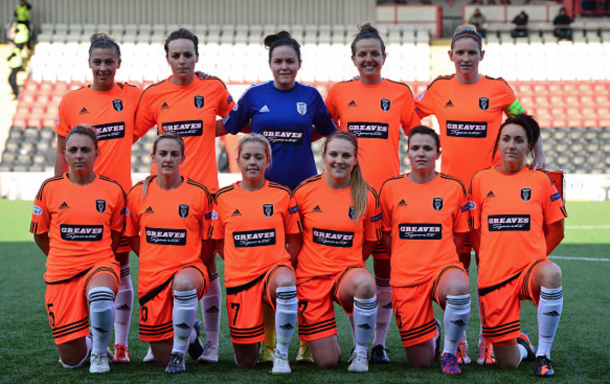 Speaking to Alan Campbell in The National, the City head coach said: "You really want it to be a prestige event and build it up instead of isolating it on a Wednesday night after an international game."
But he is wary of the threat that Hibernian pose, saying: "Both teams give everything in these matches and we'll expect more of the same in this one!"
City has had the easier of routes to the final, facing SWPL 2 opposition in both the first round and quarter-finals, beating Inverness City 14-0 and Glasgow Girls 10-0. Booth believes that the Inverness performance was one of the best since he joined the club, but it was also special for another reason.
However, they faced difficult opposition in Aberdeen in the Semi-Finals, but they progressed thanks to a Clare Shine goal.
Glasgow City's forward Fiona Brown suffered a nasty ACL injury last season, and the Inverness game not only marked her comeback but also saw her score.
Brown commented on the goal: "To be honest it was amazing. Obviously being out for a long time that's the thing you want to do when you come back for it all to feel worthwhile and for all the girls to be so pleased for me really meant a lot."