As we await the resumption of the FA Women's Super League, the mid-season break gives us a chance to look back at the first half the season - this time from a Watford perspective.
New names, new faces
When Katie Rowson took charge of the Golden Girls at the start of the seasons, she had her work cut out for her after Watford had finished dead last last season with a dismal five points from 18 games.
Even before the season started, things weren't looking great for Watford as they lost four players of note (Megan Wynne, Emily Heaslip, Leighanne Rose and Dawn Mallett) to Millwall Lionesses. However, there were new faces to be seen at Berkhampsted FC as the signings of Sophie Cheadle, Georgia Miller, Natalie Richardson, Katie Stanley, Caoimhe O'Reilly and Lucy Gillett were all announced at the end of March.
As the amount of goals they've conceded had been a worry in the last two seasons (112 in 36 matches), it was no surprise to see a new name between the sticks, but Watford have inexplicably ended up with six goalkeepers on their books – and have already conceded 16 times in six matches this year.
Positive early signs
After taking Millwall to extra-time in an FA Cup match before the season kicked-off, things were looking bright for Watford, even more so when they snatched a very late draw in their opening league match against the London Bees.
Next time they took to the field, the Golden Girls put up a spirited fight against Yeovil, once again finding the net in stoppage time, but Stanley's late goal wasn't enough for the home side and Watford tasted their first defeat of the season - albeit, not one to be ashamed of.
From bad to worse
After a hopeful start to the campaign, Watford started to slip. First, they were thoroughly beaten 3-0 by Everton, then easily dealt with at home to Bristol City.
Hopes were higher when Watford played host to the London Bees in a Continental Tyres Cup preliminary round clash, but once more the Lady Hornets struggled to get going and, as the London Bees refused to bend at the back, there would be no late drama in that meeting - the Bees progressing with a smooth enough 2-0 win.
Just eight days later, Watford were once again squaring off against the Bees, once again with the home advantage, Vicarage Road playing host on a rare Monday night fixture. Unfortunately for Watford, the game came as the Bees were really finding their form, new manager and signings clicking for their nearest rivals and it was a night to forget for the hosts who were comprehensively beaten 5-0.
The Golden Girls had one more chance to add to their lone point before the mid-season break when they travelled to Oxford United, a side who had initially struggled to get going but were in full flow by the time the two faced off. It was to be another bad day at the office for Watford then when they went behind just three minutes into the match after a poor clearance from Cheadle. The U's continued to threaten all match and eventually ran out comfortable 2-0 winners.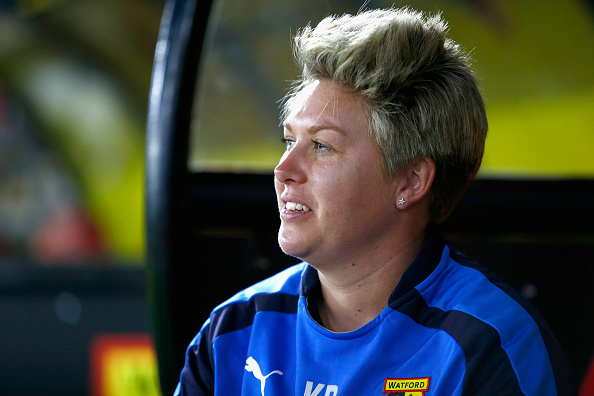 The only way is up
This first season is all about steadying the ship for Rowson. Although no team wants to finish at the bottom of the table, Watford are safe in the knowledge that no matter what transpires they can't be relegated. Which means for Rowson – like a handful of new managers in WSL 2 – that this season is about laying the foundations and building on them.
When watching Watford it's clear to see that they're struggling across the pitch, but there are always positives to take from their performances. The side still looks a little lost but, with another 12 games to come, Watford have plenty of time to address all their issues and come out fighting for this season and next.