Birmingham City Ladies have completed the signing of goalkeeper Ann-Katrin Berger from French Feminine Division 1 runners-up Paris Saint-Germain.
Having involved herself in football since a very young age, Berger played in the lower leagues of Germany before moving to VFL Sindelfingen, a club in the second division. In 2011, she signed for FFC Turbine Potsdam and kept a clean sheet on her debut, a 4-0 win against Hamburger SV. Berger started five games in her debut season, helping her club win the Frauen Bundesliga, piping VFL Wolfsburg by three points. The 25-year-old played three games in Turbine Potsdam's UEFA Women's Champions League campaign, managing clean sheets against Icelandic club Þór Akureyri and Scottish side Glasgow City FC. She was signed by Paris Saint-Germain feminin in 2014, where she played second fiddle to Polish international Katarzyna Kiedrzynek.
Happy Parker
Blues Ladies manager David Parker said that it was hard work to sign Berger from a "fantastic club and European giant". He believes it is a "signal of intent and statement" and was happy to attract players due to the "vision and strategy" of the club. Parker also said that Berger was "blown away" by what they were developing and also wanted to be a part of the "special journey" the club were embarking on. He praised her saying that she wants the "same success and journey" in England as she had in the French and German domestic leagues.
Berger Excited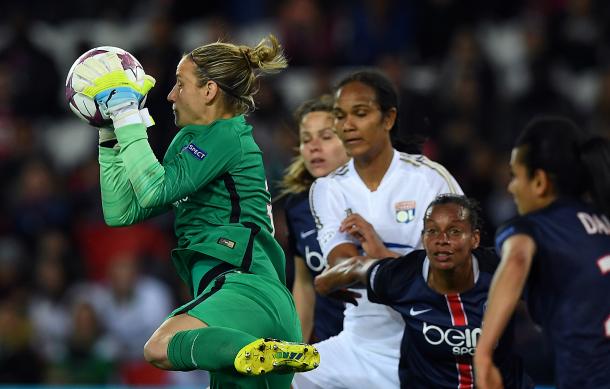 Berger was "excited" to be signing for the midlands club saying that she was convinced by the "young team, facilities, taff and vision." She said she was "looking forward" to the new challenge and helping the team achieve their goals.
She now joins Isabelle Linden, Marisa Evers, Andrine Hegerberg, Corina Schroder and Coral Haines, who signed for the midlands club this season.